Featured Beer Tweeter: RANDY CLEMENS
DRINK WITH THE WENCH PRESENTS:
The Beer Tweeter Interview Series
Beer bloggers are not the only people using social media to share their passion for and knowledge of craft beer. Twitter is one of the most important tools in today's craft beer industry. Beer tweeters all over the world are influencing and impacting the way people interact with and experience craft beer. The Beer Wench has embarked upon a mission to interview as many beer tweeters that she can — from all over the world.
Are you a beer tweeter? Do you want to share your story? Send me an email!
INTRODUCING BEER TWEETER: RANDY CLEMENS
Current location: Glendale, CA (Los Angeles metro)
Background "Snapshot"
1. Where did you grow up?
In and around the San Fernando Valley in SoCal
2. What sports if any did you play growing up, through college and beyond?
Does marching band count? Being both nonathletic and nerdy as a child, I took up marching band, and loved every minute of it. (I marched in the Rose Parade twice!)
3. How old were you when you had your first beer?
19. I made it all through high school without any booze or drugs. (Told you I was nerdy…)
4. If you can recall, what is the story of your first beer? Where did you have it? What style and brand was it?
Well, to be perfectly fair, I'd had a Coors Light when I was around 12, but it was because there was NOTHING to drink in the house and the water had been shut off for some strange reason. My mom said I could have one of my dad's beers with dinner — I thought I was cool at the time, even though I couldn't stand the taste. It would be 7 years before I tried another beer. (After all these years, I still find Coors Light disgusting. Honestly, I don't know how anyone drinks it.)
5. Where, if applicable, did you go to college? What did you study? What additional activities, organizations, sports did you partake in during college?
I attended the California School of Culinary Arts, completing the Le Cordon Bleu program. On the side, I became a member of the Culinary Historians of Southern California and the Bread Bakers Guild of America (See? Total nerd).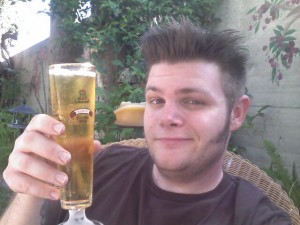 Craft Beer Epiphany
Every craft beer enthusiast has at least one pinnacle craft beer experience that completely changes ones perspective on beer. I refer to this mind-blowing moment as a "craft beer epiphany."
1. What was your first craft beer epiphany? Recall as many details about it as you can:
After culinary school, I took an internship at Bobolink Dairy, an artisan creamery in New Jersey. I'd gone to learn more about bread and cheesemaking, but unexpectedly developed a taste for beer. One of their cheeses was washed with Forêt, the organic saison from Brasserie Dupont, and at the insistence of the owner, I poured myself a taste. What a far cry from the Coors Light I'd detested so many years before! This was fruity, yeasty, slightly spiced, a little sweet even. Hell, it had flavor — a vast improvement over my previous beer experience!
2. Have you have additional craft beer epiphanies since the first? Detail as many of them as you wish:
Oh, god. So so many. To spare everyone, I'll take the easy road and lump most of them into when I took a BJCP class through the Maltose Falcons homebrew club. It was an excellent learning experience, and I was exposed to so many different beer styles — it was truly invaluable. Besides having my first IPA, Gueuze, Kölsch, etc., someone was kind enough to bring in a small stock of 1987 Bigfoot for us to try alongside the 2007. It was mindblowing.
Other huge eye-openers: My first Black Butte Porter, Duchesse de Bourgogne, Old Viscosity, and Pliny the Elder…
Beer Talk
1. What are your top 3 favorite beer styles?
Saison, Flanders Red, Russian Imperial Stout
2. What are your top 3 favorite breweries?
I've gotta stick with my local boys — The Bruery, Port/The Lost Abbey, and AleSmith
3. If you could work with or for any one brewery, which one would it be and why?
Probably Stone Brewing Co. It just seems like they have a lot of fun with what they do, and aren't afraid to try different brewing and marketing approaches. Their support of fellow brewers, innovative seasonals/special releases, collaborations, dedication to good causes, etc. are all quite admiral. Rogue would be a close second though, for much of the same reasons.
4. Are you a homebrewer? If yes, what is the most unique and interesting beer recipes you've brewed as a homebrewer?
Yes, but not an exceptionally good one. It's always a fun experience though, and I've yet to brew anything I've had to throw out, so I suppose that's an alright sign. The pumpkin stout I brewed last year turned out pretty great, and I found a few loose bottles laying around this year and discovered they'd gotten even better with age. I'm so impatient with aging, so anytime I do cellar a beer, it's usually by accident.
5. Do you have any beer certifications (BJCP, Cicerone, Siebel, American Brewers Guild)?? If so, what are they?
I am a BJCP Recognized Beer Judge, which came as a bit of a shock. When I took the test a little over two years ago, it was such a crash course for me as I knew so little about beer at the time. The class really did prepare me well, but it was probably the hardest test I've ever taken. I really didn't think I was going to pass. Continuing to taste and evaluate beers, both at home and at the judging level, has really expanded my knowledge over the years, and I can't recommend the BJCP strongly enough to anyone who really wants to learn more about beer.
6. What is your favorite beer and food pairing?
I tend to like beer and dessert pairings, just because I like to see people's faces when I tell them the pairing, and then their face once they try it. Being there for someone else's "craft beer epiphany" is priceless. That said, I suppose the Beeramisu I make with (and pair with) AleSmith Speedway Stout might take top honors. I also paired Spicy Mayan Chocolate Ganache Truffles with Aecht Schlenkerla Rauchbier Märzen, and it was pretty ridiculous.
7. What are you top 3 favorite beer blogs/beer websites?
Beside Drink With The Wench?!

The Full Pint, Beer Advocate, and BeerNews.Org
The Personal Side
1. What is your current day job?
I peddle beer, wine, and cheese at an enormous Whole Foods in Pasadena, CA.
2. If you could change your career at this very moment, without any restrictions on what you could do, what would you want to do and why?
I've been enjoying writing quite a bit, and I'm trying to get that to take off more seriously. I've been published in several magazines, and am hoping to have a cookbook out next year (not delving into a beer book quite yet though). Other than that, I have a calling somewhere in the food & drink world — I'm looking into it

3. Are you married? Children?
Single as a pringle, ladies.
4. Outside of beer and writing, what are some of your other hobbies?
Cooking, definitely, and reading. I also love to travel, even though I don't get to often. I still play music from time to time, although I've fallen out of it a bit. I'll join another concert band after the holidays, I promise. (Anyone need a baritone horn or trombone player?)
Off The Beaten Path
1. If you were a style of beer, what style would you be and why?
Hmmm, maybe a gueuze? While I may not be particularly bubbly, I have plenty of complex character. A blend of old and young that will continue to improve with age, the bold, assertive flavor may seem a bit tart at first, but you can't help to go back for another sip to appreciate its nuances. (However, I don't smell like barnyard, although I'm sure it could be arranged.)
2. You were caught smuggling beer illegally, which has now been made punishable by death. Right before you are sent to the executioner, you are offered one last beer. What beer would you chose and why?
Oh dear. I suppose I'd have to hark back to the Forêt — having my first beer also be my last beer — kinda nifty and deep.
3. If I contracted you to brew a beer (or design a beer recipe) called "The Beer Wench" — what style would you chose and what, if any, extra ingredients would you add?
It would definitely be a collaboration brew, in honor of what you're doing to build the beer blogger/twitter community. I'd have bloggers and tweeters vote on the style and adjuncts, and then let some of your favorite brewers go wild, each adding their own sense of flair and style. In the end, I'd work with a few of them to come up with a final blend, and release it unto the world!
4. If you could be a superhero, what would you want your superpowers to be?
Being able to make myself and others see sides to an argument other than our own. Flight, invisiblity, and/or teleporting would be cool too.
5. What is one of the craziest things you have ever done and lived to tell the story?
Skydiving. Frightening, but so amazing.
6. What are your thoughts on bacon?
Call it shameless self-promotion if you must, but I think it's the best damn answer I can give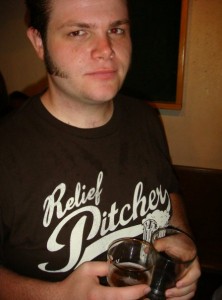 SPECIAL THANKS TO RANDY FOR AN AWESOME INTERVIEW AND ENTERTAINING TWEETS!
CHEERS!