Featured Beer Tweeter: SARAH HUSKA
DRINK WITH THE WENCH PRESENTS:
The Beer Tweeter Interview Series
Beer bloggers are not the only people using social media to share their passion for and knowledge of craft beer. Twitter is one of the most important tools in today's craft beer industry. Beer tweeters all over the world are influencing and impacting the way people interact with and experience craft beer. The Beer Wench has embarked upon a mission to interview as many beer tweeters that she can — from all over the world.
Are you a beer tweeter? Do you want to share your story? Send me an email!
INTRODUCING BEER TWEETER: Sarah Kristine (Bradner) Huska
Twitter handle: @sarahhuska
Current location: St. Charles, IL (Chicago suburb)
Background "Snapshot"
1. Where did you grow up?
Fostoria, OH
2. What sports if any did you play growing up, through college and beyond?
I played volleyball in junior high but once I got into high school I ditched it. Going to a private school makes certain things rather click-ish, sports being one of them….since I didn't have the right name I didn't get to play. So, I chose to participate in the flag corps in marching band. I LOVED IT. A couple of my friends and I joined and it actually became one of the "cool" activities at my high school.
Our football team was so awful that people stopped coming to games, but the year we started in flag corps the band and the corps were outstanding. People would come out to the football games, act interested in the first half, watch the band at halftime (cheer wildly) and then clear out when we were done. Bittersweet I suppose. I also coached flag corps for 3 years after I graduated. Almost every school in our league gave us props on being the best marching band and flag corps. Kinda neat-o.
3. How old were you when you had your first beer?
18
4. If you can recall, what is the story of your first beer? Where did you have it? What style and brand was it?
Bud Light out of a warm keg at a graduation party. There is a reason you have keggerators people….
5. Where, if applicable, did you go to college? What did you study? What additional activities, organizations, sports did you partake in during college?
Well, I've been to several…I'm what you call a professional student. When I was in high school I took college classes at the University of Findlay in Ohio (Calculus, Psychology, Sociology)….smart kid stuff, you know. Then I attended Bowling Green State University in Ohio as a Nursing student, decided I hated the people I would have to work with for the rest of my life and changed my major to business and transfered to Owens Community College in Ohio (better known as Slowens).
My husband and I then moved to Chicago and I said to myself "screw nursing, or business or whatever else my family wants me to do; I'm going to do what I want to do!" So now I am attending Elgin Community College's Culinary Arts Institute for my Associates in the Culinary Arts. I am blessed to have found my calling. I'll be taking some Entrepreneurship classes as well so I can write a better business plan for the beer bar and/or brew pub I will open.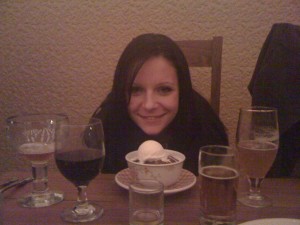 Craft Beer Epiphany
Every craft beer enthusiast has at least one pinnacle craft beer experience that completely changes ones perspective on beer. I refer to this mind-blowing moment as a "craft beer epiphany."
1. What was your first craft beer epiphany? Recall as many details about it as you can:
I had been experimenting with beer here and there for a while, drinking things like Leinenkugel's Honeyweiss or Samuel Smith's Nut Brown; but, the day I had my first real American craft beer is something I am pretty sure I will never forget. I was sitting on the step outside my garage door at my house in Bowling Green, OH watching my husband homebrew, he was drinking a Brooklyn Brown Ale and told me I should try it.
So, I did…. I honestly don't have words to describe what happened at that moment, I suppose all I can say is that was the day I realized what beer can be and what it shouldn't be. To this day, Brooklyn Brown remains my favorite brown ale. Ever. Mostly because it's delicious but also the nostalgic quality is unbeatable.
2. Have you have additional craft beer epiphanies since the first? Detail as many of them as you wish:
I suppose I have, I feel like I have one every time I try something that is unexpected. For instance, I had a Reaper Ale Mortality Stout a couple weeks ago. Wow. I almost feel like I shouldn't talk about it because it's like a spoiler on a movie ending…. [SPOILER ALERT] A stout with Brett?!??! (It is Brettanomyces right? It sure tasted like it.) I mean….wow. It was amazing. No where on the bottle does it say it has Brett in it, but you drink it and BAM! there it is. (Or is it whoop! there it is….I'm not sure.) Fantastic beer. Fantastic experience.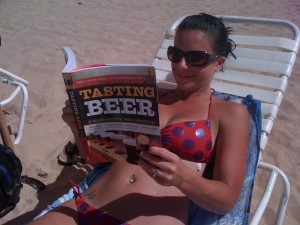 Beer Talk
1. What are your top 3 favorite beer styles?
What's that Charlie Papazian quote? My favorite beer is the one I'm drinking right now….or something like that. But if I had to choose, I would say IPA, Imperial Stout and almost any sour beer.
2. What are your top 3 favorite breweries?
This is tough. Three is a small number. Port Brewing. The Bruery. And, of course, the 21st Amendment Brewing Co.
3. If you could work with or for any one brewery, which one would it be and why?
Probably The Bruery. I think Patrick is a mad scientist and a brilliant business man; I feel I could learn a lot from him and to be involved in something so unique and driven would be an honor.
4. Are you a homebrewer?
I have assisted in many homebrews but never have I actually made my own. It's intimidating. I'm a cook. When I cook, I make a mess, sure I follow sanitation guidelines and I'm not making dirty food, but the sanitation required for brewing is scary. I'm almost positive I would never have the patience to brew a beer that wouldn't get infected at some point in the process.
5. Do you have any beer certifications (BJCP, Cicerone, Siebel, American Brewers Guild)?? If so, what are they?
I recently passed my Certified Beer Server exam from the Cicerone Program and am studying to take the Cicerone exam hopefully in 2010. Also, if I have extra money lying around someday, I will attend Siebel.
6. What is your favorite beer and food pairing?
A sour beer (probably Rodenbach's Grand Cru) with a plate of various cheeses, charcuterie, honeys, fruits, and a nice warm french baguette. Mmmmm, yummy.
7. What are you top 3 favorite beer blogs/beer websites?
BeerAdvocate. Beer Mapping Project. And Twitter, as a whole…..it's the best, because there you can link to other blogs/sites but all the information is in one spot.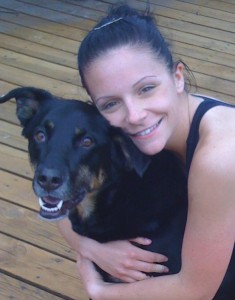 The Personal Side
1. What is your current day job?
I own a pet sitting and dog walking business in the Chicago suburbs call Shake A Leg Pet Exercise & Care, Inc.
2. If you could change your career at this very moment, without any restrictions on what you could do, what would you want to do and why?
I would open a brew pub with a friend of mine who makes the BEST homebrew I've ever had. I'd open it in Chicago and it would be on the same level as The Publican.
3. Are you married? Children?
Yes and no. Well, unless you count four-legged children. In that case, I have two: a dog, Samson, and a cat, Weizen.
4. Outside of beer and writing, what are some of your other hobbies?
I run barefoot. I haven't in a few weeks as I have a stress fracture in my foot, but once it heals I will begin training for a half marathon that I'll hopefully run in May and then a full marathon in the Fall of 2010. Also, I cook amazing food…it's not bragging if you can back it up.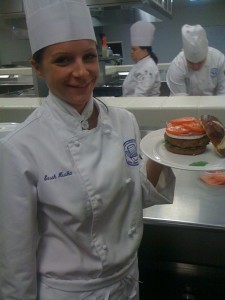 Off The Beaten Path
1. If you were a style of beer, what style would be an why?
I would be a sour beer. Bubbly, bold, a little sweet, not too bitter, pretty and loaded with enough alcohol to make life awesome.
2. You were caught smuggling beer illegally, which has now been made punishable by death. Right before you are sent to the executioner, you are offered one last beer. What beer would you chose and why?
Burnter Santa Imperial Stout from Bridges Brewing
3. If I contracted you to brew a beer (or design a beer recipe) called "The Beer Wench" — what style would you chose and what, if any, extra ingredients would you add?
I'd design an IIPA. Bold, refreshing, fun, sociable, a little fruity and (again) loaded up with enough alcohol to make life awesome!
4. If you could be a superhero, what would you want your superpowers to be?
Flying or teleporting.
5. What is one of the craziest things you have ever done and lived to tell the story?
I survived GABF 2009…even with Shaun and Nico of the 21st Amendment "hooking me up"….not many could survive that, I assure you.
6. What are your thoughts on bacon?
Everything's better with bacon.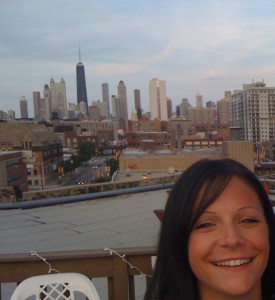 SPECIAL THANKS TO SARAH FOR BEING AN AWESOME BEER TWEETER AND #LADYGENTS!
CHEERS!

Tagged as
ashley routson
,
beer
,
beer and food
,
beer mapping project
,
beer tweeter
,
Beer Wench
,
craft beer
,
culinary
,
dog
,
sarah huska
,
twitter
+ Categorized as
Beer & Food
,
Beer Tweeter Interviews