Featured Beer Blogger: MICHAEL BERGMAN
DRINK WITH THE WENCH PRESENTS:
The Beer Blogger Interview Series
Curious what goes on in the minds of your favorite beer bloggers? Well, The Beer Wench is and she has embarked upon a mission to interview as many beer bloggers that she can — from all over the world. Are you a beer blogger? Do you want to share your story? Send me an email!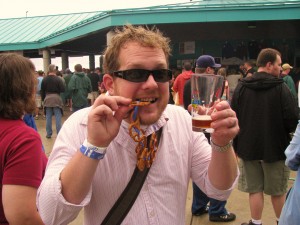 INTRODUCING: MICHAEL BERGMAN
AUTHOR OF: MIDWEST MICROBREWS
Beer Blogger Interview
Full name: Michael Bergman
Twitter handle: mwmicrobrews
Name of blog: MidwestMicroBrews
Current location: Green Bay, WI
Background "Snapshot"
1.Where did you grow up?
I grew up along the beautiful shores of Lake Superior in Marquette, Michigan.  It's a small college town, with a independent spirit… as well as a great brewpub in the Vierling.
2. How old were you when you had your first beer?
I didn't have my first beer until I was 28 years old!   I dabbled in harder stuff during college, but I spent the better part of my twenties as a pretty hardcore straight-edge, anti-alcohol, vegan, pretentious prick.  By 28, I learned to calm down about a lot of things that I was so passionate about, and began to accept that having a beer didn't make me a slave to alcohol.
3. If you can recall, what is the story of your first beer? Where did you have it? What style and brand was it?
I was lucky enough to have had a great beer for my first beer.  I was living in Salt Lake City at the time, just a few blocks from the excellent Squatter Pub & Brewery.  I ordered the Provo Girl Pilsner because of the name.  It was love at first taste.   I didn't know anything about beer at the time.  I wouldn't have been able to tell you the difference between a stout and an IPA.  What I did know was that this was a damn good drink and look at that, they make eight other kinds, too!  I think I'll see what those others are about.
4. Where, if applicable, did you go to college? What did you study? What additional activities, organizations, sports did you partake in during college.
I began college at Eastern Michigan University in Ypsilanti, but when I switched majors from Theatre to Philosophy, I started taking more and more of my classes at the University of M*ch*gan (*choke*spit* GO BUCKS! *ahem*) in Ann Arbor.   Most of my studies were on late 19th and early 20thCentury German and French philosophy (Husserl, Heidegger, Nietzsche, Sartre, etc.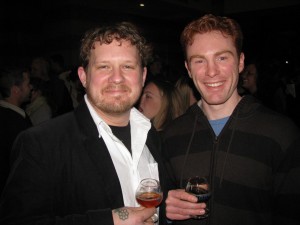 Craft Beer Epiphany
Every craft beer enthusiast has at least one pinnacle craft beer experience that completely changes one's perspective on beer. I refer to this mind-blowing moment as a "craft beer epiphany."
1. What was your first craft beer epiphany? Recall as many details about it as you can:
Having had a great craft beer as my first beer, I assumed that I just liked beer, not necessarily craft beer.  It wasn't until I had a Heineken that I realized that I didn't like ALL beer.  No offense to anyone who likes Heineken, but I thought it was just an awful, awful thing to have in my mouth.  If that had been my first beer, I don't think I would have ever had another.  In a way, it was through drinking a crap beer that I realized that my tastes tended toward the fuller, bigger tastes and feels of craft beer.
Beer Blog Background
1. How long have you been writing your beer blog?
I started MidwestMicroBrews in January of 2007.
2. What inspired you to start writing your blog?
I've always been a fan of the "eat local" philosophy.  When I became interested in craft beer, it was natural for me to want to drink the beers that are produced locally.  Luckily, I live in Green Bay, Wisconsin now, where there are two excellent brewpubs within a mile of me: Titletown Brewing Company and Hinterland Brewing Company, as well as easy access to the dozens of other great craft brewers of Wisconsin.
I started MidwestMicroBrews as a simple way to promote the great brewers of this part of the county.  At its foundation, it's a directory of the craft brewers in the Midwestern states.  The added content, like our Featured Brewer profiles, reviews, and beer news, have always been secondary to the directory.
3. Why did you choose the name of your blog?
I sometimes regret the name, since I know that the term "microbrew" is passé, but I liked the alliteration of it better than MidwestCraftBeer.  I'm a sucker for alliterative titles, I guess.
4. What are you personal goals for your blog? What do you hope to achieve with it?
I want to expand on our Featured Brewer profiles and offer more industry news as well as reviews, but as a dad of a nine-year-old and a five-month-old, I'm struggling to find the time.
5. What is one of the coolest things that happened to you as a result of being a beer blogger?
Being asked by the organizers of the Great Lakes Brew Fest to sponsor the Michigan Beer Pavilion was really cool.  I helped get Michigan brewers to attend.  I also ended up spending most of the day of the festival pouring for the always-awesome Jolly Pumpkin of Dexter, MI.   Spending a day sampling and talking beer with great people like The Beer Wench and Todd Parker of Copper Canyon Brewery was truly a treat.
6. What are your top 3 favorite beer blogs/beer websites?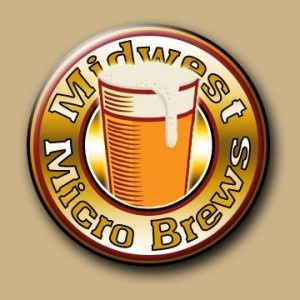 Beer Talk
1. What are your top 3 favorite beer styles?
Imperial/Double IPAs (the hoppier the better), Imperial Stouts and Scotch Ales.
2. What are your top 3 favorite breweries?
Brewpubs:
Brewers:
3. If you could work with or for any one brewery, which one would it be and why?
That's a great question.  I would love to work with Central Waters Brewing.  Not only are they a cool group of guys, but they are really progressive in their attitudes toward the environment, which I fully support.   Among other initiatives, they've recently become Wisconsin's first green-powered brewery, having installed 1,000 square feet of solar collectors.  Very cool.
4. Are you a homebrewer? If yes, what is the most unique and interesting beer recipes you've brewed as a homebrewer?
I've never been a homebrewer, and I doubt I'll ever take up the hobby.  Not only would it be tough to do in our two bedroom, 4th floor condo, but I really like supporting the great brewers that are already out there.
5. Do you have any beer certifications (BJCP, Cicerone, Siebel, American Brewers Guild)?? If so, what are they?
No certifications.  I'm purely an amateur enthusiast.
6. What is your favorite beer and food pairing?
Wicked-hot Thai curry with a big DIPA.  Mmmmmmm… nothing better.
The Personal Side
1. What is your current day job?
I'm a photojournalist for the ABC affiliate here in Green Bay.  I fell into TV News after college.  I thought I would do it until I figured out what I wanted to do when I grew up.  Ten years later, I'm still trying to figure that out.  It's been great for me, though— I've seen a lot of the world, and more importantly, I met my wife at my current station.
2. Are you married? Children?
I married my beautiful wife Kathryn in July of 2008, and we welcomed our baby boy Declan in July 0f 2009.  I also have a nine-year-old son, Ashton, from my first marriage.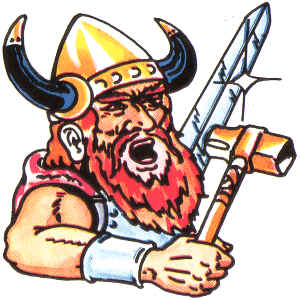 Off The Beaten Path
1. If you were a style of beer, what style would be and why?
An Imperial Coffee Stout brewed with an insane amount of caffeinated coffee.  It would also have to clock in over 10% ABV.  I fully embrace my mild bi-polar disorder, so a beer that pulls you in two different directions at the same time seems rather fitting.
2. You were caught smuggling beer illegally, which has now been made punishable by death. Right before you are sent to the executioner, you are offered one last beer. What beer would you chose and why?
For years now, there is one beer that never ceases to put a smile on my face: Hopslam from Bell's Brewery.  If I could have one of those in me, I would die a content man.
3. If I contracted you to brew a beer (or design a beer recipe) called "The Beer Wench" — what style would you choose and what, if any, extra ingredients would you add?
It would have to be a bold beer, something that really punches you in the mouth.  I'm thinking a Dry Hopped IPA with just a pinch of Ohio-grown, peat-smoked malts on the backbone to give it a little smoky taste.
4. If you could be a superhero, what would you want your superpowers to be?
I would have the power to stop time around me, but be able to move around within that frozen world.  That way I could put people into strange poses and predicaments and then unfreeze time to watch their reaction.   I suppose I could use my power to find bin Laden, but putting Ann Coulter and Keith Olbermann in bed together would probably be my first priority.
5. What is one of the craziest things you have ever done and lived to tell the story?
My sons may one day stumble across this, so I better not share those stories.   Let's just say if you wake up in Cleveland having lost the last four days of your life, it's time to get a new LSD dealer.
6. What are your thoughts on bacon?
I've been a vegetarian since my early teens, so… no bacon for me.  I understand the appeal, though.
SPECIAL THANKS TO MICHAEL FOR HIS AWESOME INTERVIEW!
CHEERS!