INTRODUCING: "THE MANDLE" – Man Candle In Recycled Beer Bottles
Are you a candle loving pyromaniac, but have no tolerance for overwhelming "girlie" scents such Vanilla Bean Cupcake With Pink Sprinkles and Mom's Fresh Baked Banana Bread???
Well have no fear, there is hope yet!
The brilliant minds behind Koi Kouture recently launched a line of "Man Candles" … errr I mean "Mandles." Each "Mandle" comes in a recycled Rogue Brewery, Stone Brewing Co. or New Belgium beer bottle.
According to the Etsy site, each bottle has been handcrafted in "a studio full of power tools and beer, while Whitesnake plays in the background."
How … manly of them. Just add some facial stubble, some Lee's bluejeans and a shotgun — and you have one killer "Man Candle Making Man Fest."
These candles are made from 22 oz. beer bottles since, according to Koi Kouture, "men drink big beers and like big candles." Each candle is between 16 and 18 ounces.
There is a disclaimer though, Koi Kouture does recognize that they cannot alienate the fairer sex and admits that these candles are also for the "awesome girls" that drink beer like "real men." Awww, shucks. Thanks guys…
In my opinion, the "best" aspect of this concept is that fact that they are using CRAFT BEER bottles for the candles. Which is further proof that "real men" and "awesome girls" don't just drink beer, they drink craft beer. VIVA LA BEER WARS!
Another fun attribute is that each candle is custom made. The customer not only has the option of choosing the scent, but they also can choose WHICH Rogue Ales beer bottle to put it in! Rock on! Curious about what a "Mandle" scent actually entails?
Here are the scents you can choose from:

HOOTERS WAITRESS SCENTED: Suntan Oil with the faint smell of old deep fryer oil. 

HUNGRY MAN TV DINNER SCENTED: Roast Beef with Creamed Corn (real enough to make you throw up in your mouth a little)

STRIPPER BREATH SCENTED: Watermelon Jolly Rancher with a little stale smoke

HAM & CHEESE SANDWICH ON RYE SCENTED: Ham and cheese on rye…with a tiny bit of mustard. 

MUNCHIES SCENTED: Fritos with an underlying layer of dried pot and a tiny bit of smoke. 

CARNY: Cotton Candy and Corn Dogs…with a little motor oil.

TRAILER PARK: Motor Oil, Fresh Dirt and despair (not really)

CAMPING: Roasted Marshmallow and Firewood

OH NO, IT'S THE COPS!: Coffee and Donuts

ROAD TRIP: Beef Jerky

OLD SPICE (Because the new commercials are amazing!)

PINK STARBURST

SUNTAN OIL

CRAZY OLD FISHERMAN: Fishing Boat and Old Spice
AXE BODY SPRAY: Just like the one your little brother in college wears.

FRESH CUT GRASS: Men love nothing more than mowing the lawn and drinking a beer. 

LEATHER: Just like the leather couch in a bachelor pad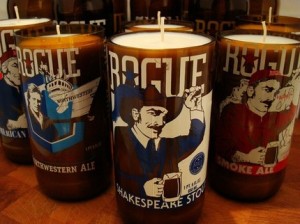 THE RECYCLED BEER BOTTLE CHOICES:

Rogue Brewery American Amber Ale
Rogue Capt. Sig's Northwestern Ale
Rogue Brewery Shakespeare Stout
Rogue Brewery Kell's Irish Style Lager
Rogue Brewery Smoke Ale
Rogue Brewery Orange Honey Wheat
Rogue Brewery Juniper Pale Ale
Rogue Brewery Hazelnut Brown
Rogue Brewery Chipolte Ale
Stone Arrogant Bastard Ale
Stone IPA
Stone Ruination IPA
Stone Bitter Chocolate Oatmeal Stout
New Belgium Lip of Faith
Costing about $28 bucks a pop and another 6 bucks in shipping, these candles are not exactly "cheap." But then, they are completely hand-crafted and the idea is very unique and novel. I would say that they are worth it. Now I know what I am getting all of my craft beer enthusiast friends for future gifts!!!
FOR UPDATES ON KOI KOUTURE'S LATEST MANDLE CREATIONS AND NEW SCENTS, FOLLW THEM ON TWITTER @KOIKOUTURE AND BECOME A FAN ON FACEBOOK!

CHEERS!