Featured Beer Blogger: SEAN AYLING
DRINK WITH THE WENCH PRESENTS:
The Beer Blogger Interview Series
Curious what goes on in the minds of your favorite beer bloggers? Well, The Beer Wench is and she has embarked upon a mission to interview as many beer bloggers that she can — from all over the world. Are you a beer blogger? Do you want to share your story? Send me an email!
INTRODUCING: SEAN AYLING
AUTHOR OF: THE SOUTH STREET SHED BREWERY
Beer Blogger Interview
Full name: Sean Ayling
Internet nickname: Seanipops
Twitter handle: seanayling
Name of blog: The South Street Shed Brewery
Current location: Whitstable, Kent, UK
Background "Snapshot"
1. Where did you grow up?
I was born in Portsmouth, Hampshire, lived in Mauritius for two years (my father was in the armed forces) before moving to Whitstable in 1975.
2. What sports if any did you play growing up, through college and beyond?
Cricket. Now I realize that many of your readers will think I'm talking about an insect but it is a game not unlike baseball inasmuch as it is about a bat and a ball but it is a very cerebral game. I think of it as a game of chess but more physical. I still play even at the age of nearly 43, the team I play for is in a village league, we are called the Exiles at Bridge and our motto is "Ludus Finivit Ergo Bibamus" (the game is over therefore we drink).
3. How old were you when you had your first beer?
At home, 12 or 13. In a pub 14.
4. If you can recall, what is the story of your first beer? Where did you have it? What style and brand was it?
It was probably in the East Kent pub in Whitstable and it was called Hurlimann Lager. In Whitstable it was often referred to as "Hooligan" because people had a knack of waking up in the cells after a night on the lash. Interestingly I later found out that Albert Hurlimann was an expert on yeast. I later went onto Charrington's IPA and Courage Directors, Gales HSB and Bishop's Tipple.
5. Where, if applicable, did you go to college? What did you study? What additional activities, organizations, sports did you partake in during college?
Indeed, if applicable! I was asked to leave my local school (well invited not to come back!) and left with an O level in English and a CSE in Maths. I later studied as a mature student at Canterbury College of Technology where I got an A at A level English and won the College's outstanding academic achievement award.  The only sport I've ever been any good at was cricket but I also enjoy watching rugby football.
Craft Beer Epiphany
Every craft beer enthusiast has at least one pinnacle craft beer experience that completely changes ones perspective on beer. I refer to this mind-blowing moment as a "craft beer epiphany."
1. What was your first craft beer epiphany? Recall as many details about it as you can:
This one's easy. I've always loved IPA style beers and, a few years ago, at a local beer festival, I tried a beer brewed by Crouch Vale Brewery called Amarillo and it completely blew my mind. I'd first brewed as a 16 year old when my mother bought my father a home brew kit for a Christmas present. My father was on deployment with the Royal Navy at the time so I thought I'd do him a favour and brew his beer for him with spectacularly moderate results!
Fast forward to 2009 and I thought I'd take up the hobby again, convinced that the quality of the kits would have improved and that there would be an excellent homebrew internet resource. Well I've been brewing about a year and I've done 45 brews so not quite one a week. As soon as I'd got a few kits under my belt I set about making an Amarillo IPA, like most beers it took me a few tweaks before I got it right but actually it was very easy;  a Cooper's IPA kit, a kilo of beer kit enhancer dry hopped with 40g of Amarillo in my wife's (sterilized) stocking. It's quickly become my house beer and the one I'm often asked to brew for friends.  I'm going to try the same kit with Pacific Gem and, living in East Kent, I have access to East Kent Goldings, which I think is quite cool
2. Have you have additional craft beer epiphanies since the first? Detail as many of them as you wish:
Yup, learning to aerate wort with a hand blender. Talk about kick starting your brew.
Beer Blog Background
1. How long have you been writing your beer blog?
A couple of months
2. What inspired you to start writing your blog?
Originally it was to record the achievements of a father and son brewing. He's sixteen and I want to find a way of introducing him to alcohol in a sensible way. However, like most 16 year olds, he's not as interested in the journey as the destination. I started keeping a log on Facebook but went over to a blog at the turn of the year.
3. Why did you chose the name of your blog?
I brew in my garden shed. South Street is the name of the road I live in.
4. What are you personal goals for your blog? What do you hope to achieve with it?
It's mainly an outlet for my writing. I used to be a sports editor on my local newspaper and it's nice to keep my hand in. I've no desire to earn from my blogging, I'm relatively well paid for the job that I do. I hope it will grow into a record of the beer I brewed that was awesome but it's a warts 'n' all blog so when I produce a beer that is "toilet" I'll write about that too.
5. What is one of the coolest things that happened to you as a result of being a beer blogger?
Meeting and talking to like minded people really. I'm on a couple of UK forums and the community spirit is really good. Doing this interview has also been fun.
6. What are you top 3 favorite beer blogs/beer websites?
The Brew-it-yourself forum and Jim's Beer Kit is where I pick up as lot of tips from like minded brewers, I also read Pencil & Spoon, a blog by Mark Dredge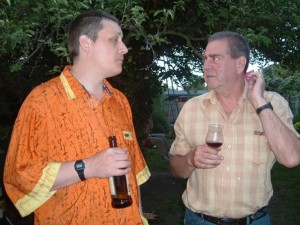 Beer Talk
1. What are your top 3 favorite beer styles?
IPA, Porter, Imperial Stout
2. What are your top 3 favorite breweries?
Gadds of Ramsgate, Hopdaemon, Crouch Vale.
3. Are you a homebrewer? If yes, what is the most unique and interesting beer recipes you've brewed as a homebrewer?
Aside from my Amarillo IPA, I brewed a lovely Elderflower Great Eastern
4. Do you have any beer certifications (BJCP, Cicerone, Siebel, American Brewers Guild)?? If so, what are they?
Nope
5. What is your favorite beer and food pairing?
Curry with Mild or Porter. If you're drinking lager, you're missing the point.
The Personal Side
1. What is your current day job?
I'm a Sales Rep for a Healthcare company.
2. If you could change your career at this very moment, without any restrictions on what you could do, what would you want to do and why?
Well I'd either open a brewpub or go back to sports journalism
3. Are you married? Children?
Yes and Yes
4. Outside of beer and writing, what are some of your other hobbies?
Still love playing cricket, I play the guitar but I'm awful, I like cooking but I'm a complete nightmare to be in the same kitchen as.
Off The Beaten Path
1. If you were a style of beer, what style would be an why?
Well it's a close run thing – I really had to think about this, I was going to say Porter because I'm working class, robust and have a keen thirst to slake. But because I love all things Indian (cricket, curry etc.) it would have to be an IPA.
2. You were caught smuggling beer illegally, which has now been made punishable by death. Right before you are sent to the executioner, you are offered one last beer. What beer would you chose and why?
The crappiest piss weak lager I could find, well if it was a decent beer I'd be even more  annoyed at dying and missing out on great beers.
3. If I contracted you to brew a beer (or design a beer recipe) called "The Beer Wench" — what style would you chose and what, if any, extra ingredients would you add?
Well, I think Wench is quite a sexual word. Wench conjures up the buxom Shakespearian pear shaped lady for me. So I'd be looking for an old ale with a lot of (ahem) "front".  I'd be looking for roasted malts, big flavour and super silky soft mouthfeel. Someone once said to me that an Imperial Stout slipping down the throat was like "expensive silk underwear slipping down a smooth pair of thighs" (their quote not mine). So, Imperial Stout it is then.
4. If you could be a superhero, what would you want your superpowers to be?
Boring I know, but fly, who wouldn't wanna fly.
5. What is one of the craziest things you have ever done and lived to tell the story?
I am the antithesis of crazy, I'm so safe it's beyond boring. I once forgot to put my seatbelt on for the first 100 yards of a car ride.
6. What are your thoughts on bacon?
It ceases to be crispy if you drop it in your beer
SPECIAL THANKS TO SEAN FOR AN AWESOME INTERVIEW!
CHEERS!!