Featured Beer Blogger: JOEL MAHAFFEY
DRINK WITH THE WENCH PRESENTS:
The Beer Blogger Interview Series
Curious what goes on in the minds of your favorite beer bloggers? Well, The Beer Wench is and she has embarked upon a mission to interview as many beer bloggers that she can — from all over the world. Are you a beer blogger? Do you want to share your story? Send me an email!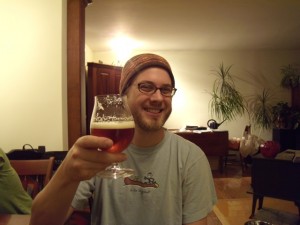 INTRODUCING: JOEL MAHAFFEY
AUTHOR OF: MAINE BREWS
Beer Blogger Interview
Full name: Joel Mahaffey
Twitter handle: @mainebrews
Name of blog: Maine Brews
Current location: Orono, Maine
Background "Snapshot"
1. Where did you grow up?
All over the place. My father was in the Navy, so we moved every 2-4 years. I spent most of my time in the Mid Atlantic area.
2. What sports if any did you play growing up, through college and beyond?
I played soccer most of my life, and especially enjoyed playing in college.
3. How old were you when you had your first beer?
I was pretty young when my dad let me sip the foam off his beer, that was the first taste I ever had. I was an upperclassman in high school when I had my first beer all to myself. It was a Coors Light, and was pretty forgettable.
4. If you can recall, what is the story of your first beer? Where did you have it? What style and brand was it?
(See above)
5. Where, if applicable, did you go to college? What did you study? What additional activities, organizations, sports did you partake in during college?
I went to Penn State, worked my way through 4 degree programs before graduating with a BA in Integrative Arts, focused on multimedia design.
Craft Beer Epiphany
Every craft beer enthusiast has at least one pinnacle craft beer experience that completely changes ones perspective on beer. I refer to this mind-blowing moment as a "craft beer epiphany."
What was your first craft beer epiphany? Recall as many details about it as you can:
My first real beer was a Sam Adams Cream Stout. It was like no other beer I'd had up to that point, and it changed my outlook on what a beer was capable of delivering. Until that day, beer was a light fizzy drink that could give you a nice buzz. Sam Adams Cream Stout was rich, chocolatey, roasty, and I wanted to know how, why, and why more beer didn't taste that good.
Beer Blog Background
1. How long have you been writing your beer blog?
I've been writing for about a year.
2. What inspired you to start writing your blog?
I decided to write a blog to help me document lessons learned in converting from extract homebrewing to all-grain homebrewing.
3. Why did you chose the name of your blog?
I named it Maine Brews to make it easy for people in my area to find it. There's not much for Maine homebrewers as far as internet resources (except the Maine Craft Beer Trail)
4. What are you personal goals for your blog? What do you hope to achieve with it?
I'd like it to continue to grow, along with my experience, and to perhaps get participation from other homebrewers in my area.
5. What is one of the coolest things that happened to you as a result of being a beer blogger?
I'm currently participating in a project called "Know Your Brewer" where we interview craft brewers and profile them on that blog. I've gotten to interview Jason Perkins at Allagash so far, and that was really cool.
6. What are you top 3 favorite beer blogs/beer websites?
HomeBrewTalk is my favorite resource for homebrewing. I also enjoy several blogs, but the Twitter folks I interact with are my favorite daily resource.
Beer Talk
1. What are your top 3 favorite beer styles?
IPA, Stout, Strong Ale
2. What are your top 3 favorite breweries?
Stone, Dogfish Head, and Sierra Nevada
3. If you could work with or for any one brewery, which one would it be and why?
It's a tough call, but I think I would have to say Dogfish Head. I like their beer, their commitment to using quality ingredients, and Sam seems like a really down-to-earth guy.
4. Are you a homebrewer? If yes, what is the most unique and interesting beer recipes you've brewed as a homebrewer?
I haven't brewed any beers that are really crazy out there — my current goal is to find some recipes for beer that tastes like an 8% beer, but is more around 4% — its going to be a challenge.
5. What is your favorite beer and food pairing?
IPA and Thai Coconut Curry.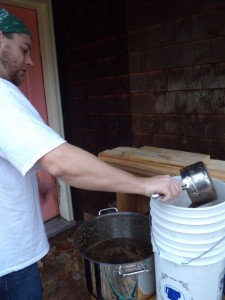 The Personal Side
1. What is your current day job?
Web Developer
2. If you could change your career at this very moment, without any restrictions on what you could do, what would you want to do and why?
I'd like to have Zane Lamprey's job, traveling the world and getting paid to learn about different regions by way of the local watering hole. It wouldn't be a forever job, but it would be fun for a little while.
3. Are you married? Children?
Married with two dogs.
4. Outside of beer and writing, what are some of your other hobbies?
Music. I can't go a day without music, its a significant part of my life.
Off The Beaten Path
1. If you were a style of beer, what style would be an why?
A big malty scotch ale. Not to be taken lightly, but smooth and complex at the same time.
2. If I contracted you to brew a beer (or design a beer recipe) called "The Beer Wench" — what style would you chose and what, if any, extra ingredients would you add?
A well-hopped american wheat. Light, hazy, with a nice crisp finish.
3. If you could be a superhero, what would you want your superpowers to be?
The ability to detox and reverse the effects of alcohol at will.
4. What is one of the craziest things you have ever done and lived to tell the story?
Over-consumed to a great degree one night in college. I have to protect the details, but I'm glad I don't do that anymore.
5. What are your thoughts on bacon?
I've been vegetarian for a while, but I don't remember feeling strongly one way or another the last time I had it. I like Baco's though, does that count for anything?
SPECIAL THANKS TO JOEL FOR AN AWESOME INTERVIEW!
CHEERS!