Featured Beer Blogger: Chris O'Leary
DRINK WITH THE WENCH PRESENTS:
The Beer Blogger Interview Series
Curious what goes on in the minds of your favorite beer bloggers? Well, The Beer Wench is and she has embarked upon a mission to interview as many beer bloggers that she can — from all over the world. Are you a beer blogger? Do you want to share your story? Send me an email!
INTRODUCING: CHRIS O'LEARY
AUTHOR OF: BREW YORK, NEW YORK
Beer Blogger Interview
Full name: Chris O'Leary
Twitter handle: ohhleary
Name of blog: Brew York, New York
Current location: New York, New York
Background "Snapshot"
1. Where did you grow up?
I grew up in Rhode Island, a vast wasteland of craft beer. There is exactly one microbrewery in the state (Newport Storm/Extreme Brewing) and three brewpubs (Coddington, Trinity, and Union Station) for the one million people there. Our state's best known contribution to beer was Narragansett – a defunct brewery who a team of investors re-established in 2005. It was a big regional player up until the 70s – kind of like Rainier or Lone Star or Schaefer. Even after its rebirth, it's a beer that is more about quantity than quality. You can still buy a six-pack of 'Gansett tallboys in Rhode Island for less than five bucks.
2. If you can recall, what is the story of your first beer? Where did you have it? What style and brand was it?
My dad drank absolutely awful beer growing up, so I didn't have a very positive opinion of it. He usually passed me sips of his beloved Coors Light (he was ecstatic when they started distributing to Rhode Island in the 1980s) when I was a kid – and then he and his buddies would laugh at the "bitter beer face" I'd make. Luckily, I overcame that when I came to college, and drank similar awful beer myself. My first full beer was probably Labatt Blue or Molson Canadian, since I went to school in Ithaca, New York, where Canadian imports flowed like water.
Craft Beer Epiphany
Every craft beer enthusiast has at least one pinnacle craft beer experience that completely changes ones perspective on beer. I refer to this mind-blowing moment as a "craft beer epiphany."
1. What was your first craft beer epiphany? Recall as many details about it as you can:
Despite all the Canadian beer in Ithaca, there was also an upstart microbrewer there: Ithaca Beer Company. While they've really diversified styles now, their two big sellers in my college days were their Apricot Wheat and Nut Brown. This opened my eyes to flavorful and creative beer at a time when my compadres were chugging giant styrofoam cups of Bud Light. I also spent a lot of eye-opening time in my last semester of college at Ithaca's Chapter House, which is a mecca of craft beer. It was good preparation for the real world.
2. Have you have additional craft beer epiphanies since the first? Detail as many of them as you wish:
When I moved to Burlington, Vermont a couple years after college, I quickly learned there was more to craft beer than stalwarts like Magic Hat, Brooklyn, Saranac, and Sam Adams. Vermont was where I picked up most of my beer palette – thanks to great little breweries and brewpubs like Rock Art, The Shed, Vermont Pub & Brewery, Three Needs, Switchback, Zero Gravity, and The Alchemist. They really opened my eyes to big beers, spice beers, and just plain wacky beers.
Beer Blog Background
1. How long have you been writing your beer blog?
I've been writing Brew York, New York off and on for two years. More "on" than "off," but my pledge to give up beer for Lent last year made it hard to keep a beer blog going. I'll never torture myself like that again.
2. What are you personal goals for your blog? What do you hope to achieve with it?
It's more of a personal journey. In addition to tracking craft beer in the city and seeing what breweries succeed and fail, I've been documenting my homebrewing, too. Years from now, perhaps I'll go back and see what a simpleton I was with homebrewing compared to what I'll be doing in the future.
3. What are you top 3 favorite beer blogs/beer websites?
Naturally, I spend way too much time reading reviews and finding new places to travel on Beer Advocate. Lee Williams' Hoptopia is a clever, well-written, and constantly updated beer review blog. I don't think I could pick a third without offending someone. I regularly read pretty much every blog on my blogroll.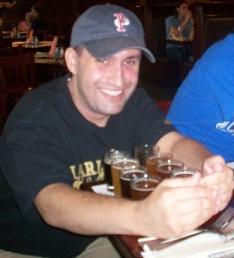 Beer Talk
1. What are your top 3 favorite beer styles?
IPAs, American Amber Ales, and anything barrel-aged. You could probably barrel-age the most awful beer I've ever had and I'll find something positive to say about it. I'm a sucker for that.
2. What are your top 3 favorite breweries?
Brooklyn Brewery definitely holds a special place in my heart for being local, and they always manage to surprise me with beers like the Cookie Jar Porter they brewed this winter. I love Allagash for the sheer number of creative and outrageous brews they offer. And the third would be a toss-up between Bells and New Belgium, but most likely only because they don't distribute to New York, so each time I do get my hands on one, it tastes that much better.
3. If you could work with or for any one brewery, which one would it be and why?
Dogfish Head, hands down. Not because I admire the beer and the company's image – but rather because I know I'd learn so much more than I already know about beer and the brewing process there. Those guys are beyond being professionals, they eat, sleep, and breathe this stuff.
4. Are you a homebrewer? If yes, what is the most unique and interesting beer recipes you've brewed as a homebrewer?
I've been homebrewing for about a year now. I've found myself doing something different than a lot of other homebrewers. I'm not harvesting yeast or using unusual ingredients. I make simple, drinkable beers to widen my friends' beer horizons. Every now and then, I'll do something to push my friends' comfort levels (my most recent creation was a Coffee Milk Porter, inspired by Rhode Island's official state beverage, coffee milk), but I try to keep my homebrews pretty straightforward from a palette perspective. I've even got a Cream Ale in the fermenter right now.
5. What is your favorite beer and food pairing?
I love Mexican food with a mildly hoppy IPA.  There's a little Mexican deli around the corner from my place and they probably get offended that I turn down a can of Tecate and take my food to go.
The Personal Side
1. What is your current day job?
I work in advertising. It pays the beer bills. Barely.
2. If you could change your career at this very moment, without any restrictions on what you could do, what would you want to do and why?
My co-workers probably wouldn't want to hear this, but my boss' boss is convinced that I'll own my own brewery five years from now. I guess that's a pipe dream that every homebrewer has, so more realistically, I'd like to do marketing for a brewery. It's a great way to travel and meet interesting people and learn a lot about the product you sell.
3. Are you married? Children?
I'm as single as a Belgian session beer. *rimshot*
4. Outside of beer and writing, what are some of your other hobbies?
I love cycling, travelling, and skiing. Luckily, all three of those often involve beer in some capacity.
Off The Beaten Path
1. If you were a style of beer, what style would be and why?
I'd be a really easy-drinking barleywine… something that is really easy-going at first, then sneaks up on you with a vengeance. Just kidding. That sounds really creepy. I'm horrible at metaphors.
2. You were caught smuggling beer illegally, which has now been made punishable by death. Right before you are sent to the executioner, you are offered one last beer. What beer would you chose and why?
I could never choose just one. I would probably be executed for spending hours trying to choose just one beer.
3. What is one of the craziest things you have ever done and lived to tell the story?
I jumped off a 50-foot cliff into the Deschutes River in Oregon last summer while whitewater rafting. My friends paddled off without me, so I was rescued a raft full of women who had better beer in their cooler – including cans of Fat Tire. I would consider risking my life well worth it.
4. What are your thoughts on bacon?
This may be blasphemy, but I don't see what all the fuss is about. Bacon is fine, but pork belly is beyond devine.
SPECIAL THANKS TO CHRIS FOR AN AWESOME INTERVIEW!
CHEERS!

Tagged as
@ohhleary
,
ashley routson
,
beer
,
beer blog
,
beer blogger
,
beer new york
,
Beer Wench
,
brew york
,
brew you new yorl
,
brewyork
,
chris o'leary
,
craft beer
,
new york
+ Categorized as
Beer Blogger Interviews