Featured Beer Blogger: DEVERIE ROBSINSON
DRINK WITH THE WENCH PRESENTS:
The Beer Blogger Interview Series
Curious what goes on in the minds of your favorite beer bloggers? Well, The Beer Wench is and she has embarked upon a mission to interview as many beer bloggers that she can — from all over the world. Are you a beer blogger? Do you want to share your story? Send me an email!
INTRODUCING:
AUTHOR OF: HURRA BIER
Beer Blogger Interview
Full name: Deverie Robinson
Twitter handle: @hurrabier
Name of blog: hurrabier.com
Current location: Washington, DC
Background "Snapshot"
1. Where did you grow up?
I'm Alaskan, but Alaskan like Susan Butcher, not Alaskan like Sarah Palin. I grew up on the Kenai Peninsula, in a town called Soldotna (population, 4087) just a few miles away from where my grandparents homesteaded in the late 1940's. My family later moved to the Pacific Northwest, where I attended high school and college. After college I lived in Seattle, San Francisco, and now Washington, DC.
2. What sports if any did you play growing up, through college and beyond?
I'm kind of uncoordinated, but I did some stints in soccer, cross-country, and cheerleading in high school. No sports in college which, trust me, is better for everyone involved. I love watching college basketball and college football though, and spent plenty of time as a fan.
3. How old were you when you had your first beer?
I remember my Dad and uncle letting me sip the foam off of their Budweiser at family picnics when I was a kid. I'm pretty sure that was illegal then, too. I always loved the taste, though. And I still firmly believe that there is a time and a place for a macrobrew like that (after mowing the lawn, maybe?) but since then I have grown my beer repertoire beyond Bud (and beyond sips of foam, for that matter!).
4. If you can recall, what is the story of your first beer? Where did you have it? What style and brand was it?
After the sips of Budweiser foam, I think my first real beer was probably at a party in high school (sorry, Mom!). I didn't hate the taste too much, but it wasn't great either. I think it was a Red Dog, back when the "red" beer names were all the craze. Ugh, I think I tried a Zima back then too. Makes me shudder!
5. Where, if applicable, did you go to college? What did you study? What additional activities, organizations, sports did you partake in during college?
I went to Washington State University, on the eastern side of the state, in Pullman. Pullman is a great college town in the middle of a bunch of wheat fields. It's an amazing place to be in early fall, and the "school spirit" is palpable. Originally, I enrolled in their Design program, but after too many late nights in the Architecture studios, I switched to English/Humanities. I also joined a sorority, and met wonderful friends. My grades really suffered from all of the fun WSU parties, and if I had it to do over again I would focus more on academics…but I had a great time!
I suspect that our college might just be the biggest contributor to the growth of AB In-Bev, solely through our consumption of Busch Light. It's watery, fizzy, dirt cheap, and great on cereal. The watery aspect makes it a perfect all-day beer – is it sad that I know this? We went through a lot of Busch Light in those days…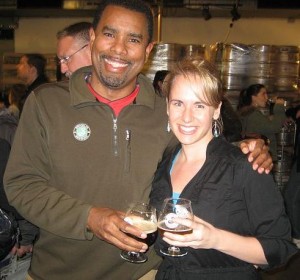 Craft Beer Epiphany
Every craft beer enthusiast has at least one pinnacle craft beer experience that completely changes ones perspective on beer. I refer to this mind-blowing moment as a "craft beer epiphany."
1. What was your first craft beer epiphany? Recall as many details about it as you can:
Spending so much time in Washington State was a natural avenue to discovering great beer. I remember making the switch from Busch Light to Bud Light and then coming across a little gem called Widmer Hefeweizen while out celebrating my 21st birthday. Served with a lemon slice (fancy!) and everything. Oh man, that first sip of Widmer was AMAZING. It still holds a special place in my heart.
I guess you could call that Widmer a gateway beer, because after that I was interested in trying any Hefeweizen I could get my hands on. Everybody was promoting that style of beer back then. Then it was Pale Ales…then Stouts…then an amazing barleywine (some would call it an old ale) turned my world upside down (a bottle of Thomas Hardy's Ale, at a great little beer bar in NY) and the whole exploration of great beers continues to blossom.)
2. Have you have additional craft beer epiphanies since the first? Detail as many of them as you wish:
Several years ago, I was lucky enough to take a "beerventure" road trip; starting in San Francisco and driving up through the interior of Northern California, Central Oregon, to Bend, Portland, and back down the coast to San Francisco. I think it was something like 19 breweries and/or beer bars in 12 days. This was where I first discovered chili beers, which is still one of my favorite styles (in small doses!). Of all the places visited, Lucky Labrador was and still is my favorite brewery. Great atmosphere, good people, and tasty brews. I was also really lucky to have a seriously knowledgeable beer-guide as my companion on this trip, and I learned a ton.
We visited:
1) Sierra Nevada
2) Deschutes Brewing
3) Bend Brewing Company
4) Old St. Francis School/McMenamin's Bar
5) Full Sail Brewing Company
6) Bridgeport Brewery
7) Lucky Labrador


New Old Lompoc
9) Widmer (And yes, I had a Hefeweizen)
10) Pelican Pub and Brewery
11) Rogue Ales – Newport
12) Six Rivers Brewery
13) Lost Coast Brewery
14) Eel River Brewing Company
15) North Coast Brewing Company
16) Anderson Valley Brewing Company
17) Bear Republic Brewing
18) Russian River Brewing Co.
19) Lagunitas Brewing Co. (sort of – if you count driving around the parking lot)
Beer Blog Background
1. How long have you been writing your beer blog?
Not long, when compared with some of the amazing beer blogs that are out there. I started this in September 2009, when I decided to get serious about educating myself on beer. When I started my research, I only knew of a few beer sites, let alone beer sites that were female-focused. I am continually amazed at all of the great beer blogs and beer bloggers out there. And the number of beergeeks on Twitter? Insane! I love this community of beer lovers, and I hope to grow my beer blog along with it.
2. What inspired you to start writing your blog?
At the time that I started Hurra Bier, I decided to completely dive in to the world of beer and soak up all the knowledge I could. I got a part time job at The Brickskeller, run by Dave Alexander and his wife Diane, which is a DC Beer Scene institution. I read everything I could get my hands on about beer, and started buying tons of stuff I'd always been meaning to try, but hadn't yet. The blog was another way to surround myself with other beer people, and share experiences.
3. Why did you choose the name of your blog?
There is a late 1930's German advertisement, referred to as "Hurra Bier!" that I came across, but haven't been able to find any artist information on. Apparently this is a common problem with old advertisements that end up in the art world, but in any case this image is now owned by Getty Images. There are so many pictures of all kinds of women used in beer advertising, but this one is definitely my favorite. I love the image of the woman holding her beer steins up high and proud. She's not a scantily clad beer bimbo, she's not a cranky old prude — she is a youthful and enthusiastic woman who clearly loves her beer. That's exactly the kind of feeling I want to project with the Hurra Bier website.
4. What are you personal goals for your blog? What do you hope to achieve with it?
I just love writing about beer and if someone else likes what I write, then that's great too. Right now I'm focused on the "Women In Beer" interview series (of which The Beer Wench is an esteemed member, I might add!). The goal with this interview series is to highlight some of the awesome women in the beer world and their contributions to the business and to the community as a whole. Nothing against the fellas of the beer world, though! I am an equal-opportunity beer sharer, and love chatting with both genders about all things beer.
5. What is one of the coolest things that happened to you as a result of being a beer blogger?
I've met some amazing people! Recently, I interviewed two of my favorite beer celebrities, Hallie Beaune and Christina Perozzi, amazing beer educators and authors of The Naked Pint. Today I get to interview Kim Jordan, CEO and co-founder of New Belgium Brewing Company — how cool is that? I've met interesting beer writers, like Stevie Caldarola from Basically Read and Tammy Tuck, who writes for the Lagerheads in DC Citypaper. The beer world is the ultimate collaborative community. Everywhere I look there are great people who are passionate about beer.
6. What are you top 3 favorite beer blogs/beer websites?
Hmm…that is a tough one. I like dcbeer.com for local event information, Beerforchicks.com (check out the Barley's Angels section!), and yoursforgoodfermentables.com for some well-written beer news and opinions.
Beer Talk
1. What are your top 3 favorite beer styles?
I'm sure everyone who answers this question for you has a tough time deciding, and it's no different for me! Saison is one of my very favorite styles, and so is Chili beer, though the two couldn't be more polar opposite. They each require a very different beer drinking mood. And while some folks might like a sweet dessert after dinner, a bit of chocolate or a slice of cheese, I'd trade them all for a delicious barleywine. One of my all time favorite barleywines is the RedHook Treblehook Limited Edition 2009. WOW.
2. What are your top 3 favorite breweries?
Again with the tough questions! Well, as mentioned before, I love Lucky Labrador out of Portland, Oregon. They have a really special thing going on up there, and even better that they have a dog run where you can let your pooch roam while you sip the suds.
Another favorite is definitely Diamond Knot Brewing out of Mukilteo, Washington. Oh man, their Industrial XPA is enough to inspire beery dreams about 80 IBU's of mouthblasting deliciousness!
And probably Brooklyn Brewing, because I think they've got a well put together brand of great standards and fascinating special release brews. The Brewmaster's Reserve Cookie Jar Porter? Brooklyn Sorachi Ace? Brooklyn Blast? All insanely good beers. And Garrett Oliver is super handsome, too, so I might be a little bit swayed by that. Can you blame me?
3. If you could work with or for any one brewery, which one would it be and why?
The dedication to community involvement that New Belgium Brewing brings to their workplace is inspiring, and I imagine that would be a wonderful place to work. In talking with Kim, she strikes me as a very grounded individual who works well with her colleagues, and everyone wants that from a boss. But moving westward, Russian River Brewing Company makes beautiful beers in one of my favorite areas of the United States, and the reputation that precedes them is well-deserved. Can't say I'd mind being part of that, either!
4. Are you a homebrewer? If yes, what is the most unique and interesting beer recipes you've brewed as a homebrewer?
Yes, but I'm a newbie. I love trying new recipes in cooking and in brewing, and have had relatively few (knock on wood) absolute failures in both. It's an evolving education, and I love the process.
5. Do you have any beer certifications (BJCP, Cicerone, Siebel, American Brewers Guild)?? If so, what are they?
Not yet. Cicerone is my current goal, but my day job is pretty demanding and not at all related to beer, so for right now this is still on the list of things to do.
6. What is your favorite beer and food pairing?
The New York Times recently published a recipe for Sautéed Whiting with Lemon Cream Sauce, paired with a Belgian. Here's the link in case anyone wants to try it.
I served this with Leffe Blonde and it was a beergasmic experience. I've made many "good" dishes before, and only a handful of astounding dishes. This one falls in to the astounding category. Trust me – next time you want to cook for a date, this is your recipe. You can thank me later.
The Personal Side

1. What is your current day job?
I'm an Attorney Recruiting and Professional Development Administrator for a global law firm. I work with attorneys to support them in their on-going development and to bring new attorneys in to the Firm. I'm surrounded by really intelligent and hard working people, and even in this tough economy they always seem to maintain a can-do attitude — these folks work very hard, but they are passionate about their chosen path. It's inspiring.
2. If you could change your career at this very moment, without any restrictions on what you could do, what would you want to do and why?
Ah, good question! I'd love to have a career in the beer industry, but haven't figured out exactly what that looks like yet. Maybe I should call up my old high school guidance counselor… Until then, I just keep talking to others who work in the beer industry, and asking them questions, hoping I'll figure out a plan that fits me well.
3. Are you married? Children?
No kids, and recently engaged. My fiancée loves a good hoppy IPA, so I think I'll keep him.
4. Outside of beer and writing, what are some of your other hobbies?
I'm a six-time marathoner, though these days my knees have instructed me that half-marathons are the new thing. I love to travel and am in the midst of planning another stellar beer journey, details coming soon! I love live music and supporting independent radio, like kexp.org. And I'm kind of a spreadsheet geek. I ♥ Excel. Cool hobby, right?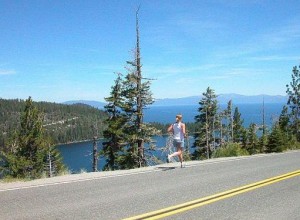 Off The Beaten Path

1. If you were a style of beer, what style would be and why?
Probably a Saison. They're refreshing. upbeat, blonde and friendly with just a little bit of earthiness thrown in. Answering this question is cracking me up.
2. You were caught smuggling beer illegally, which has now been made punishable by death. Right before you are sent to the executioner, you are offered one last beer. What beer would you chose and why?
Oooooh, how suspenseful! Love the beer drama as it unfolds! I'd kiss my true love goodbye, eat a fatty steak, and savor a Clipper City Loose Cannon Hop3 Ale. Then I could die a happy woman.
3. If I contracted you to brew a beer (or design a beer recipe) called "The Beer Wench" — what style would you chose and what, if any, extra ingredients would you add?
The Beer Wench, as crafted by yours truly, is a Belgian Wit. It's unfiltered, spicy, lively with carbonation, and crisp. Just like Ashley. I'd add extra citrus zest.
4. What are your thoughts on bacon?
Everything is better with bacon!!
SPECIAL THANKS TO DEVERIE FOR AN AWESOME INTERVIEW!
CHEERS TO CHICKS IN BEER!