Featured Beer Blogger: JOHN ROMERO
DRINK WITH THE WENCH PRESENTS:
The Beer Blogger Interview Series
Curious what goes on in the minds of your favorite beer bloggers? Well, The Beer Wench is and she has embarked upon a mission to interview as many beer bloggers that she can — from all over the world. Are you a beer blogger? Do you want to share your story? Send me an email!
INTRODUCING: JOHN ROMERO
AUTHOR OF: ROMEY'S BEER BLOG
Beer Blogger Interview
Full name: John Romero
Twitter handle: romejohn5
Name of blog: Romey's Beer Blog (Way creative huh?)
Current location: Colorado Springs, CO
Background "Snapshot"
Where did you grow up? I was born in Colorado and grew up in the great state of Texas before coming back home for college.
What sports if any did you play growing up, through college and beyond? I've always been a baseball fanatic. I've played since I was a little kid. These days you can always find me on the golf or frisbee golf course!
How old were you when you had your first beer? There's pics of me stealin a sip a around 4! Haha!
If you can recall, what is the story of your first beer? Where did you have it? What style and brand was it? The first beer I really remember was in high school. At a party we had Shiner Bock. Wasn't sure exactly what it was but I liked it. It was first venture into good beer.
Where, if applicable, did you go to college? What did you study? What additional activities, organizations, sports did you partake in during college? I took the Van Wilder route to higher education! After 3 years of pre-med at Colorado State University I decided it was time for a change. Journalism sounded like a good time so I transferred to Metro State in Denver and now I'm a reporter! I called play by play on the radio for the Metro State Roadrunners and was he sports director for the student newscast. At CSU I was an rabid football and basketball fan who rarely missed a game!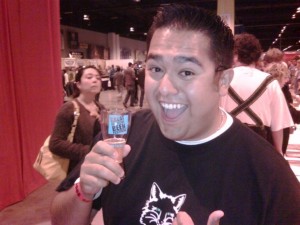 Craft Beer Epiphany
Every craft beer enthusiast has at least one pinnacle craft beer experience that completely changes ones perspective on beer. I refer to this mind-blowing moment as a "craft beer epiphany."
What was your first craft beer epiphany? Recall as many details about it as you can: Ahhhh… I'll never forget that first great craft beer "Holy Sh*t!" moment. I was bar tending at a downtown Denver bar called the Dugout. Chris Katechis of Oskar Blues and I were having a good time ripping each other when he bought me a Dale's Pale Ale. That first drink I'll never forget! Bitter, hoppy, de-freakin-lish! Had about 6 more that night! I've been a craft beer freak ever since.
Have you have additional craft beer epiphanies since the first? Detail as many of them as you wish: It seems every time I try something new I have another epiphany. So many great breweries are one of the beautiful things about living in Colorado. The first I've had in a long time is when I moved to Colorado Springs. I was at Bristol Brewing Co. when I saw the Black Fox logo. They told me it was a saison which I never really ventured into before. After that first taste of "Siempre Loco" I was sold. I love the spiciness and wildness of the saisons John Schneider brews. The man loves what he does and it shows. Another big moment seems to happen every Firkin Friday at the Oskar Blues brewery. From Raspberry Old Chub to Dale's in a whiskey barrel to the first time Gubna Imperial IPA came out in a firkin I'm always in heaven on Fridays. On my days off I travel all over the state trying new beers so epiphanies happen ALL THE TIME!
Beer Blog Background
How long have you been writing your beer blog? I've been writing since September so I'm a total newbie in the blog world.
What inspired you to start writing your blog? Living in Colorado we have so many incredible beers. I wanted to share my experiences with everyone who loves beer as much as I do.
Why did you chose the name of your blog? I was feeling super creative and the name just came out! Well… not really. Romey is my nickname so it seemed like a natural name. I hope they don't give too many points for originality!
What are you personal goals for your blog? What do you hope to achieve with it? I just want to spread the word of good craft beers, especially from my home state. I'm nothing special in the beer world, just a regular guy to loves a great brew. I never get overly technical and I think normal beer lovers can identify with just enjoying a great beer.
What is one of the coolest things that happened to you as a result of being a beer blogger? I've made so many contacts in the beer world since I started writing. From brewers to other beer fanatics I've met some awesome people. For me, that's what it's all about. Who wants to drink alone right? Haha!
What are you top 3 favorite beer blogs/beer websites? Tough one. So many good ones out there. I just recently got into the blog @BasicallyRed writes (http://basicallyread.wordpress.com) I also enjoy The Beer Drinkers Guide to Colorado (http://www.beerdrinkersguidetocolorado.com) They crew over there makes an awesome beer map! I think Oskar Blues (http://www.oskarblues.com) has a lot of cool stuff. And of course The Beer Wench is my new fav!
Beer Talk
What are your top 3 favorite beer styles? IPA, Stout, Belgian Wit
What are your top 3 favorite breweries? Black Fox Brewing Co, Odell, Twisted Pine
If you could work with or for any one brewery, which one would it be and why? I would love to work for a place like Twisted Pine or Avery. The creativity really flows there and there's so many fantastic styles at both breweries. Asher Brewing Co. just opened in Boulder, CO and they are certified organic. I think it would be awesome to venture into that as well.
Are you a homebrewer? If yes, what is the most unique and interesting beer recipes you've brewed as a homebrewer? I am not… apartment life isn't very conducive to brewing, although I am beginning to learn small batch brewing I can go at home.
Do you have any beer certifications (BJCP, Cicerone, Siebel, American Brewers Guild)?? If so, what are they? I am a certified beer geek!
What is your favorite beer and food pairing? Had lots but my favorite will always be a good New York style pizza with pepperoni and a Blue Moon. We had that in college all the time and it still never gets old.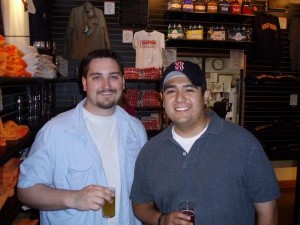 The Personal Side
What is your current day job? I am a reporter at KOAA News First 5
If you could change your career at this very moment, without any restrictions on what you could do, what would you want to do and why? I would jump head first into the brewing world if I could. I think I could be a natural in marketing for a brewery. I have a passion for craft beer and would love to venture into the business. In the mean time I love reporting. I meet new people everyday and seldom have a boring day!
Are you married? Children? Haven't walked either plank yet!
Outside of beer and writing, what are some of your other hobbies? I'm a big sports fan. Love going to Broncos and Rockies games. I also enjoy frisbee golf or classic golf. Both games I can accept being terrible at and just having a good time!
Off The Beaten Path
If you were a style of beer, what style would be an why? I think I would be a Mexican Lager (for obvious reasons!) haha!
You were caught smuggling beer illegally, which has now been made punishable by death. Right before you are sent to the executioner, you are offered one last beer. What beer would you chose and why? Dale's Pale Ale for sure. It's like your first girlfriend… there's always a special place in your heart for your first.
If I contracted you to brew a beer (or design a beer recipe) called "The Beer Wench" — what style would you chose and what, if any, extra ingredients would you add? Hmmm.. when I hear Beer Wench I think a crazy Belgian Wit… I'd go heavy on the spice and lemon zest!
If you could be a superhero, what would you want your superpowers to be? Good question! I was a Wolverine fan as a little guy so I'd be all about the claws and healing ability!
What is one of the craziest things you have ever done and lived to tell the story? I drunkenly chased a fox in college! One trip to the ER and a dislocated shoulder later… maybe it wasn't a great idea. Though my friends love the story!
What are your thoughts on bacon? It's only the ultimate meat! Everything is better with bacon! Big fan of a good center cut cooked nice and crispy! Ok… gotta go! I suddenly feel the need for a BLT and a beer! Cheers!
SPECIAL THANKS TO JOHN FOR AN AWESOME INTERVIEW!
CHEERS!