Featured Beer Blogger: VANESSA GIMPEL
DRINK WITH THE WENCH PRESENTS:
The Beer Blogger Interview Series
Curious what goes on in the minds of your favorite beer bloggers? Well, The Beer Wench is and she has embarked upon a mission to interview as many beer bloggers that she can — from all over the world. Are you a beer blogger? Do you want to share your story? Send me an email!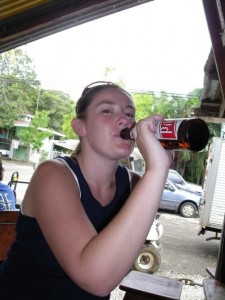 INTRODUCING: VANESSA GIMPEL
AUTHOF OF: POTABLES + EDIBLES
Beer Blogger Interview
Full name: Vanessa Gimpel – used to be Smith before I married that Jewish guy


Twitter handle: @EmpireVanessa
Name of blog: Potables+Edibles
Current location: Lake Worth, FL
Background "Snapshot"
1. Where did you grow up?
Austinmer, NSW Australia (about 1.5hrs south of Sydney)
2. What sports if any did you play growing up, through college and beyond?
Cross country running, swim team & competitive ballroom dancing (I was pretty good too!)
3. How old were you when you had your first beer?
Like all Aussies, I believe there is early photo evidence of me sneaking the dregs out of my dad's beers at about 3 1/2; but the first I remember, 14 or 15 years old. I HATED it.
4. If you can recall, what is the story of your first beer? Where did you have it? What style and brand was it?
Trying to impress some guy, if I remember correctly. At a party. It was a Carlton Cold; ugh – if I had to guess an American equivalent, probably a Natty Ice. Yuck.
5. Where, if applicable, did you go to college? What did you study? What additional activities, organizations, sports did you partake in during college?
I went to Charles Sturt University (in the boondocks, inland between Sydney and Melbourne) for a semester or two, majoring in Tourism & Marketing, but hated it and moved home and got a job at the Sheraton in Sydney. I mainly partook in happy hour for that year; living off campus is dangerous for a freshman! I am now a sophomore – back in college full time as a grown up; weird stuff.
Craft Beer Epiphany
Every craft beer enthusiast has at least one pinnacle craft beer experience that completely changes ones perspective on beer. I refer to this mind-blowing moment as a "craft beer epiphany."
1. What was your first craft beer epiphany? Recall as many details about it as you can:
2004. I was at my local after work pub in Sydney (called The Australian, incidentally) grabbing a beer with the boys, when I decided I was over the standard same old beer that I automatically ordered. So I asked the bartender to recommend something interesting. He got that glint in his eye, you know the one – you probably have it now when you offer a beer to a friend in your house, and they ask what you have

He poured me a taste of a beer that is made at another local Sydney pub, The Lord Nelson Brewery; it was a Three Sheets Pale Ale, and it was delicious. I never looked back.
2. Have you have additional craft beer epiphanies since the first? Detail as many of them as you wish:
I have one every now and then, usually related to trying something that I have convinced myself I'm not into.
I was always a lager drinker, maybe some wheat beers and pale ales, but not too hoppy. Hop-monsters came into my life in the form of the Lagunitas Hop Stoopid (about 2 years ago); I was convinced by the name that I would hate it – one whiff of that fruity nose, and I was converted. I couldn't believe I had been dissing hops for so long!
I was never much for the dark, heavy beers either; a bad run in with Guinness many St Patrick's Days past had put me off them for good, or so I thought. I use stout in a lot of my cooking, but never drank it, until I was handed a Left Hand Milk Stout one day and ordered to try it by a friend; it was certainly no Guinness. Thank goodness! I'm still not much of a stout drinker, the weather in FL rarely allows for it, but I recently had a Harpoon 100 barrel series Oyster Stout that was to die for, and the Sierra 30th anniversary Fritz and Ken's was dynamite.
Beer Blog Background
1. How long have you been writing your beer blog?
Since March, so not long.
2. What inspired you to start writing your blog?
I love to host dinners, or just to entertain people at our house; seeing people enjoying my space, my cooking, my beer, just makes me happy in a way that a lot of things don't. 2 years ago I threw a 6 course beer and wine matching dinner for my husband's birthday; it was supposed to be about 10 people, but ended up being 27 by the time dinner rolled around! Everyone thought it was fantastic; it was at this moment that my friends began to harass me about writing a blog, moving into the catering business etc. The chatter only got worse when I started home-brewing last year, so I gave in!
3. Why did you choose the name of your blog?
Hmmm…because I'm just a geek at heart? I love Jeopardy ("Potent Potables") and my blog while mostly about beer, is occasionally about food too!
4. What are you personal goals for your blog? What do you hope to achieve with it?
First and foremost it was to get my ideas, thoughts and opinions out of my head; I'm not really a shy person, but my group of friends (and husband) who are all extroverts/performers so it's sometimes very hard to get myself heard above the din! Secondly, if I can get some more people – Floridians specifically – into drinking more craft beer, I'm hoping that an ever widening range of beers will start to become available down here! Fingers crossed.
5. What is one of the coolest things that happened to you as a result of being a beer blogger?
Since I'm just starting out, maybe this interview?

But really, it's been amazing even over the last month or so, how many people in my area I'm getting in touch with that are as passionate about craft beer as I am; I didn't realize they existed!
6. What are you top 3 favorite beer blogs/beer websites?
Well, of course besides this one; I love http://basicallyread.wordpress.com that there is one awesome beer chick! I really like http://dosbeerigos.com mainly because they're local and have an offbeat take on the whole beer-tasting thing. Lastly, I really, really enjoy http://hoptopia.com 's beer reviews; super insightful – I just wish that I had access to all the beers that get tasted there!
Beer Talk
1. What are your top 3 favorite beer styles?
IPA, Saison, Pilsner (obviously not the MillerLite-esque versions!)
2. What are your top 3 favorite breweries?
Cigar City, Terrapin & Dogfish Head
3. If you could work with or for any one brewery, which one would it be and why?
New Belgium. I just love their whole philosophy – earth friendly, sustainable, low impact; it's an inspiring company.
4. Are you a homebrewer? If yes, what is the most unique and interesting beer recipes you've brewed as a homebrewer?
Oh yes! I love experimenting with different hops; I am a hophead for sure! I recently made a bohemian style pilsner, using New Zealand hops – Nelson Sauvin, which I love for its citrusy grapefruityness, and Riwaka which is a cross breed with the Czech Saaz hops…delicious, and pretty different from any pilsner you'd ever pick up at the grocery store (it's no Miller Lite!). I also recently attempted a Sierra Nevada Bigfoot clone; it was a severe underachiever and never came close to the goal ABV of 9.6%, landing at just 6.3%. However, it turns out it is a fantastic session IPA; a happy accident indeed!
5. Do you have any beer certifications (BJCP, Cicerone, Siebel, American Brewers Guild)?? If so, what are they?
Nope; just a beer nerd.
6. What is your favorite beer and food pairing?
Fried potatoes of any kind with an IPA. My personal favourite to go with potatoes is a Stone IPA. Also, a Rogue Chipotle Ale with anything cheesy is a great match.
The Personal Side
1. What is your current day job?
Property management (Residential leasing) & full time college student – major in Urban Planning.
2. If you could change your career at this very moment, without any restrictions on what you could do, what would you want to do and why?
My husband and I are batting around ideas for either a brewpub, or a nano-brewery in the next couple of years; so if it were no restrictions and unlimited funds, it would be that. We've been reading Beer School about the guys who set up Brooklyn; it's hard not to get the bug!
3. Are you married? Children?
Married almost 2 years, no kids.
4. Outside of beer and writing, what are some of your other hobbies?
Cooking – I find it really relaxing; the beach – well it is South Florida after all J;
playing with my dog, Chuck – she's a rescue and the best, most fun dog ever!
Off The Beaten Path
1. If you were a style of beer, what style would be and why?
Australian Sparkling Pale Ale. Australian, easy drinking, bubbly, and yes, despite the SoFL locale, I am pale, pale, pale J
2. You were caught smuggling beer illegally, which has now been made punishable by death. Right before you are sent to the executioner, you are offered one last beer. What beer would you chose and why?
Bells Hopslam. I would like to have my last beer be a sensory masterpiece. Hopslam is that!
3. If I contracted you to brew a beer (or design a beer recipe) called "The Beer Wench" — what style would you chose and what, if any, extra ingredients would you add?
I would have to go for one of the French farmhouse styles, maybe a Bière de Garde? I would go for some darker malts for colour, but have some spice undertones; maybe some coriander. Floral/Citrusy hops – maybe a pacific hallertau – you get a great orange marmalade aroma from them J
4. If you could be a superhero, what would you want your superpowers to be?
Teleportation, invisibility and of course super-strength!
5. What is one of the craziest things you have ever done and lived to tell the story?
I moved to Costa Rica for 2 years. I lived in a little fishing town where there was frequently no power, mosquitoes with dengue fever, a bout of dysentery, scorpions in my laundry…it's a wonder I made it out alive!
6. What are your thoughts on bacon?
Ben Franklin said that beer was proof that god loves us and wants us to be happy; personally I would add bacon to that sentiment. Could not, would not, live without it.
SPECIAL THANKS TO VANESSA FOR AN AWESOME INTERVIEW!
CHEERS!