Featured Beer Blogger: JAMIE PERKINS
DRINK WITH THE WENCH PRESENTS:
The Beer Blogger Interview Series
Curious what goes on in the minds of your favorite beer bloggers? Well, The Beer Wench is and she has embarked upon a mission to interview as many beer bloggers that she can — from all over the world. Are you a beer blogger? Do you want to share your story? Send me an email!
INTRODUCING: JAMIE PERKINS
AUTHOR OF: INORGANIK
Beer Blogger Interview
Full name: Jamie Perkins
Twitter handle: @inorganik
Name of blog: inorganik.net
Current location: Denver, CO
Background "Snapshot"
1.    Where did you grow up?
I was born in Boulder, moved to Fort Collins at the age of 13, and stayed there until after I graduated from CSU. Then I moved down to Denver in 2003.
2.    What sports if any did you play growing up, through college and beyond?
I played a lot of soccer growing up and also some racquetball, volleyball and softball.
3.    How old were you when you had your first beer?
18
4.    If you can recall, what is the story of your first beer? Where did you have it? What style and brand was it?
My buddy Tim had a small beer fridge in his room in is parents house in high school (don't ask me how he got away with it.) One day after biking around we headed over to his house and had a nice cold Corona. It was incredible.
5.    Where, if applicable, did you go to college? What did you study? What additional activities, organizations, sports did you partake in during college?
I got my bachelor of fine arts from Colorado State University, with a concentration in graphic design. I played in a few rec sports leagues, but was mostly uninvolved in organized groups and activities.
Craft Beer Epiphany
Every craft beer enthusiast has at least one pinnacle craft beer experience that completely changes ones perspective on beer. I refer to this mind-blowing moment as a "craft beer epiphany."
1. What was your first craft beer epiphany? Recall as many details about it as you can:
It wasn't a single beer but the variety of craft beers that peaked my interest in beer. Living in Fort Collins, I sampled all of the New Belgium beers- at the time Old Cherry Ale and Trippel were favorites. At Christmas time there was Frambozen, in the summer there was Sunshine- it occurred to me that beer wasn't just defined by brand, but also by style and that's when I started to pay more attention to it.
2.    Have you have additional craft beer epiphanies since the first? Detail as many of them as you wish:
I think when Rick Bakas introduced me to brewing in 2006- I already drank craft beer almost exclusively, but I began to understand what goes into a beer's flavor- the yeast, the grains, the hops- among other things. After a few batches I started to really understand the makeup of a beer's flavor and also how to dissect it. It made beer so much more interesting to me.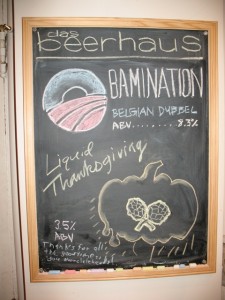 Beer Blog Background
1. How long have you been writing your beer blog?
For a couple years now- since 2008
2. What inspired you to start writing your blog?
The idea behind the beer section of my blog was to share my recipes and the experimentation I do. Basically, contribute to the community of homebrewers.
3. Why did you choose the name of your blog?
The name of my blog, "inorganik" is more related to my personal brand and other interests- web design and drum and bass music- which are "inorganic" things. My beer doesn't really fit into that category.
4. What are you personal goals for your blog? What do you hope to achieve with it?
I guess if I had to define a goal, it would be to have more readers and more discussion.
5. What is one of the coolest things that happened to you as a result of being a beer blogger?
Getting interviewed by the Wench of course!
6. What are you top 3 favorite beer blogs/beer websites?
Tastybrew.com was my original go-to homebrew resource. The Homebrewers Association has a great site, and for the more social side of beer, I check drinkwiththewench.com!
Beer Talk
1. What are your top 3 favorite beer styles?
Belgian Golden, IPA, and Brown.
2. What are your top 3 favorite breweries?
New Belgium, O'Dells, and Great Divide.
3. If you could work with or for any one brewery, which one would it be and why?
It would be my own- because my favorite part of brewing beer is experimenting with new recipes. I don't want to perfect a style- I want to try something new.
4. Are you a homebrewer? If yes, what is the most unique and interesting beer recipes you've brewed as a homebrewer?
Probably the most unique recipe I've brewed is my Rosemary pale ale. I used homegrown rosemary and pineapple sage and it added an interesting twist.
5. Do you have any beer certifications (BJCP, Cicerone, Siebel, American Brewers Guild)?? If so, what are they?
Nope.
6. What is your favorite beer and food pairing?
I love a Belgian beer with some garlic fries and aoli sauce. Best had at the Cheeky Monk here in Denver!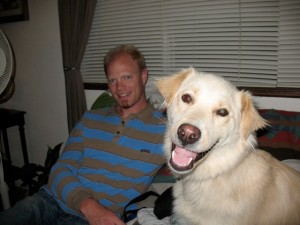 The Personal Side
1. What is your current day job?
I'm a web designer
2. If you could change your career at this very moment, without any restrictions on what you could do, what would you want to do and why?
Oh man, have my own brewery? But I also love what I do now.
3. Are you married? Children?
I am getting married on June 21st of this year! No kids yet.
4. Outside of beer and writing, what are some of your other hobbies?
Spinning drum and bass music. My friend Greg (@gmcerveny) and I upload mixes to soundcloud.com/inorganik every week- if you like dnb you should check us out! And being a Colorado native, I enjoy the gamut of outdoor activities.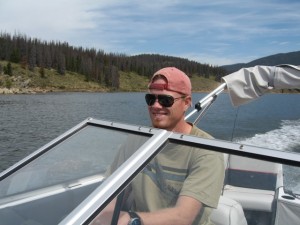 Off The Beaten Path
1. If you were a style of beer, what style would be an why?
Probably an IPA- I can be a bit cynical at times (bitterness) but I'm also very friendly (tastyness).
2. You were caught smuggling beer illegally, which has now been made punishable by death. Right before you are sent to the executioner, you are offered one last beer. What beer would you chose and why?
A Chimay Cinquecent.
3. If I contracted you to brew a beer (or design a beer recipe) called "The Beer Wench" — what style would you chose and what, if any, extra ingredients would you add?
It would be a blonde ale with some spicyness- maybe some coriander and grains of paradise.
4. If you could be a superhero, what would you want your superpowers to be?
To fly. Who doesn't want to fly??
5. What is one of the craziest things you have ever done and lived to tell the story?
Smuggled back some herbs from Amsterdam into Italy in 2001- on the way back our train was stopped at the Italian border, and soldiers with guns and drug sniffing dogs randomly searched cabins. My herbs were at the bottom of a Pringles can with Pringles in it. Foolproof right? Luckily I wasn't searched.
6. What are your thoughts on bacon?
Enjoyed on a weekly basis. Last summer I tried a bacon ale at Front Street Ale House in Friday Harbor on San Juan Island in Washington. Could there be a better marriage than beer and bacon?
SPECIAL THANKS TO JAMIE FOR AN AWESOME INTERVIEW!
CHEERS!