Epic Week For The Beer Wench
In my life, there are good days and there are bad days. There are good weeks and there are really really bad weeks.
This week has completely rocked my world.
Now, this post might sound like shameless self-promotion. Well, probably because it is. But that is besides the point.
All week long, my mug has been all over the Internet.
It all started when Asylum announced its list of nominees for "America's Next Top Beer" and the revealed its A-Team Beer Experts. As the only female on the panel, I joined the ranks of Jay Jankowski (of the prestigious Map Room in Chicago), Joe Sixpack (Philadelphia Beer Reporter and author of the blog: Joe Sixpack), Marty Wombacher (of the blog: A Guy Walks into 365 Bars), and Matt Simpson (aka The Beer Sommelier).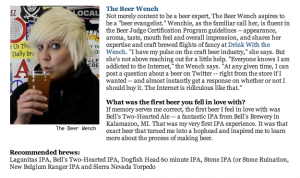 Calling me an expert, might be a stretch. But regardless, the notion was both humbling and flattering.
Right after the Asylum article was released, my video podcast with The Hop Cast was aired. About a month ago, I visited Chicago for the Craft Brewers Conference — where I was invited by Ken and Brad, the adorable beer vlogging duo of HopCast, to make a guest appearance on the show. You can find my over zealous appearance on EPISODE 97.
Within a few hours of the Hop Cast show going live, The Beer Channel posted an interview that they did with me during the 2010 Boonville Fest. Not gonna lie, I had been drinking since 7:30 am that morning. And it shows. Oh boy.
And then today, PJ Hoberman, my really good friend and fellow Hop Press beer writer, posted a picture of us drinking at the Green Flash Fest during San Diego Beer Week.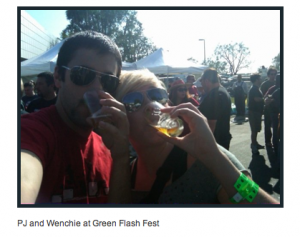 All in all, it was really awesome that so many people wanted to feature me this week. It is just further proof that beer people are, indeed, good people. Thank you to all of you who constantly support me in my current work and inspire me to continue on my beer evangelist path! Without you all, The Wench would cease to exist!
Cheers!