Featured Beer Blogger: JULIE RADCLIFFE ATALLAH
DRINK WITH THE WENCH PRESENTS:
The Beer Blogger Interview Series
Curious what goes on in the minds of your favorite beer bloggers? Well, The Beer Wench is and she has embarked upon a mission to interview as many beer bloggers that she can — from all over the world. Are you a beer blogger? Do you want to share your story? Send me an email!
Every once in awhile, I get particularly excited about a blogger interview. This is not because I have blogger bias (how can a mother pick a favorite child?). It is usually a result of a personal attachment to the person being interviewed. In this case, my featured beer blogger is my internet sister. Not only does she own the most kick-ass beer store in the world, she is also an amazing person who has given me so much support along my journey (oh, and she is also UNCOMFORTABLY ENERGETIC). Cheers!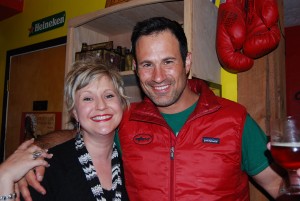 INTRODUCING: JULIE RADCLIFFE ATALLAH
AUTHOR OF: BRUISIN' ALES BEER BLOG
Beer Blogger Interview
Full name: Julie Radcliffe Atallah
Internet nickname: Who gave me a nickname? Do I need one?
Twitter handle: @bruisinales
Name of blog: Bruisin' Ales Beer Blog
Current location: Asheville, North Carolina
Background "Snapshot"
1.        Where did you grow up?
Topton, PA. Cows and corn, not enough beer.
2.       What sports if any did you play growing up, through college and beyond?
Volleyball. I wasn't big into sports, but big into theater and dance.
3.       How old were you when you had your first beer?
13. Don't tell my mother.
4.       If you can recall, what is the story of your first beer? Where did you have it? What style and brand was it?
It was a warm Miller High Life that a bunch of us in teenage wasteland commandeered at a picnic with our parents looking the other way. It was terrible. I drank it anyway. Then I threw up.
5.        Where, if applicable, did you go to college? What did you study? What additional activities, organizations, sports did you partake in during college?
Muhlenberg College, Allentown, Pennsylvania '94. Double major: BA Communications Theory/Theater & Performing Arts Program. Had a full course-load, took a semester abroad for theater in London, where I discovered cask ale at the age of 19. If I wasn't studying, I was in rehearsal. I also played rehearsal and pit piano for many productions and taught at a children's theater workshop for five years. I'm still a drama queen.
Oddly, Muhlenberg is the same alma mater of some dude from a little brewery called Dogfish Head. I think his name is Sam something-or-other. Not sure, though. He's pretty low-profile.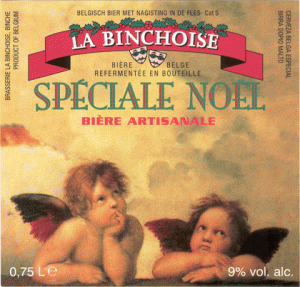 Craft Beer Epiphany
Every craft beer enthusiast has at least one pinnacle craft beer experience that completely changes ones perspective on beer. I refer to this mind-blowing moment as a "craft beer epiphany."
1.        What was your first craft beer epiphany? Recall as many details about it as you can:
I was 22 with my not-yet-husband, Jason, and we were visiting the newly opened Belgian beer bar in the basement of the Bethlehem Breworks in Bethlehem, PA. I had a De Dolle Bos Keun, the passover beer. I had never had a Belgian beer before. It was the best beer I ever had to date. There is not much more to say. I was speechless. My love for beer actually came through Belgium. It's a journey continuing to this day.
2.       Have you have additional craft beer epiphanies since the first? Detail as many of them as you wish:
Literally, the day after having De Dolle, we hit-up Shangy's in Emmaus, PA in search of this beer, having no clue the sheer number of Belgian ales available. At the time, Shangy's was the largest beer distributor in the Northeast. We met the family that first day with infinite, curious questions, and Mr. Shangy became a beer mentor to us. At the time, La Binchoise Noel had just won the World Beer Cup. He mentioned it was his favorite beer, calling it the "best beer in the world." We bought a case. I never looked back. I was just out of college, broke, but still managed to get friends to pitch-in for the case of expensive Belgian beer.
The nearby beer bars of Philadelphia opened up a whole new world of craft beer from local breweries like Weyerbacher and Victory. I'm forever indebted to my time sipping on Belgians and American craft in that city. I nearly always miss Philadelphia.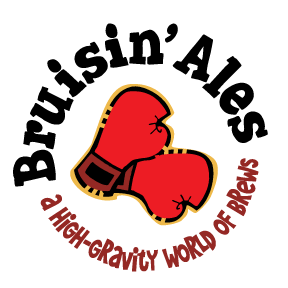 Beer Blog Background
1.        How long have you been writing your beer blog?
Almost four years. Almost.
2.       What inspired you to start writing your blog?
Mostly the business, mixed in with a little bit of angst and writers envy.
3.       What are you personal goals for your blog? What do you hope to achieve with it?
It serves mostly as an information platform for our customers, outlining local, state, and regional beer happenings; updates on our products; and sometimes a little rant about something I read in the press. It doesn't serve as a review site and as a shop owner, I try especially hard to avoid that, even if I just drank an other-worldly brew. I hope it facilitates conversation for when people come into the store, where I am, of course, happy to give my opinions in person.
4.        What is one of the coolest things that happened to you as a result of being a beer blogger?
Prizes! Sometimes I'll reference a brewery or beer that is not available to us in North Carolina. Many times a beer traveler will show up with that beer because they  read the blog post. I'm forever amazed at the passion of craft beer people. We want to share and get horribly upset when someone else hasn't had a beer we loved. The spirit of giving is alive. I really, really love that.
5.       What are you top 3 favorite beer blogs/beer websites?
They've changed over the years. I used to be a religious reader of Don Russell's Joe SixPack because of the ties to Philadelphia. I've always been a fan of Brookston Beer Blog, as it started around the time we opened Bruisin' Ales & was familiar with Jay from Celebrator. Beernews.org is now an indispensable source of beery things. Truthfully, I don't get a lot of time for reading, but series like this are always a good draw. So, thanks Wenchie for shining a light on others doing god's work. God's work is always anything to do with beer. Don't print that.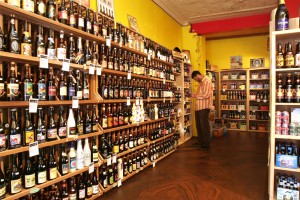 Beer Talk
1.        What are your top 3 favorite beer styles?
I hate this question and I'll tell you why: It's like asking a parent to pick a favorite child. They want to, but can't if they have any ounce of conscience. I honestly do not have a favorite beer style or styles. I love all of it. I'm serious.
2.       What is your favorite beer and food pairing?
I don't have much of a sweet tooth except when I'm enjoying beer. (And I probably get enough sugar on my own from the beer.) So, usually it's something sweet that is either a contrast or complement to my beer. I'm a sucker for artisan truffles from our local French Broad Chocolate Lounge and can easily disperse them from IPA's to barleywines.
One of my favorite pairings of recent memory was a  beer dinner where we matched Terrapin "The Dark Side" (Belgian-style stout) with Zambra's (Chef Adam Bannasch) date-stuffed beignets with espresso ganache, honey creme fraiche and rose petals. All the coffee notes of the beer were drawn out by the espresso while the dark fruit and honey added a sweetness to accompany the Belgian yeast. Working with chefs on beer dinners is one my favorite things on the job. What's better than food and beer?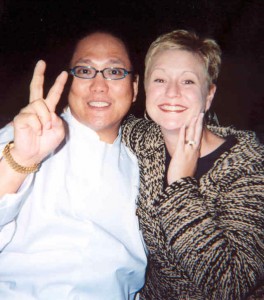 The Personal Side
1.        What is your current day job?
I own this little beer store called

Bruisin' Ales

. It's more of a day AND night job.
Bruisin' Ales was the first beer-only retailer in the Southeast. There are many great beers stores, but few of them feature just beer. We both tired of corporate work and wanted to be closer to family, so after visiting Asheville many times over many years and seeing the growth of breweries and their impact on the local culture, we decided to open a beer store here in the beautiful mountains of Western North Carolina. It's truly a labor of love. We have 800+ different beers from around the world (and the corner) at any given time.
Early last year we started

shipping nationwide

. While it's not a fully integrated online store (because we're only two people and two much to manage with retail), we ship to most states across the country, where legal. For a lot of our local breweries, we act as a distribution method for Asheville beer to get out of the regional area. I get warm fuzzies from shipping local beer to Oregon, California, Texas and Maine.
2.       If you could change your career at this very moment, without any restrictions on what you could do, what would you want to do and why?
I would go back to grad school, if money, time and location allowed. I had actually planned to be a college professor and desperately wanted to go to The Annenberg School at UPenn after undergrad to study Communications Theory. Life had different plans for me. Now I own a beer store and teach people in different ways. Now I'm a beerlanthropist. (Beer•lan•thro•py® is the registered trademark of Bruisin' Ales, by the way.)
3.       Are you married? Children?
I'm married to Jason Atallah, my partner in life and business. We'll be married ten years in November 2010 and have known each other for almost twenty. Our beloved, Bear, a 5-yr-old Black Labrador/Chow  mix is our baby.
4.       Outside of beer and writing, what are some of your other hobbies?
Travel. Get me somewhere different and cool and I can breathe again. Travel picks me up, switches my perspective and gets me excited about something outside my little life. I truly believe that understanding the world makes you a better person. You have to meet people, though, or it didn't happen.
Cooking. I love to cook. Jason likes to cook. Sadly, many meals are on take-out these days, but luckily we have tons of local options. But when you get me in the kitchen, look out. Before the business, we used to entertain friends at least once a week, because what is food without sharing? I will take on anything except chicken. Not a fan of chicken.
Yoga. I don't have the energy for hardcore workouts anymore, so yoga and meditation keep me strong and relaxed. Though I'm guilty of not doing it enough, it is a part of me. Before we opened Bruisin' Ales, I was enrolled in RYT (registered yoga teacher) training, until the instructor said that to truly embrace the training she asked that everyone abstain from anything that poisons the body. Beer was one of those things. I decided I did not want to teach yoga anymore.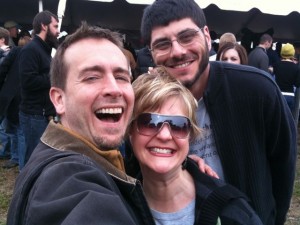 Off The Beaten Path
1.        If you were a style of beer, what style would be an why?
I would be a Wild Ale, surely. I'm spontaneous and sometimes uncontrollable), but I thrive under certain conditions. After all, life is a experiment and sometimes things go wrong. If I hit a sour note, I will open up to everything around me and try again. Usually things turn out just fine. I like to micro-manage and work best in small groups. Sometimes I take a long time to make a decision. But even if my style doesn't match everyone's taste, I'm unabashed about trying new things and taking risks.
2.       If I contracted you to brew a beer (or design a beer recipe) called "The Beer Wench" — what style would you chose and what, if any, extra ingredients would you add?
Lemongrass wheat beer— light and refreshing with just enough tartness. I might throw in a little ginger for your spicy, dry humor.
3.        If you could be a superhero, what would you want your superpowers to be?
I want to fly. Or be invisible. I want to fly invisibly.
4.       What is one of the craziest things you have ever done and lived to tell the story?
When in Rome (literally), I had a sick friend who wanted to stay in instead of accompanying our group to the Vatican. We left the hotel early in the morning, carefully locking the door behind us in small family-owned inn. We spent a full day touring all the museums and sites, including a walk back through the city at nighttime and a great meal in Piazza Rotunda. In an age before cell phones, we returned to the hotel after 10 p.m.—being gone over 14 hours—to no innkeeper and a frantic friend who was locked in the room all day. We had only been issued two keys, both of which we took, but the door was keyed inside and out. She had had no water, food, nor use of a bathroom the entire day. I thought she was going to kill me. She thought I was trying to kill her. It still gives me a good laugh, but it was definitely not cool at the time.
5.       What are your thoughts on bacon?
Funny you should ask, because I think about bacon all the time.
SPECIAL THANKS TO MY CRAZY AWESOME SISTER JULIE FOR A KICKASS INTERVIEW!
CHEERS!