Featured Beer Blogger: MICHAEL BUSSMANN
DRINK WITH THE WENCH PRESENTS:
The Beer Blogger Interview Series
Curious what goes on in the minds of your favorite beer bloggers? Well, The Beer Wench is and she has embarked upon a mission to interview as many beer bloggers that she can — from all over the world. Are you a beer blogger? Do you want to share your story? Send me an email!
INTRODUCING: MICHAEL BUSSMANN
OF THE
NEW BELGIUM BREWING COMPANY BLOG
Beer Blogger Interview
Full name: Michael John Bussmann
Internet nickname: JUICEBOX
Twitter handle: @carnie_NBB
Name of blog: New Belgium Blog
Current location: Fort Collins, Colorado
Background "Snapshot"
1. Where did you grow up?
St. Louis, Missouri
2. What sports if any did you play growing up, through college and beyond?
I was a hockey player from youngest days until my hips hurt to much to play anymore.
3. How old were you when you had your first beer?
13 maybe. I was pretty young
4. If you can recall, what is the story of your first beer? Where did you have it? What style and brand was it?
There was an empty lot between a Catholic school and the mall in my hometown, you could get there by walking through the mall's parking garage and over a small fence. We used to hang out there a lot and drink and try to make out with the girls who had lowered their standards enough to hang out with a bunch of dudes in an empty lot between a mall and a Catholic school . I think we drank Natural Light and I remember it being really warm and good.
5. Where, if applicable, did you go to college? What did you study? What additional activities, organizations, sports did you partake in during college?
I went to Regis College in Denver. I studied English and Philosophy and played some hockey. I also had show on the college radio, it was fun but I think I played the same 15 songs every week.
Craft Beer Epiphany
Every craft beer enthusiast has at least one pinnacle craft beer experience that completely changes ones perspective on beer. I refer to this mind-blowing moment as a "craft beer epiphany."
1.What was your first craft beer epiphany? Recall as many details about it as you can:
It was Fat Tire (and Old Cherry) in 1996. I just moved to Denver and into the dorms and there were a bunch of guys from the upper Midwest on my floor. They all played this card game called Eucker (not sure how to really spell it and spellcheck isn't helping). It's really complicated and I never truly learned the rules and it always made me mad when half way through the hand everyone would throw their cards down on the table and you were just supposed to know what to do. But when I first started playing with these guys they were drinking Fat Tire. I was from St. Louis and if you didn't drink something from Anheuser Busch they sent you off to live in Kansas City so this was mind blowing, it was unlike anything I'd ever seen or tasted, this beer was darker than anything I had ever experienced and tasted so much different, bolder, better. I played cards with these guys for like three weeks while never really learning how to play the game because somebody kept bringing Fat Tire or Old Cherry and that was enough to keep me interested. But after three weeks or so of pretending I knew how to play and drinking new and tasty beer I showed up to the game and saw that there was beer in a 30 pack and I was like "yo, where's the Fat Tire" and they mumbled something about how it was expensive and how I never seemed to be chipping in on the beer so we were stuck with this. I never played Eucker again.
2. Have you have additional craft beer epiphanies since the first? Detail as many of them as you wish:
I have craft beer epiphanies all the time, pretty much every new style or brewery that I try there is something about it that is remarkable. You can find so many nuances and so much liveliness in beer, I love trying new beers.
Beer Blog Background
1. How long have you been writing your beer blog?
Since June (or July?) of 2008. At the beginning of the Tour de Fat season my first year at New Belgium.
2. What inspired you to start writing your blog?
New Belgium asked me if I had any interest in writing for the Brewery and if I could commit to doing it. I had been doing other blog type writing for a while so it seemed to fit, and besides they were going to pay me for it, so who could ask for more.
3. Why did you choose the name of your blog?
I didn't choose it, but the title does make a lot of sense.
4. What are you personal goals for your blog? What do you hope to achieve with it?
Personal goals for the blog… To just keep on enjoying the process. And maybe for the blog to be bookmarked on Burt Reynold's favorite's list.
5. What is one of the coolest things that happened to you as a result of being a beer blogger?
I think it's knowing that I get to make real connections with people. Like the other day my co-workers and I in the tasting room were celebrating another awesome made up holiday called Formal Friday. We all came to work in formal wear and I put it up on the blog (and Facebook and such) and a couple came in to drink some sippers of beer all gussied up, dressed to the nines. That was cool to know that I inspired a little fun in some people's day.
6. What are you top 3 favorite beer blogs/beer websites?
drunkcyclist.com (not really a beer blog, but a blog that is beer fueled).
drinkwiththewench.com (shameless brown-nosing)
Beer Talk
1. What are your top 3 favorite beer styles?
anything sour
pilsners
pales
2. What are your top 3 favorite breweries?
Russian River, Deschutes, and O'Dells
3. If you could work with or for any one brewery, which one would it be and why?
New Belgium. It's like a dream here, everyone loves their job and there is beer everywhere. (but since I already work here it is a bit of a loaded answer).
4. Are you a homebrewer? If yes, what is the most unique and interesting beer recipes you've brewed as a homebrewer?
Not a homebrewer.
5. Do you have any beer certifications (BJCP, Cicerone, Siebel, American Brewers Guild)?? If so, what are they?
I am a Cicerone Certified Beer Server, and I have the pin on my lapel to prove it.
6. What is your favorite beer and food pairing?
An IPA and a bag of BBQ chips, or, a wheat with hot dogs and yellow mustard. Both great, both my favorite.
The Personal Side
1. What is your current day job?
I work in the Liquid Center at the New Belgium Brewing Company. It's our tasting room, I slang tasters of beer and give tours, as well as write NBB's blog and do a fair bit of social networking for the brewery.
2. If you could change your career at this very moment, without any restrictions on what you could do, what would you want to do and why?
Did you ever see the movie "Roadhouse"? Patrick Swayze's character is a "cooler". It's sort of like a bouncer, but way more awesome. I think if I could change careers without limitation I would want to be a cooler like Patrick Swayze in "Roadhouse".
Or maybe a fireman.
3. Are you married? Children?
Married to a wonderful and (very) understanding woman named Megan O'Brien.
4. Outside of beer and writing, what are some of your other hobbies?
I like to ride bikes, a lot. I also have taken a serious interest in shaving, you know the badger hair brush, hot water, the balms and salves. I also like drinking gin in bars and listening to live music.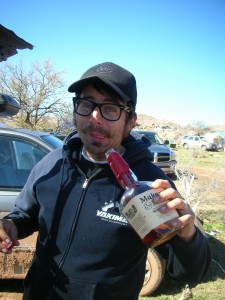 Off The Beaten Path
1. If you were a style of beer, what style would be and why?
A pilsner. I am kind of tall and I know a few good jokes.
2. You were caught smuggling beer illegally, which has now been made punishable by death. Right before you are sent to the executioner, you are offered one last beer. What beer would you chose and why?
This is a tough one, but I bet it would have wild yeasts and smell a bit like a wet goat. Or maybe a can of Natural Light, just like in that lot between the mall and the school, things tend to finish like they started.
3. If I contracted you to brew a beer (or design a beer recipe) called "The Beer Wench" — what style would you chose and what, if any, extra ingredients would you add?
I'm not sure, but it would have to pair well with social media. Does a helles' go well with Twitter?
4. If you could be a superhero, what would you want your superpowers to be?

Invisibility, and yes, things would get weird.
5. What is one of the craziest things you have ever done and lived to tell the story?

I have done a lot of really dumb shit in my life, but the craziest thing was probably the most out of my control. 10 days after my 30th birthday I had my right hip replaced. Bad luck and some rough, physical years lead to the demise of my original joint. Everyone says "but you're so young" and I always politely respond "I know, but what are you going do?". The worst part: airport security.
6. What are your thoughts on bacon?
Best served with whiskey.
SPECIAL THANKS TO MICHAEL FOR AN AWESOME INTERVIEW!
CHEERS!

Tagged as
@carnie_nbb
,
ashley routson
,
beer blog
,
beer blogger
,
Beer Wench
,
brewery
,
craft beer
,
craft beer blog
,
michael bussmann
,
new belgium
,
new belgium brewing company
,
the beer wench
+ Categorized as
Beer Blogger Interviews