"Beer is Proof God Loves Us": Uncovering the Craft and Culture of the Brewing Industry
The other day I received an email from a great wine blogger friend of mine, Thea Dwelle of Luscious Lushes, regarding a new craft beer book that just hit the market. She passed my information on to the publisher, who provided me with an exciting press release and a free online version of the book to review. Unfortunately, I have not yet read the book… BUT, I do feel the need to pass her press release along to my community to craft beer enthusiasts. The publisher has offered to send out the first chapter of the book for any or all of my readers to sample. If you are interested, please leave a comment or send me an email! CHEERS!
___________________________________________________________________________
Beer is Proof God Loves Us: Uncovering the Craft and Culture of the Brewing Industry
New York, NY—Today, beer is more than just a beverage. It has become a contest.  Drinking games, annual festivals, and an increasingly competitive brewing market has made the drink the target of anti-alcohol lobbyists and social stigmas.  The addition of caffeine and fruit flavors to beer has resulted in criticism towards the industry for seeking younger consumers.  Beer, however, has one of the most moderate alcohol contents of all alcoholic drinks, and more than that it has been a societal tradition across the ages.
For centuries, beer has been a cultural constant—an extraordinary and static beverage all over the world. The world of beer is rich in social history and its enthusiasts never cease to strive for mastery of quality beer.  And for many, beer is as much a drink as it is a science and spiritual subject.
One such ma
n is Charles Bamforth, whose love of beer landed him with one of the most unique careers ever.  After 32 years in the brewing industry—which includes research, academia, and brewery experience—he was selected as UC Davis' first Anheuser-Busch Endowed Professor in Malting and Brewing Science.  In his new book, Beer is Proof God Loves Us: Reaching for the Soul of Beer and Brewing (FT Press Science, ISBN-13: 9780137065073, $25.99, hardcover, 304 pages, November 2010), Bamforth draws on his diverse knowledge and enlightens readers on the fascinating world of beer.
"The world of beer is hugely different from when I was a too young drinker in my native Northern England. The beers that folks enjoy today—and the latter day "near beer" which is the mal-ternative (think Smirnoff Ice)—speak to a new age of Kindle, Facebook, and fast food," writes Bamforth. "But fortunately, there is a growing global realization that beer, rather than wine, is the ideal accompaniment to foods of all types and is actually good for you, in moderation."
In his examination of beer and the brewing industry, Bamforth discusses a wide array of brewing topics.  With an understanding of nearly every aspect of beer, he reveals the cultural values of good beer, the radical changes in brewing companies and how they will affect beer drinkers, the latest global trends in beer consumption, the industry's many adversaries, the raw materials and brewing process, and why in moderation beer can provide health benefits.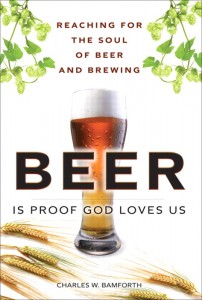 In Beer is Proof God Loves Us, readers will discover:
• Global Concerns: Why the consolidation of major brewing companies might mean restricted consumer choice
• What is Quality?: Attitudes towards what is good beer and how the container, foam, clarity, color, and flavor contribute to quality
• Anti-Alcohol Forces: The religious fervor targeting alcohol, the history of prohibition, and the public perceptions of the drink
• Health Benefits of Moderate Consumption: Why drinking beer may lower the risk of Alzheimer's, diabetes, osteoporosis, and the chance of ulcers
• The Future of Brewing: How environmental issues will change the industry and new approaches to brewing like Happoshu and malternatives
• God in a Glass: Bamforth's take on why a higher power is linked to fermentation
Guided by an international expert, Beer is Proof God Loves Us allows us to understand and appreciate the beverage and its history, while clearing up widely-held misconceptions. Charles Bamforth takes readers on a journey through the past, present, and future of the brewing industry from a humorous and highly researched perspective.
___________________________________________________________________________
About the Author

Charles W. Bamforth (UC-Davis) has been in the brewing industry for 32 years, including thirteen years in research, eleven in academia, and eight at a brewing company. After an international search, he was selected as UC Davis' first Anheuser-Busch Endowed Professor in Malting and Brewing Science. Throughout his diverse career, he has embraced every dimension of beer, from raw materials and processing, through quality, to beer's impact on the body. This makes him unique amongst "beer people" worldwide. His books include Beer: Tap into the Art and Science of Brewing and Grape versus Grain.
____________________________________________________________________________