Featured Beer Blogger: CARLA GESELL-STREETER
DRINK WITH THE WENCH PRESENTS:
The Beer Blogger Interview Series
Curious what goes on in the minds of your favorite beer bloggers? Well, The Beer Wench is and she has embarked upon a mission to interview as many beer bloggers that she can — from all over the world. Are you a beer blogger? Do you want to share your story? Send me an email!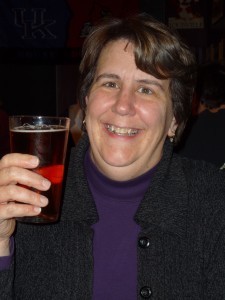 INTRODUCING: CARLA GESELL-STREETER
CO-AUTHOR OF: HOPERATIVES
Beer Blogger Interview
Full name: Carla Gesell-Streeter
Twitter handle: @RadioCarla
Name of blog: Hoperatives.com
Co-owned with my husband Tom Streeter
Current location: Cincinnati metro area
Background "Snapshot"
1. Where did you grow up?
Gibson City, IL – a small town 30 miles north of Champaign-Urbana and two hours south of Chicago
2. What sports if any did you play growing up, through college and beyond?
None
3. How old were you when you had your first beer?
19 or 20
4. If you can recall, what is the story of your first beer? Where did you have it? What style and brand was it?
I was working at the Illinois State Fair in the Junior Department (4-H judging) and discovered that beer was cheaper than pop.  The fair had lots of beer tents/gardens, but it was almost entirely Bud/Miller products though I do vividly remember how awful the Schlitz beer was.
5. Where, if applicable, did you go to college? What did you study? What additional activities, organizations, sports did you partake in during college?
Undergraduate – Monmouth College (IL), major in Speech Communication and Theater Arts with minors in Computer Science and Secondary Education; Graduate – Indiana State University and Southern Illinois University Carbondale, majors in Communication (Theater and Performance Studies)
Craft Beer Epiphany
Every craft beer enthusiast has at least one pinnacle craft beer experience that completely changes ones perspective on beer. I refer to this mind-blowing moment as a "craft beer epiphany."
1. What was your first craft beer epiphany? Recall as many details about it as you can:
After I graduated from Monmouth, I went on a International 4-H Youth Exchange to the Netherlands for six months.  That's where I learned to really appreciate better beer.
2. Have you have additional craft beer epiphanies since the first? Detail as many of them as you wish:
Since we started Hoperatives, I've been lucky enough to try many wonderful beers.  But the best thing I've learned is how great beer people are.  We may not always agree on every beer, but it's usually easy to find some common ground.
Beer Blog Background
1. How long have you been writing your beer blog?
January 1, 2009 (though we were doing lots of behind the scene work before that official launch date)
2. What inspired you to start writing your blog?
A good friend of ours was already doing a wine blog for Cincinnati (My Wine Education) and we looked around to see if there was the equivalent for beer in Cincinnati. When we discovered there wasn't one, we decided to start one.
3. Why did you chose the name of your blog?
Rock Bottom briefly had a beer evangelist program with the name Hoperatives. They dropped the name and the domain registration so we picked it up. Seemed totally appropriate since the blog was really born in the Cincinnati Rock Bottom.
4. What are you personal goals for your blog?
What do you hope to achieve with it? We like to say that we're half way between a blog and an informational web site.  We try to be the online source for beer information in Cincinnati.  While we do include regional and "beyond" beer information too, the emphasis is always on beer in Cincinnati.
5. What is one of the coolest things that happened to you as a result of being a beer blogger?
Within one weekend, we got to interview Jim Koch from Sam Adams and Greg Koch from Stone.  Two very different men, but definitely both "believers in better beer."
6. What are you top 3 favorite beer blogs/beer websites?  Hard to pick just three!
Beer Talk
1. What are your top 3 favorite beer styles?
Pale ale, IPA, and hoppy reds (we're called Hoperatives for a reason!)
2. What are your top 3 favorite breweries?
Christian Moerlein, Three Floyds, Southern Tier (with honorable mentions for Mt. Carmel and Rivertown)
3. If you could work with or for any one brewery, which one would it be and why?
Christian Moerlein (who also owns Hudepohl, Little Kings, Burger and many other classic Cincinnati beer brands). The owner Greg Hardman is doing such wonderful things for the beer culture in Cincinnati and has even more planned.  I would love to work with him on that mission.
4. Are you a homebrewer? If yes, what is the most unique and interesting beer recipes you've brewed as a homebrewer?
I'm not, but Tom is beginning to dabble in it.
5. Do you have any beer certifications (BJCP, Cicerone, Siebel, American Brewers Guild)? If so, what are they?
None yet! Planning to start Cicerone soon.
6. What is your favorite beer and food pairing?
Southern Tier Creme Brulee Stout over Madagascar vanilla gelato
The Personal Side
1. What is your current day job?
I'm the chair of the Communication and Theater department at a community college, plus I work part-time for an online travel agency that specializes in Disney (The Magic For Less Travel).
2. If you could change your career at this very moment, without any restrictions on what you could do, what would you want to do and why?
Wow… tough question.  Something that combined teaching, beer, Disney and technology perhaps?
3. Are you married? Children?
Married, yes – to the wonderful Tom Streeter who is my partner in Hoperatives and in life.  Children, no.
4. Outside of beer and writing, what are some of your other hobbies?
We also write a tech blog called TagTeamTech.com. We're still growing that one. Love Disney.  We even have a Disney travel section of Hoperatives with listings of the beers available at Walt Disney World, Disneyland and on the Disney Cruise Line.
Off The Beaten Path
1. If you were a style of beer, what style would be an why?
A hoppy red.  Something unexpected.
2. You were caught smuggling beer illegally, which has now been made punishable by death. Right before you are sent to the executioner, you are offered one last beer. What beer would you chose and why?
Wow, another tough question.  This is one that changes frequently as I discover new beers.  My latest favorite is Mt. Carmel's Summer Wheat – the first time I ever experienced a hoppy wheat.  Summer of 2010 will always be the summer of Mt. Carmel's Summer Wheat.
3. If I contracted you to brew a beer (or design a beer recipe) called "The Beer Wench" — what style would you chose and what, if any, extra ingredients would you add?
Actually, I've been getting into beer blends lately.  So I'm thinking a blend of two outrageous beers that would perfectly compliment each other. Three Floyds Dark Lord and… Founders Canadian Breakfast Stout and… I see some experimentation in my future!
4. If you could be a superhero, what would you want your superpowers to be?
Superspeed and/or flying so I can be at every beer event I always wish I was at.
5. What is one of the craziest things you have ever done and lived to tell the story?
Worked as a production assistant during the rehearsal portion of John Mellencamp's "Lonesome Jubilee" tour.  They hired me two more times for a segment in the middle and the final shows. I worked several other concerts after that, but that one was the best.
6. What are your thoughts on bacon?
Bacon is the reason we were put on this planet (after beer, of course).
SPECIAL THANKS TO CARLA FOR AN AWESOME INTERVIEW!
CHEERS!