Featured Beer Blogger: RENEE M. DELUCA
DRINK WITH THE WENCH PRESENTS:
The Beer Blogger Interview Series
Curious what goes on in the minds of your favorite beer bloggers? Well, The Beer Wench is and she has embarked upon a mission to interview as many beer bloggers that she can — from all over the world. Are you a beer blogger? Do you want to share your story? Send me an email!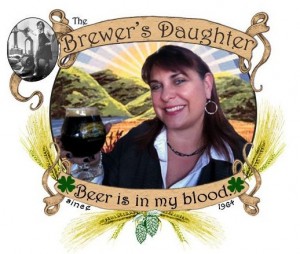 INTRODUCING: RENEE M. DELUCA
AUTHOR OF: THE BREWER'S DAUGHTER
Beer Blogger Interview
Full name: Renée M. DeLuca
Twitter handle: @BrewersDaughter
Name of blog: The Brewer's Daughter
Current location: Chagrin Falls, Ohio (35 mi southeast of Cleveland)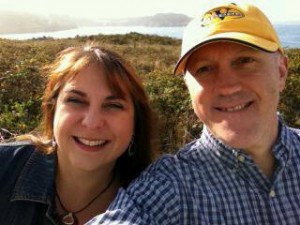 Background "Snapshot"
1. Where did you grow up?
Clinton, MD, just outside of Washington, D.C.
2. What sports if any did you play growing up, through college and beyond?
I was on the tennis team as a backup in high school, but mostly kept score. I was captain of the pom pon squad (kind of a sport), and I can still do my routine to "Hit Me With Your Best Shot," but that requires a certain amount of beer.
3. How old were you when you had your first beer?
I remember sipping the foam off the top of beer cans at neighborhood crab feasts as a pretty young kid.
4. If you can recall, what is the story of your first beer?
I drank Michelob Light in high school because that's what my boyfriend bought. I kept time to Styx songs with my class ring on the side of the bottle in his car when we were out riding around. I wanted to drink Lowenbrau because of that commercial, "Here's to good friends, tonight is kind of special…" but that was considered expensive.
5. Where, if applicable, did you go to college?
The University of Akron (undergrad) and Miami of Ohio (graduate)
What did you study?
Communications/English/Political Science
What additional activities, organizations, sports did you partake in during college?
I was on the staff of the campus radio and TV stations, the yearbook, and I'm an Alpha Gam (AGD). I had a radio show at the underground radio station and my on-air name was Rae-baby and I played a lot of punk rock. And I did the daily 4:00 news on the FM station.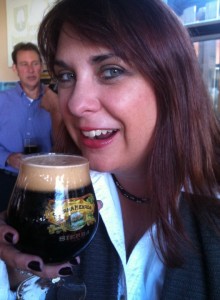 Craft Beer Epiphany
Every craft beer enthusiast has at least one pinnacle craft beer experience that completely changes ones perspective on beer. I refer to this mind-blowing moment as a "craft beer epiphany."
1. What was your first craft beer epiphany? Recall as many details about it as you can:
I started drinking the Great Lakes Brewing Company's beers in the early 90s. They rolled out in 1988 in Cleveland, and I quickly heard about how awesome their beers were, and gave them a try. Dortmunder, Elliott Ness and of course Christmas Ale changed my beer palate forever.
2. Have you have additional craft beer epiphanies since the first?
When I learned that Jack McAuliffe, founder of the New Albion Brewing Company, was my father, I'd say I had a beer epiphany of sorts. It's a long story* I'll get around to sharing on my blog someday, but when I learned he was my birthfather and had started this whole craft beer thing in the U.S., it was a revelation: I knew I had beer in my blood! (*The short story is that I'm a reunited adoptee, and I learned Jack was my birthfather about 10 years ago. We've been getting to know each other ever since.)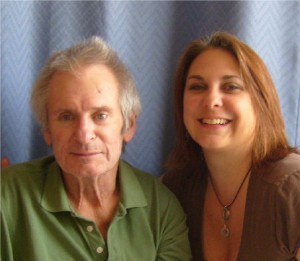 Beer Blog Background
1. How long have you been writing your beer blog?
I started it in early September.
2. What inspired you to start writing your blog?
I had been playing around with the idea for some time, and the phrase "the brewer's daughter" was knocking around in my head. On the occasion of Sierra Nevada Brewing releasing Jack & Ken's Ale a few months ago, I met up with some of the Sierra Nevada reps in my area to tap a keg, and they were interested in my story. And I was really interested their journeys to beer as well. We had so much fun toasting Jack and talking about craft beer, I decided I wanted to continue to meet beer people and write about them and this path I've found myself upon.
3. Why did you choose the name of your blog?
I think it speaks for itself!
4. What are you personal goals for your blog? What do you hope to achieve with it?
I don't want to be another blogger who rates beers with stars—there are plenty of those, and they have their place. I really want to talk about craft beer as an industry and an interest—with special attention to the people in craft brewing. I *love* beer people! I noted in my very first post that I wanted to hear from other craft beer lovers, and to feel like we were sitting on bar stools getting to know each other at the local pub. Sure you'll find some recipes, a few reviews, and travelogues too. But I think the real meat of my blog is going to be in writing about the people I meet along the way. (When can I interview you, Wenchie? ) Two favorites so far: Mendocino Brewing Company's head brewer Gary O'Flangan; and brewmaster Andy Tveekrem, who is opening his own venture in Cleveland very soon. He was the head brewer at Dogfish Head for five years.
5. What is one of the coolest things that happened to you as a result of being a beer blogger?
When I started my blog I also started my BrewersDaughter Twitter account. (I had been tweeting for a couple of years under @ReneeDeLuca and I still do.) Tweeting with all the beer folks introduced me to Gary O'Flanagan. When my husband Paul and I were out in Northern California recently, he invited us to the brewery for a tour, and he pulled out some of Jack's old equipment for us to see. (Jack went to work with Mendocino Brewing after New Albion folded.) That was really cool. Also I participated in my first amateur home brewing judging during Cleveland Beer Week.
6. What are you top 3 favorite beer blogs/beer websites?
I'm learning a lot at Craftbeer.com, and the Craft Brewers Association website. And I love the voice of The Beer Wench.
Beer Talk
1. What are your top 3 favorite beer styles?
I love a good Amber Ale, seasonal ales, and barleywines.
2. What are your top 3 favorite breweries?
Gotta go with Great Lakes, Mendocino, and Sierra Nevada.
3. If you could work with or for any one brewery, which one would it be and why?
I would love to work with Mendocino Brewing Company because of their history with Jack.
4. Are you a homebrewer?
Not yet, but Paul and I are going to get started soon.
5. Do you have any beer certifications (BJCP, Cicerone, Siebel, American Brewers Guild)?? If so, what are they?
I want to take the BJCP course this year.
6. What is your favorite beer and food pairing?
I love a good strong beer with a really stinky cheese.
The Personal Side
1. What is your current day job?
I'm the media relations specialist for Kaiser Permanente Ohio region.
2. If you could change your career at this very moment, without any restrictions on what you could do, what would you want to do and why?
I would love to be a spokesperson for craft beer—whether that's a brewery or an association, I'm not sure. But I've been in media/marketing for 25+ years, and I'd love to apply that to my passion.
3. Are you married? Children?
My husband Paul and I have two kids–my daughter, Ali, who is 16; and my stepson Matt, who is 13. We've been married 8 years and the kids have really been together for as long as they can remember. We have an awesome time together.
4. Outside of beer and writing, what are some of your other hobbies?
I love to read, and at one point belonged to two monthly book clubs. I've got that down to one these days. I also volunteer for Adoption Network Cleveland—I'm all about advocating for open records for adult adoptees. My husband and I love to go see live music, and fortunately we have a great music scene in Cleveland. Come visit the Rock Hall!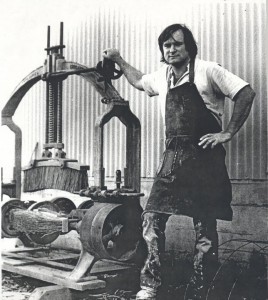 Off The Beaten Path
1. If you were a style of beer, what style would be an why?
I'd be an amber ale, I'm some shade of red-haired most of the time.
2. You were caught smuggling beer illegally, which has now been made punishable by death. Right before you are sent to the executioner, you are offered one last beer. What beer would you chose and why?
Jack & Ken's Ale, as a tribute to my father, who brought me to this path in life. And it's damn tasty.
3. If I contracted you to brew a beer (or design a beer recipe) called "The Beer Wench" — what style would you chose and what, if any, extra ingredients would you add?
I'd make you an amber ale too—since you've gone red! And I'd add some spice in there, because you definitely have the spice of life down pat!
4. If you could be a superhero, what would you want your superpowers to be?
I'd love to be able to cut through red tape and bullshit in a single bound.
5. What is one of the craziest things you have ever done and lived to tell the story?
I rode my bicycle 100+ miles around Lake Tahoe in one day. It was part of the Leukemia/Lymphoma Society's Team in Training. They don't call it America's Most Beautiful Bike Ride for nothing, but that was pretty crazy of me. I can't believe I lived to tell. Those downhills were terrifying!
6. What are your thoughts on bacon?
There can never be enough bacon.
SPECIAL THANKS TO RENEE FOR AN AWESOME INTERVIEW!
CHEERS!