DRINK WITH THE WENCH PRESENTS:
The Beer Blogger Interview Series
Curious what goes on in the minds of your favorite beer bloggers? Well, The Beer Wench is and she has embarked upon a mission to interview as many beer bloggers that she can — from all over the world. Are you a beer blogger? Do you want to share your story? Send me an email!
Every once in awhile, The Wench interviews a team of contributors for one blog. I call these a mini-interview series. This mini-interview series is featuring the two author of The Art of Brew –> Don and Thomas. First up …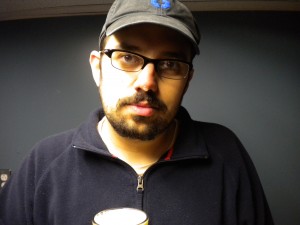 INTRODUCING: DON TRIVISONNO
CO-AUTHOR OF: THE ART OF BREW
Beer Blogger Interview
Full name: Don Trivisonno
Twitter handle: @TheArtofBrew
Name of blog: The Art Of Brew
Current location: Northeast Ohio
Background "Snapshot"
1. Where did you grow up?  Northeast Ohio
What sports if any did you play growing up, through college and beyond?  Didn't play anything through high school even, but was always into some sort of cycling (BMX, MTB, road).
2. How old were you when you had your first beer?
Too young to remember.
3. If you can recall, what is the story of your first beer? Where did you have it? What style and brand was it?
Shared a Miller High Life with my dad at the Italian American Club. The High Life has always had a special place in my heart because of it.
Craft Beer Epiphany
Every craft beer enthusiast has at least one pinnacle craft beer experience that completely changes ones perspective on beer. I refer to this mind-blowing moment as a "craft beer epiphany."
1. What was your first craft beer epiphany? Recall as many details about it as you can:
My first craft beer (that really started me down the path) was Sierra Nevada Pale Ale.
2. Have you have additional craft beer epiphanies since the first? Detail as many of them as you wish:
Shortly after the Sierra I had a Double Bastard, and all hell broke loose. Shortly after the Bastard I was regularly tasting whatever I could get my hands on. A little while after that I was homebrewing.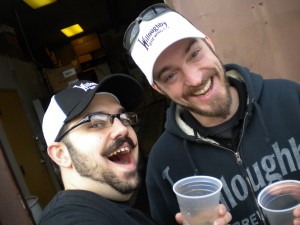 Beer Blog Background
1. How long have you been writing your beer blog?
We started with a soft launch in October 2009, and the 'official launch' was January 11, 2010.
2. What inspired you to start writing your blog?
I had a cycling blog, at the time, was incorporating beer into that, and homebrewing with Thomas. We just shared such an amazing passion for the craft that it came very naturally, and before we knew it, we we're up and running in October.
3. Why did you chose the name of your blog?
Thomas is responsible for that one, I LOVE it, but he'll have to take the reins on the origin of the name.
4. What are you personal goals for your blog? What do you hope to achieve with it?
I think our goal is to create a community where we can share ideas, learn from one another, and just enjoy and embrace the craft brewing (and homebrewing) culture.
5. What is one of the coolest things that happened to you as a result of being a beer blogger?
The opportunities abound. We have, both, met so many cool people, made so many amazing friends in the industry, and have been able to go to some great events because of the blog.
6. What are your top 3 favorite beer blogs/beer websites?
I think a better way to put it is the three beer sites I always seem to reference. The geek in me loves probrewer.com, thebrewingnetwork.com (and their shows), and howtobrew.com (as a great homebrewing reference) would be likely choices. I also have a slew of blogs that I'm constantly checking out.
Beer Talk
1. What are your top 3 favorite beer styles?
If I HAD to choose… I love IPA's, Barleywines, and Stouts probably most of all.
2. What are your top 3 favorite breweries?
I don't know I could answer that. There are SO many amazing ones, and they are all amazing in their own right and in what they do. It's just too hard to say.
3. If you could work with or for any one brewery, which one would it be and why?
In an interest of being fair, there isn't "a brewery" that I would want to work for. I would like to work for a brewery that would allow the freedom to try new things, that would allow me to grow as a brewer, and to constantly be forward thinking. As much as I would love to work for a brewery, I could never see myself working for someone like AB InBev or the likes.
4. Are you a homebrewer? If yes, what is the most unique and interesting beer recipes you've brewed as a homebrewer?
Again, Thomas and I not only do the blog, but also homebrew together. We recently brewed a beer that should come out to 5.43%, roughly 90 ABV Amber. We just racked it around. That might be our most interesting, and experimental. We were looking for a bold, yet sessionable beer.
5. Do you have any beer certifications (BJCP, Cicerone, Siebel, American Brewers Guild)?? If so, what are they?
Not yet…
6. What is your favorite beer and food pairing?
Pizza and beer, followed a close second by wings and beer.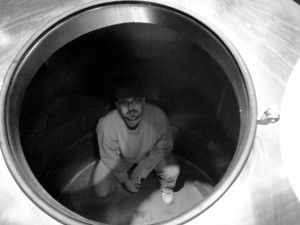 The Personal Side
1. What is your current day job?
I work for a national HR consulting firm specializing in engineers and professional management.
2. If you could change your career at this very moment, without any restrictions on what you could do, what would you want to do and why?
I am doing everything I can right now to get in as an assistant brewer at a micro or a brewpub. That is my goal, and life's dream.
3. Are you married? Children?
I am, and I have three. The youngest of which has loved beer since he could crawl to my pints to shove a fingers in for a taste. I am both worried and proud of him. My eldest is enthralled in the process, and "how all the grain, water, hops, and yeast become beer." Finally the middle (the only girl) thinks beer is "pretty gross."
4. Outside of beer and writing, what are some of your other hobbies?
Right now in my life; mainly cycling, and gardening (veggies, and hops).
Off The Beaten Path
1. If you were a style of beer, what style would be and why?
Double IPA – Balanced for the most part but never 100% sure what you'll get. A tendency to be both sweet and completely off the chart.
2. You were caught smuggling beer illegally, which has now been made punishable by death. Right before you are sent to the executioner, you are offered one last beer. What beer would you chose and why?
A BrewDog "Sink The Bismarck." The title alone just seems like it would be appropriate, and the 41% would get me good and messed up before being put to death.
3. If I contracted you to brew a beer (or design a beer recipe) called "The Beer Wench" — what style would you chose and what, if any, extra ingredients would you add?
For some reason my first reaction would be a Citra hopped Belgo-American style blonde beer. Not sure how well it would work, but it sounds good as hell. Sophisticated, and stylish, but a bit of a wild side.
4. If you could be a superhero, what would you want your superpowers to be?
To be able to drink beer and not gain weight or feel the 'side effects'.
5. What are your thoughts on bacon?
Bacon goes with EVRYTHING! Chef Michael Symon is, like, my hero for his love of bacon. It is one of the reasons I don't think I could ever go vegetarian again.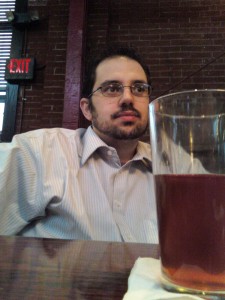 SPECIAL THANKS TO DON FOR AN AWESOME INTERVIEW! STAY TUNED FOR MY INTERVIEW WITH HIS PARTNER IN CRIME, THOMAS!!!
CHEERS!