Although Twitter still remains my favorite and preferred social media platform, Instagram is quickly becoming one of my favorite guilty pleasures.
There is a great community of craft beer enthusiasts and craft breweries on Instagram – but often times the two don't always connect. Instagram users are more likely to tag pictures with a brewery's hashtag rather than the brewery's user name. Whereas hashtags are a necessary search tool for both Instagram, but my experience suggests that the @ sign works better when trying to connect with brands.
With the goal of increasing engagement in the community, especially between breweries and fans, I've developed a working list of all the craft breweries that I know of that are on Instagram. Each brewery is linked to their static instagram page. As long as you are signed into Instgram.com, you should be able to like the brewery from your computer. If you experience any issue, please let me know!
The next time you share an awesome #craft picture on Instagram, don't forget to tag the brewery!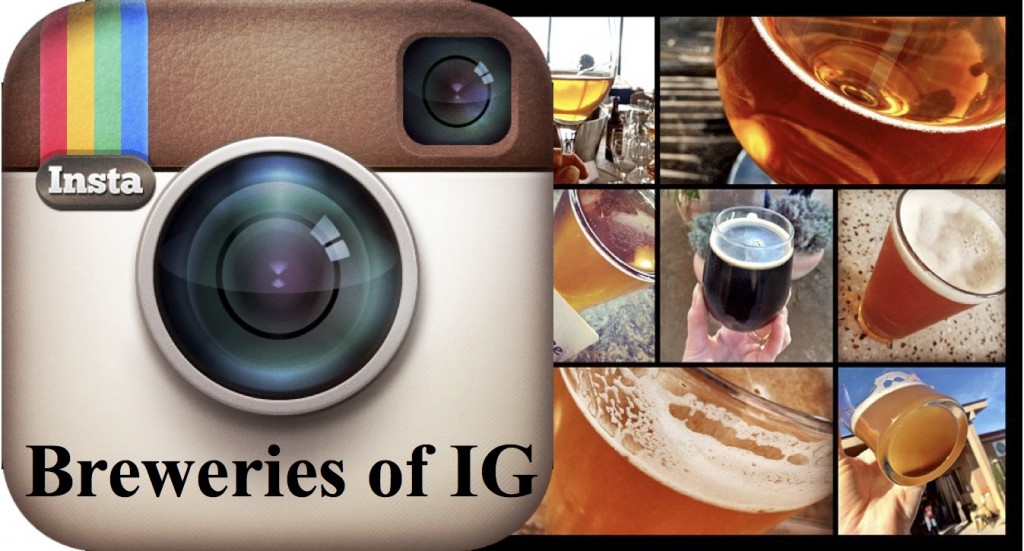 Craft Breweries on Instagram
Note: Breweries, please don't be offended if I leave you off at first. Instagram does not allow for key word searches. If I missed a brewery, I encourage you to mention them in the comment section below so I can edit my list accordingly.
A
18th Street Brewery: @18thstreetbrewery
Against the Grain: @atgbrewery
Alaskan Brewing: @alaskanbrewing
Allagash Brewing: @allagashbrewing
Almanac Beer: @almanacbeer
Anchor Brewing: @anchorbrewing
Anderson Valley: @andersonvalleybrewing
B
Beachwood BBQ Brewing: @beachwoodbbq_brewing
Bear Republic: @bearrepublic
Bells Brewery: @bellsbrewery
Bellwoods Brewing: @bellwoodsbeer
Big Bend Brewing Co: @bigbendbrewing
Bison Organic Beer: @bisonbrew
Bootlegger's Brewing: @bootleggersbrew
Boulevard Brewing: @boulevardbeer
Breckenridge Brewing: @breckbrew
Brooklyn Brewery: @brooklynbrewery
C
Captain Lawrence: @cptlawrence
Carton Brewing: @cartonbrewing
Center of the Universe Brewing Company: @COTUBrew
Cigar City: @cigarcitybeer
Court Avenue Brewing Company: @courtavebrew
D
Deep Ellum Brewing Company: @deepellumbrewco
Descutes Brewery: @deschutesbeer
Dogfish Head: @dogfishbeer
Drake's Brewery: @drakesbrewery
E
Eagle Rock Brewery: @eaglerockbrew
Epic Beer: @epicbeer
Epic Brewing: @epicbrewery
F
Fireman's Brewing: @firemansbrew
Firestone Walker: @firestonewalker
Flying Dog: @flyingdogbrewery
Founders Brewing: @foundersbrewing
Frog Hair Brewing: @froghairbeer
G
Great Lakes Brewing Co: @glbc_cleveland
Green Bush Brewing: @greenbushbrew
Green Flash: @greenflashbeer
H
Half Acre: @halfacrebeer
Hangar 24 Brewery: @hangar24brewery
Hardywood Brewery: @hardywood
Harpoon Brewery: @harpoonbrewery
Hopworks Urban Brewery: @hopworksbeer
J
Jackie O's Brewery: @jackieosbrewery
Jolly Pumpkin: @jollypumpkin
K
Kane Brewing: @kanebrewing
Karl Strauss: @karl_strauss
L
Lady Face Ale Co.: @ladyfaceale
Left Hand Brewing: @lefthandbrewing
Licking Hole Creek: @lickingholecreekcraftbrewery
Lost Abbey: @lostabbey
M
Magnolia Brew Pub: @magnoliapub
Maui Brewing Co.: @mauibrewingco
Migration Brewing: @migrationbrewing
Mikkeller Brewing: @mikkellerbeer
Mothers Brewing: @mothersbrewing
N
New Belgium: @newbelgium
Newburgh Brewing: @newburghbrewing
New Holland: @newhollandbrew
Night Shift Brewing: @nightshiftbeer
Ninkasi Brewing: @ninkasibrewing
Noble Ale Works: @noblealeworks
O
Odell Brewing: @odellbrewing
Ommegang: @breweryommegang
Oskar Blues: @oskarbluesbrewery
P
Peak Organic Beer: @peakorganicbrewing
Pipework Brewing: @pipeworksbrewing
Pizza Port: @pizzaport
Philips Brewing: @philipsbeer
R
Rogue Ales: @rogueales
S
Samuel Adams: @samueladamsbeer
Schafly Brewing: @schaflybeer
Sierra Nevada: @sierranevadabeer
Six Point Brewery: @sixpointbrewery
Shmaltz Brewing: @shmaltzbrewing
Ska Brewing: @skabrewing
SocieteBrewing: @societebrewing
Solemn Oath Brewery: @solemnoathbeer
Speakeasy Beer: @speakeasybeer
Stone Brewing Co: @stonebrewingco
Sun King Brewing: @sunkingbrewing
Sweetwater Brewing: @sweetwaterbrew
T
The Bruery: @thebruery
Thomas Creek Brewery: @thomascreekbrewery
V
Victory Brewing: @victorybeer
W
Wynkoop Brewing: @wynkoopbrew
Z
Zauber Brewing: @zauberbrewing