It appears that I moved to the "Greater" San Fransisco Bay Area at an opportune time. On September 8th 2009, Bison Brewing is releasing its third annual Reunion beer. It will only be available on draft and is only being offered at 15 various bars and pubs around the Bay Area.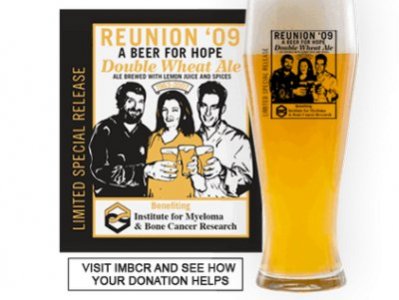 Four different breweries from around the country are involved in this year's Reunion project. They include Bison Brewing in NorCal, Terrapin Brewing in Georgia, Pizza Port Brewing in Southern California, and Elysian Brewing in Seattle. The recipe was developed by the crazy (but brilliant) kids from Terrapin — Pete and Brian "Spike" Buckowski.
This year's brew is a Double Wheat Ale brewed with Pale Malt Torrified Wheat, Accidulated Malt, Weyerman Wheat and Great Western White Wheat.  It is bittered with Sorachi Ace hops and spiced with orange peel, lemon grass, rhubarb root and coriander.
Each of the four breweries has brewed its own rendition of this recipe and each will have its own limited release — TBA.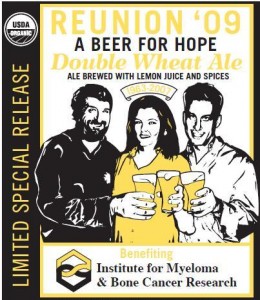 The official kick-off event for Bison Brewing's Reunion beer is being hosted at The Bistro in Hayward (1001 B St. Hayward, CA 94541) on Tuesday, September 8th. The party starts at 6pm and all proceeds will be donated to The Institute for Myeloma & Bone Cancer Research (www.imbcr.org).  Attendees will have the opportunity to get a collectible Reunion '09 pint glass featuring all four brewery logos with the purchase of the Reunion beer.
Bison Brewing President Dan Del Grande & Reunion Co-Founder Alan Shapiro will both be in attendance. Naturally, The Wench will also be in attendance. (After all, it is my duty to attend beer events — especially, charity beer events. Tought life, I know). If you are even remotely close to the Bay Area, I highly suggest coming out for this event. Drinking great beer for a great cause is always a great thing!
For additional information on Reunion-A Beer for Hope please visit www.reunionbeer.com.
For additional information on Bison Brewing please visit www.bisonbrew.com.
Here is the official press release –>