At the end of August, a good friend and I embarked upon the cross country road trip of a lifetime. The road trip had multiple purposes — 1. it was my big move from Florida to California (my whole life actually fit into a Dodge Neon = ridiculous) 2. it was the preliminary launch of our (Shana's and mine) social media expose called Project Y-ine (a research project focused on studying and observing the drinking habits of Generation Y) and 3. it was an opportunity to travel for beer events all throughout the South.
The one destination that neither of us had ever been to and had been anticipating since the beginning of the trip was Austin, Tx. Austin is the self-proclaimed "Live Music Capital of The World" and is known for being a young, hip, liberal & very artsy city. And, of course, it is also known for having a kickass food & beverage scene.
Prior to our visit, my friend Chris from the blog Beer Town Austin set up a few beer events and Texas beer tastings with two local bars. One such bar was Uncle Billy's Brew and Que. They have developed quite the reputation amongst beer geeks — both local and national. The GM, Ryan, was extremely hospitable and took me on a tour of the brewpub brewing facilities.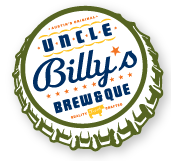 Here is the video footage of the behind the scenes tour of Uncle Billy's Brew & Que:
(I apologize in advance for the darkness of the video. This is my first attempt at editing and I know that I have a lot of kinks to work out. Bear with me …)