During a recent trip to Milwaukee I had the opportunity to meet Eric McKay, a self-professed beer geek and the brilliantly talented creator of GreatBrewers.com. He showed me the latest brainchild of GreatBrewers.com — BeerCloud. Unfortunately, at that time BeerCloud was only available for ANDROID. And for a beer obsessed, i-Phone addict — this news was disappointing. HOWEVER, Eric did reassure me that a version for the i-Phone was in beta and on track to release in the near future.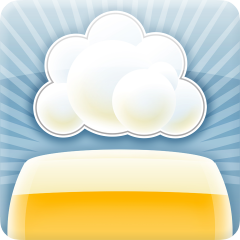 After being able to play around with BeerCloud and check out all of its amazing features, I've been sitting on the edge of my chair WAITING in crazy ANTICIPATION for the i-Phone release. And I could not be more excited to announce it… today … on Drink With The Wench.
So without any further ado … drum roll please …
BeerCloud for iPhone has Arrived!
Powered by GreatBrewers.com, BeerCloud is a revolutionary mobile app that helps you pair beer with food, track down your favorite beers in your neighborhood, discover the world of beer styles, and pull up a full description of nearly any beer in seconds. Whether you're a beer consumer who could use some guidance in making a well-educated purchase, a food lover looking to discover new ways to enhance a meal with a complementary beer pairing, or a traveling beer enthusiast who wants to instantly map the closest stores, bars, and restaurants carrying your favorite beers, BeerCloud is an essential iPhone app. From an iPhone, click here to install BeerCloud.
Today's beer drinkers have access to a far greater variety of beer than ever before, but with thousands of unique offerings representing more than 140 distinct styles, consumers can easily get overwhelmed. According to Eric McKay, the creator of GreatBrewers.com, "BeerCloud simplifies the process of learning about beer at the point of purchase, choosing the perfect beer to pair with a specific food, understanding a diverse range of beer styles, and mapping the closest bars, restaurants, and stores that currently offer one's favorite beers." With the host of powerful features outlined below, BeerCloud may change the way you shop for beer forever!
"If you have this encyclopedic database on hand you can cheat on your go-to beer style with confidence… the killer app for on-the-go beer and food pairing."
- Sam Calagione, Owner of Dogfish Head Craft Brewery
Get BeerCloud on your iPhone
From your iPhone or a computer with iTunes installed, click the App Store icon below or navigate to the App Store and search "BeerCloud".
Video Demo
Watch the video below to see BeerCloud for iPhone in action.

---
Beer & Brewery Descriptions
Search the perpetually growing database of 2,900+ beers from GreatBrewers.com
Descriptions include product image, style, taste profile, food pairing recommendation, strength (ABV), color (SRM), and bitterness (IBU)
View more than 400 brewery pages for a description and a list of beers they produce
---
GPS Beer Finder
Track down your favorite beers in your neighborhood with your iPhone's built-in GPS*
Search includes beer offerings at more than 50,000 bars, restaurants, and stores
Distance appears next to each retailer – click a retailer for details, a map, and directions
Beer Finder data perpetually updated with shipments from local wholesalers

*Location services limited to states covered by the Beer Finder with more territories coming in near future
---
Beer Sommelier
Recommends complementary beer style accompaniments for more than 250 foods
Select main ingredient, then select dish and see recommended style pairings
Clicking a specific style reveals commercial examples of that style
Learn more about the Beer Sommelier
---
Beer Styles
Browse and read thorough descriptions of more than 140 beer styles and sub-styles
Descriptions include history, food complements, vital statistics, and glassware and serving temperature guidance
Style descriptions are created by GreatBrewers.com while sub-style guidelines are provided by the Brewers Association
Click any sub-style to see commercial examples
---
Features Coming in the Next Release
Tag favorite beers, brewers, and places to buy beer
"Favorites Map" – maps the 25 closest bars, restaurants, and stores carrying any of your favorite beers
Write, save, and share tasting notes on any beer
Seamless integration with GreatBrewers.com account
Developers
Related Content