For those of you who are lucky enough to follow me on twitter, you are probably acutely aware of my recent voyage to San Diego for beer week. In fact, I'm almost positive that many of you may hate me for the events I attended and the beers I tasted. Heck, I would hate me too

But for those of you who might not have been following my San Diego Beer Week adventures, have no fear, I've decided to write up a recap of the whole experience so that you too can hate me. Hey, they don't call me Wench for no reason.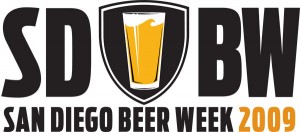 My SDBW story actually starts pre-arrival. This was the first time that I had ever flown Virgin Airways and I had no idea what to expect. And let me tell you, my experience was more AMAZING than I can possibly describe. The purple and red themed interior of the plan was extremely calming. The plane itself was very clean, spacious, comfortable and impressively high-tech. But the real kicker was the chain of events that occurred in flight.
The stars must have been aligned for me that morning because 1. Virgin Airways provided 21st Amendment IPA (my favorite craft beer IPA in a can) on flight 2. Virgin Airways provided FREE internet access on flight (hello, The Wench is a known Internet addict) and 3. Virgin Airways provided free satellite cable on flight …
The sequence of events went as follows: I order a delicious and frosty 21st Amendment IPA. Then I open up my laptop and immediately sign into my Tweetdeck. And then — get this — I turned on ESPN classic and, what do you know, the game on TV is the 1990 Ohio State vs. IOWA showdown. Let's recap: awesome craft beer + free Internet + Ohio State football … throw in some bacon and I would never have gotten off that plane!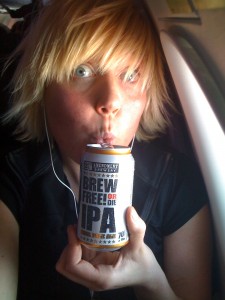 I had never been to San Diego prior to this trip. Needless to say, I was super excited to check out one of the top ranked beer cities in the U.S. And let me tell you one thing, San Diego not only lives up to its reputation — its beer scene completely blows all other cities out of the water. (This from someone who travels extensively in the name of beer). DISCLAIMER: I was in San Diego during beer week, which may or may not have biased my previous statement.
The San Diego airport was easy to move through and I was able to get in a cab to downtown in no time flat. My hostess for the weekend was my brilliantly talented and beautiful big sister, Taylor Shaw. (Technically, we were not "born" into sisterhood. Blood or not, she is family and I love her unconditionally as if she was blood.)
Tay has several years of beer connoisseurship on me and I was completely blown away by her collection of craft beers. Her normal refrigerator was loaded to the brim with beers, as were her cupboards, her wine fridge, her storage room etc. And on top of it all, she has more beer stored in a beer locker. I can only aspire to be as kick-ass as Tay one day.
The first stop on our SDBW agenda was the famous Stone World Bistro & Gardens. To come to think of it, I never did get a tour of the Stone Brewery. Oh well, just another excuse to return.
When it comes to describing the Stone World Bistro & Gardens, I cannot even being to start. I've never been to Disney World or Land (despite living in Orlando for 8 months). But I'm almost positive Stone World Bistro & Gardens to me is the equivalent of Cinderella's castle to a young Disney princess obsessed girl.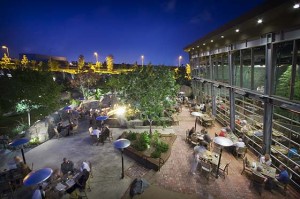 The big event that we went for was the 10 year vertical tasting of Double Bastard Ale. For those of you unfamiliar with the beer, weighing in at around 10.50% ABV, Double Bastard is considered an American Strong Ale (a catch all category for "uncategorizeable" ales with high alcohol content). Double Bastard boasts a huge malt bill and a belligerent hoppiness. Both it's hop varietals and IBU level are classified. It is not recommended for the weak of heart.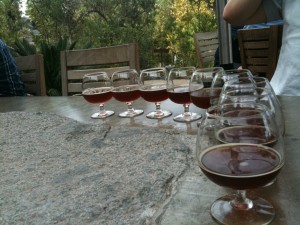 Double Bastard is most definitely an arrogant son-of-a-wench. The earlier vintages had a savage-like level of hops and insulting level of alcohol, while the older vintages were more smooth and balanced. All vintages attacked my palate with a malty vengeance. The 10 year flight of Double Bastard had me constantly questioning if I was, indeed, worthy.
Lucky for me, I'm The Wench. Double Bastard has nothing on me. I grabbed it by the balls and showed it who was boss.
In addition to tasting an epic vertical of Stone beers and seeing Stone World Bistro & Gardens for the first time, I had the extreme honor of meeting THE ONE, THE ONLY, THE FAMOUSLY  SPECTACULAR & AMAZING Dr. Bill.
Bill Sysak is one of my greatest heroes in the beer industry. I aspire to one day be as knowledgeable as him. He doesn't know it yet, but we may get married someday.
I have an open invite to come raid Dr. Bill's collection at his home. Which I plan on doing some time in the VERY very near future. It is sooooo worth the flight down, trust me.
Dr. Bill was not the only beer celebrity I met that day. As fate would have it, the adorable studs of New Brew Thursday filmed an episode with Dr. Bill in the Stone Gardens.
The mayhem at Stone Brewing Co. did not end with the flight of Double Bastard. While there, we ran into the husband and wife team from Kern River Brewing Company – Eric & Rebecca Giddens.
Upon discovering our beer geekness, they offered us some samples the Kern River Brewing Company JUST OUTSTANDING IPA. And naturally, being the mischievous and impatient "Being of Pure ID" that I'm become known to be, I opened up the bottle in the parking lot. Verdict? The name says it all, Kern produces an outstanding IPA!
The first day at Stone was extremely exciting. Not only did I get to rub elbows with Dr. Bill, the boys from New Brew Thursday (Stephen Johnson, Brad Kohlenburg & John Holzer) and the Giddens, I also got to meet SEVERAL of my fellow beer geek twitter buddies: Jordan Rounds, Renee Rounds, Martin Emde, Kristin Emde & Laura Johnson.
And I must admit, we are one fine looking group of geeks.
The excitement of day one did not end at Stone Brewing. Oh no, it did not not. The insanity had only just begun …
After drinking some pretty intense high gravity ales at Stone Brewing, it was pertinent that my big sister and I scavenger for food. Our grumbling pork-product craving tummies brought us to the Blind Lady Ale House, where we had the pleasure of sitting down at the bar with two of its owners, Lee and Jenniffer Chase. The pair provided lots of great insight into the local San Diego beer industry. It was interesting to here things from and insiders perspective.
That particular evening, BLAH was featuring a special beer/food pairing menu with Green Flash Brewing Co beers. Taylor and I decided to order both of the courses and share them. While we waited for the food to come out, each of us enjoyed a "aperitif" beer.
The first was bacon-wrapped Char stuffed with homemade stuffing on top a bed of micro greens in a creamy dill sauce paired with Green Flash Little Freak.
The second dish was melt in your mouth, fall straight of the bone, lamb shank in a rich gravy served over a bed of root vegetables and new potatoes paired with Green Flash Belgian Brown Ale.
After satisfying our cravings for top notch beer, food & conversation … Taylor and I found ourselves back on the road in search of more beer adventures. It wasn't long before we found ourselves down in San Diego's vibrant Gaslamp Quarter at JSix Restaurant, where Lost Abbey hosted a dinner & art show in conjunction with its artist, Sean Dominguez. Sean was there with his adorable son. Usually, I don't like children. But this kid, this kid was a winner.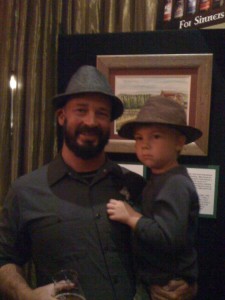 For a mere $20 admission, guests enjoyed passed-around hors d'oeuvres and were able to taste all of the following beers while viewing their original label artwork:
Inferno – Oil on Canvas
Carnevale – Chalk and Pencil
Deliverance – Oil on Canvas Beer not yet released
Devotion – Chalk and Pencil
Duck Duck Gooze – Oil on Canvas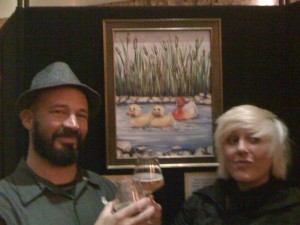 Gift of the Magi – Chalk and Pencil
Cuvee de Tomme – Chalk and Pencil
Judgment Day – Oil and Canvas
Lost and Found – Chalk and Pencil
Angel's Share – Oil on Canvas
Red Barn – Oil on Canvas
Serpent's Stout – Oil on Canvas
Avant Garde – Oil on Canvas
Ten Commandments – Chalk and Pencil
Witch's Wit – Oil on Canvas
True to Wench form, I found myself in good company at JSix. My victim? Gordon Gerski, Brewer & Bottling Line Wrangler at Lost Abbey.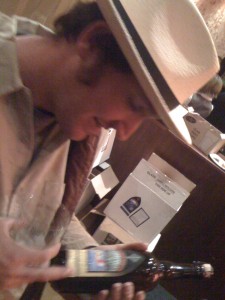 Much to Gordie's dismay, I latched myself onto to him for the majority of the evening. As a result, I received endless pours of my favorite Lost Abbey beer — Duck Duck Gooze — as well as had the opportunity to meet the man behind the magic of Lost Abbey — Mr. Tomme Arthur.
Also present that evening was the illustrious Mr. Greg Koch, CEO of Stone Brewing Co.
The evening took a turn for the more awesome when my good friend and fellow beer blogger, Pj Hoberman, showed up at JSix. Unfortunately, PJ arrived towards the end of the event. Nonetheless, Taylor and I did our damnedest to catch him up.
Like all good times, the Lost Abbey art show had to come to an end. But this did not hinder our goals to create mayhem and reek havoc on the city of San Diego. And so the Three Stooges of Debauchery trekked onward to our last stop of the evening: Hamilton's Tavern for the Liar's Club Redux event.
By this point, The Wench was feeling good. A little too good because I cannot for the life of me remember what I drank. I do, however, remember eating some kick-ass chicken wings and fries. Nothing like fried food to cap an evening of amazing beer drinking, am I right?
After practically closing down Hamilton's, it was a group consensus to take the party back to Taylor's swank pad downtown. Being quite a few beers deep, I decided (like the mature adult that I am) that the bed sounded more lucrative than continuing with the beer drinking festivities. Unfortunately, my lovely friends did not agree with that move. And after 2 attempts to pass out, the crew was able to resurrect my half-dead body.
The night took yet another turn for the awesome when I decided to make nachos. People really need to learn not to feed me past midnight. Think Gremlins, kids. You don't feed the Gremlins past midnight. You don't feed the Wench past midnight. Because once you spike my blood sugar, I cannot be responsible for any of my actions.
Needless to say, the blood sugar rush from the nachos sent me into a manic state which then enabled me to drink more beer. Drinking more beer ultimately led to 2 back-to-back screenings of … wait for it … wait for it … The Rocky Horror Picture Show.
What can I say? I'm a freak for Dr. Frankenfurter. Usually, my crazed requests to watch the Rocky Horror Picture show get over-turned by my peers. But not this night. As fate would have it, another member of the twitter beer geek crew, The Mr. Martin Emde, is also a RHPS fiend.
As much as I would love to share the details of the rest of the evening with you all, there are just some things that are meant to be kept private. All I can say is that there was lots of "Time Warp" dancing action combined with shouting out various phrases at the movie. But then, if you've ever seen Rocky Horror live, you can probably imagine the madness that ensued.
The sun ended up coming sooner than one would expect. The "night" officially ended at 7:30AM.
The first day, San Diego Beer Week kicked my ass.
San Diego = 1 — Wench = 0
Stay tuned for ROUND 2 … Cheers!