I love to cook. And, I love to cook with beer.
Any recipe that requires some sort of liquid (water, wine, broth, stock etc…) can easily be prepared with beer as a substitute. Starch works particularly well — especially couscous, rice, quinoa, barley and even pasta and potatoes. All dried starch (and bean) products need to be re-hydrated prior to consumption.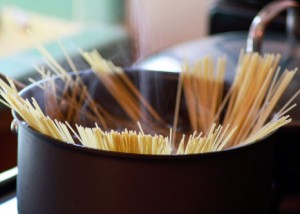 Some starches, like rice & couscous, absorb ALL of the liquid in which they are cooked. This means that they also absorb all of the flavors in the liquid used. It is common practice in commercial kitchens (restaurants) to cook certain things in stock and broth to add more flavor.
I prefer beer (for obvious reasons).
The weather in Northern California has taken a turn for the less desirable and, these days, I have been craving more heartier foods such as stews, soups and chili. Being that I'm single with limited finances (unemployed, cough cough), making large batches of one pots dishes is economically sensible.
Lately, I've been on a chili kick. Usually, I prefer to use a really bitter (high IBU) IPA in my chili. This is probably because I love to make my chili "almost" unbearably spicy. This time around, however, I was inspired to make a thicker, richer chili using different spices and a thicker richer beer: Oscar Blues Ten Fidy Imperial Stout.
Don't let the can fool you, at just over 10% abv, Ten Fidy is one hell of a beast. It has received a perfect 100 rating on RateBeer.com – and it is easy to see why.
It pours thick and syrupy from the can. Color wise, Ten Fidy is cloudy and black as night with a rich, creamy brown head. Its aroma is overwhelming dark & chocolate malts, with hints of espresso and cocoa nibs. On the tongue, Ten Fidy is a flavor explosion — sweet, rich caramel & chocolate-like flavors are nicely balanced by bitter coffee, cocoa nib and roasted malt-like flavors. Mouthfeel is thick and viscous. The finish is warming. Over all, Ten Fidy is a fantastic Imperial Stout.
And yes, it came from a can.
Ten FIDY Imperial Stout – This titanic, immensely viscous stout is loaded with inimitable flavors of chocolate-covered caramel and coffee and hide a hefty 98 IBUs underneath the smooth blanket of malt.  Ten FIDY (10.5% ABV) is made with enormous amounts of two-row malt, chocolate malt, roasted barley, flaked oats and hops. Ten FIDY is the ultimate celebration of dark malts and boundary-stretching beer. (Source: Oscar Blues)
Enough about the beer, are you prepared for my awesome recipe?
Disclaimer 1: I made this up as I went along. Feel free to modify it where you see fit.
Disclaimer 2: I don't particularly like beans, so I rarely ever use them in my chili recipes. Feel free to add some to yours. I won't judge.
THE BEER WENCH PRESENTS:
TEN FIDY BEER CHILI
INGREDIENTS
MEAT: 5 pounds total
Personally I like to use a mix of meats. Typical for me: 2lbs ground pork, 2lbs ground beef and 1lb of something super special like lamb or Italian sausage
VEGGIES:
Bell Pepper Trio: red, yellow or orange, green — seeded and diced
Poblano Pepper: seeded and diced
2 Jalapeno Chile Peppers: with seeds and finely minced (I like it hot, feel free to cut back)
5 Garlic Cloves: finely minced
2 Yellow Onions: diced
SPICES:
Cumin Powder: about 2 TBSP
Chili Powder: about 4 TBSP (I love this stuff, feel free to use less)
Onion Powder: about 2 TBSP
Red Pepper Flakes: about 1 TBSP
Brown Sugar: 1 TBSP (sounds weird, but trust me on this)
Salt & Pepper: to taste
FROM THE CAN:
4 pack of TEN FIDY Imperial Stout
7 oz can of Chipotle Peppers in Adobe Sauce (preferably in a puree, paste or sauce form. Can be found in ethnic section of grocery store)
2 cans of Diced Tomatoes (preferably unsalted to better control the flavor)
1 can Tomato Sauce
2 tablespoons Extra Virgin Olive Oil
INSTRUCTIONS
Open one can of TEN FIDY Imperial Stout. Pour into a brandy snifter. Drink.
Sauté beef in heavy large pot over medium-high heat until no longer pink, breaking up with spoon (about 8 minutes). Take another sip of beer.
Heat oil in large skillet over medium-high heat. Add onions, all bell peppers, poblano, garlic and jalapeños. Sauté until vegetables begin to soften (about 15 minutes). Take a few more sips of beer.
Add veggie mixture to pot with meat. If you are health conscious, feel free to drain the fat and excess oil from the meat before adding it to the pot. (If you are a fatty like me, pour the fat drippings into the chili because it is ridiculously good that way). Keep drinking the beer.
Mix in cumin, chili powder, onion powder, red pepper flakes and chipotle chilies. What's that? Your glass is empty? Grab 2 cans of beer. Pour one into your brandy snifter.
Add diced tomatoes, tomato sauce and one can of TEN FIDY beer to the pot. Depending on HOW thick you like your chili, feel free to add beef broth, water or more beer at the stage.
Bring chili to boil, stirring occasionally. Reduce heat and simmer 20 minutes, stirring often.
Season with salt and pepper to taste. Feel free to spike the chili with hot sauce until desired heat is reached. If the chili gets to hot, feel free to add more beer to the pot. Or your mouth.
Garnish with chives — and for all of you lucky kids who aren't lactose intolerant like me, feel free to garnish with sour cream and your favorite cheese. Serve with BEER CORNBREAD (recipe to come) and pair with TEN FIDY Imperial Stout.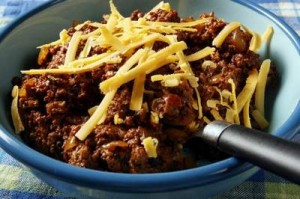 CHEERS!!!