DRINK WITH THE WENCH PRESENTS:
The Beer Blogger Interview Series
Curious what goes on in the minds of your favorite beer bloggers? Well, The Beer Wench is and she has embarked upon a mission to interview as many beer bloggers that she can — from all over the world. Are you a beer blogger? Do you want to share your story? Send me an email!
INTRODUCING: PETER KENNEDY
AUTHOR OF: SIMPLY BEER
Beer Blogger Interview
Full name: Peter Kennedy
Twitter handle: SimplyBeer
Name of blog: Simplybeer.com
Current location: Montclair NJ
Background "Snapshot"
1. Where did you grow up?
Grew up in Bangor Maine. Spent the winters Skiing and the Summers Sailing. Until 14 when I moved to Katonah NY in Westchester County, about 3o minutes north of NYC.
2. What sports if any did you play growing up, through college and beyond?
Mostly Skiing and Soccer
3. How old were you when you had your first beer?
I was allowed to sip my dads occasionally growing up. But I was about 12 when I stole my first beer from my dad, a can of Heineken
4. If you can recall, what is the story of your first beer? Where did you have it? What style and brand was it?
My stepbrother and I stole a couple cans of Heineken. Then got the brilliant ideas to empty all the powder out of a case of these funky sparkler fireworks into one of the empty cans. As brilliant an idea seemed in concept, it almost turned out horribly bad when we lit it on fire and it shot white hot flame about 6ft out the top of the can for about 20 seconds before spinning out of control. We lucky we didn't severely hurt ourselves or burn the woods down!
5. Where, if applicable, did you go to college? What did you study? What additional activities, organizations, sports did you partake in during college?
I did a 4yr sentence at SUNY Stony Brook. Where I graduated with about a 3.2 average. I majored Art History and Photography and was a lunatic rollerblader.
Craft Beer Epiphany
Every craft beer enthusiast has at least one pinnacle craft beer experience that completely changes ones perspective on beer. I refer to this mind-blowing moment as a "craft beer epiphany."
What was your first craft beer epiphany? Recall as many details about it as you can:
My beer epiphany – On a mind numbing bindge in our dorm room, some guy brought a six pack of Brooklyn Lager. In the early 90's Brooklyn was much smaller then it is now, but that was the first beer I'd ever had that had flavor to it. It almost became an obsession after that trying every new beer I could get my hands on, Sierra Nevada, Sam Adams, 15 years later still on a quest to try new beer. I will always order something I've never had when at a bar, unless I've had everything.
Have you have additional craft beer epiphanies since the first? Detail as many of them as you wish:
I think my biggest epiphany came when I started to brew beer. I was amazed at how simplistic beer was, yet so hard to make it well and consistent. Like cooking, the end result is much greater then the sum of its parts. There is something intangible that goes into making exceptional beer. My wife tells me it is love. Whether it be love, passion, or just an innate sense on how hops, grains and yeast work in unison, it help me realize what goes into crafting beer.
Beer Blog Background
1. How long have you been writing SIMPLY BEER?
Started Simply Beer in November of 2008
2. What inspired you to start writing your blog?
People kept asking me questions about beer and homebrewing, so I decided to put pen to paper (or fingers to keyboard) and it has evolved from there.
3. Why did you choose the name of your blog?
That took a long time. I wanted a dot com domain name that might have marketability in the future. It took about 6 months to find Simplybeer.com. It really fits into what I wanted to do with my website, focus on Beer, Homebrewing, podcast, and cooking with beer. My website is simply about beer – Simply Beer.
4. What are you personal goals for your blog? What do you hope to achieve with it?
Spread the word of beer. Try to get people to try new things whether it is new beer or homebrewing, there is room for all of us to grow and expand our horizons.
I love beer the way others love a great meal. It's about the different flavors coming together to create a unique taste. It's the creation of each recipe and the time it takes to craft that recipe into a delicious experience.
I have dreams of opening my own bar/brewpub and this is was a great way to get to know people, learn more about the industry, and what people are looking for.
5. What is one of the coolest things that happened to you as a result of being a beer blogger?
Probably the coolest thing is tasting beer with the people who make them. Some of the resent highlights have been tasting a 06 Allagash Curieux with Rob Tod, Life & Limb with Sam Calagione, and Brooklyn Black Ops with Garrett Oliver.
6. What are you top 3 favorite beer blogs/beer websites?
1. thankheavenforbeer.com —  Nate and Michael do such a great job of mixing up the content and they are passionate about what they do
2. The Beer and Whiskey Brotherhood — new blog, Brothers Jim and Don mix it up well with both beer and whiskey (I love whiskey, bourbon and scotch)
3. The Brew Club — another Jersey Blogger, write great reviews of seasonal beers and recent homebrewer convert!
Beer Talk
1. What are your top 3 favorite beer styles?
Interesting question… my top three Sour beers, Barrel aged beers, and Brett ipa's
2. What are your top 3 favorite breweries?
Allagash is on the Top of my list, and then I would go with Dogfish Head and Flying Dog. Now if I could regularly get Russian River, Lost Abbey, and New Glarus, that list might change.
3. If you could work with or for any one brewery, which one would it be and why?
Allagash. They make some incredible beer and I grew up in Maine.
4. Are you a homebrewer? If yes, what is the most unique and interesting beer recipes you've brewed as a homebrewer?
I've been brewing beer for 10 years, although only over the last 3 have I really been serious and dedicated to the craft. I will pretty much brew anything that strikes and intrest or I haven't done before. One of the most interesting things of late was the Beer Bloggers Brew-off I organized. On Dec 13th, 9 homebrewers all brewed the same batch of beer across the country. The kicker, we can all use one secret ingredient in the beer.
5. Do you have any beer certifications (BJCP, Cicerone, Siebel, American Brewers Guild)?? If so, what are they?
Cicerone Certified Server
6. What is your favorite beer and food pairing?
Cheesecake and a cantillon kriek
The Personal Side
1. What is your current day job?
I manage a group of 15 software developers at a pharmaceutical company
2. If you could change your career at this very moment, without any restrictions on what you could do, what would you want to do and why?

I would open a brewpub in a heartbeat. A job I can put my passion into!
3. Are you married? Children?
Yes. My wife is amazingly support of all my beer endeavors, but I try to keep that part of my life separate from the beer.
4. Outside of beer and writing, what are some of your other hobbies?
It is pretty much family life since work and beer take up a healthy proportion.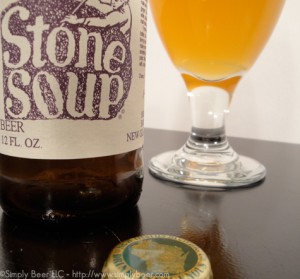 Off The Beaten Path
1. If you were a style of beer, what style would be and why?
An Imperial Stout – I'm a big, warm guy
2. You were caught smuggling beer illegally, which has now been made punishable by death. Right before you are sent to the executioner, you are offered one last beer. What beer would you chose and why?
Probably a bottle of tactical nuclear penguin, so I would be loaded not to care about being executed
3. If I contracted you to brew a beer (or design a beer recipe) called "The Beer Wench" — what style would you chose and what, if any, extra ingredients would you add?
Since you're a bacon nut (who isn't?) it would have to be along the lines of a rauchbier
4. What is one of the craziest things you have ever done and lived to tell the story?
That depends on the statute of limitation… seriously, once worked for a industrial photographer and had to climb smoke stacks, cargo ship cranes, rode in earth movers in open pit copper mine, and stood in the dishes at the VLA.
5. What are your thoughts on bacon?
It's bacon; a food group like beer.
SPECIAL THANKS TO PETER FOR AN AWESOME INTERVIEW!
CHEERS!