If you are not a proper stalker (gasp! how dare you…), then you probably don't know that the Saison is one of my top three ALL TIME favorite styles of beer. This is partly because I have a fetish with Belgian yeast and partly because I am obsessed with attenuation (Saison yeast, especially Dupont yeast, is highly attenuative and produces a nice dry beer … just the way The Wench likes it).
For some time now, I have been following the updates of Peter Hoey and Rick Sellers of Odonata Beer Company regarding the production of their Saison. It has been a very torturous past couple of weeks, but I am extremely happy to announce that today is the OFFICIAL release of the Odonata Saison!
Unfortunately, I will not be able to trek up to Sacramento to taste some of this delicious nectar. However, I have been assured that it should be hitting the Bay Area in the next week or so.
Ever since I learned of its creation, Odonata has been on my radar as one of the top breweries to watch in 2010 (ooooh that gives me a great idea for another post!). This February, my assumptions about Odonata were proved to be correct after I had the opportunity to taste two of its sours, Beersell and Rosa, during San Francisco Beer Week. Both completely floored me. Peter and Rick are extremely talented, and I can only imagine how far they will go from here!
Without any further ado, I present ODONATA SAISON:
ODONATA (OH-DOE-NAH-TA) is ecstatic to announce the arrival of its flagship beer, Saison! Brewed with malted barley, wheat & rolled oats, Saison is a rustic interpretation of the traditionally Belgium-brewed beer. Spiced with Styrian & East Kent Golding hops Saison has an aromatic, floral & peppery aroma and a modest hop bite. Our Belgian yeast strain also lends the slightly wild scents of passion fruit and spice. Saison is designed for refreshment & complexity; perfect on its own, or paired with ripened cheeses or classic Belgian-style seafood dishes. Saison bottles are bottle-conditioned, so serve chilled.
ODONATA Saison will be available on draft at select Northern California retailers beginning Friday, April 30, 2010 and will begin distributing bottled Saison in mid-May throughout Northern California. For more information on events, follow @OdonataBeer on Twitter, or check out the Odonoata Beer Company blog.
One of my all-time favorite beer recipes is beer mussels. And there are three different styles of beer that I think are a SLAM DUNK for steamed mussels –> The Gueze, The Saison and The Wit. One of my favorite people in the entire word, the world-renowned Homebrew Chef Sean Paxton, developed an amazing mussel recipe for the Odonata Saison: OdonataSaison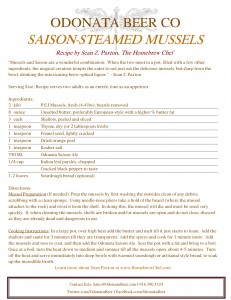 Now, if I can only get Paxton to make it for me … that would be the ULTIMATE experience.
Congratulations to Peter and Rick for the first bottle release from Odonata Beer Co.!
I look forward to tasting the Odonata Saison. And as with any NorCal beers, if any of you readers are interested in a trade — I would be more than happy to ship out some Odonata Saison!
Cheers!
ODONATA Beer Company is based in Sacramento, Ca. Brewmaster Peter Hoey is an experienced, award-winning brewer as well as an instructor at UC Davis' prestigious brewing school and The American Brewers Guild. Sales Director Rick Sellers is an experienced beer journalist and former Beer Director for DRAFT Magazine, the world's largest beer publication. Together Peter & Rick started ODONATA in 2009, with their first beer release (Rorie's Ale) scoring a 100 on RateBeer and was named one of the best beers in the world.