Back in the early 1990's, the American craft beer scene was nothing like what it has evolved into today. The U.S. beer market was heavily dominated by corporate beers and imports. And although a few craft breweries (i.e.: Anchor Steam, Sierra Nevada and Samuel Adams) were gaining national recognition, the craft beer "scene" was relatively small and localized.
Inspired by the craft beer forefathers (i.e.: Fritz Maytag, Ken Grossman and Jim Koch), the mid-nineties gave rise to what is often referred to as the "2nd generation" of craft brewers. Whereas the 1st generation carved out the path for the craft beer industry, it was the 2nd generation of brewers that took craft brewing to the "extreme" level. Driven by innovation, creativity and slight insanity, this 2nd generation of craft brewers completely changed the beer scene as we know it today.
Rob Tod, founding owner and brewmaster of Allagash Brewing Company, is a member of this guild of highly sought after cult craft brewers. Prior to 1995, most American palates were unfamiliar with the Belgian beer styles. Belgian beers were not among the imports over-saturating the beer market. And although Michael Jackson had been writing praises about these styles for years, the average American beer drinker was clueless about them.
Enter Rob Tod, the man who was crazy enough to step outside of the box and brew some of the first American Belgian-style beers. In many ways, Rob and Allagash paved the way for and inspired the modern day American movement towards Belgian beer consumption and demand.
I had the honor of meeting Rob during the 2009 Great American Beer Festival at an event he was co-hosting with Dogfish Head and Russian River. I am not even sure how I ended up at the event and consequently in the VIP room, but I can say that it was one of my highlights, by far. And surprisingly enough, Rob not only remembered meeting me, but also remembered my name when I saw him again at the 2010 Craft Brewers Conference. (PS: Rob, Thanks for the beer!)
I recently had the opportunity to call up Rob Tod and pick his brain about his beer background and the creation of Allagash Brewing Company. And here is his story, as presented through the ramblings of The Beer Wench:
BW: Where, if applicable, did you go to college? What did you study? What additional activities, organizations, sports did you partake in during college?
RT: " I went to Middlebury College in Vermont. I majored in Geology and was on the Nordic ski team."
Obviously, studying rocks is a far cry from brewing beer.
BW: Why Geology?
RT: I was always fascinated by rocks. I liked the science end — there was a fair amount of chemistry and physics involved. That and the lab work was in the field.
Post college graduation, Rob Tod spent a brief stint in Colorado, but ultimately moved back to Middlebury with the intention of further education.
RT: I liked the faculty at Middlebury College. Thought about going back to get my PhD to  teach.
BW: What stopped you from pursuing this career path?
RT: I got a job washing kegs at Otter Creek in Middlebury. I was looking for a job and a friend suggested the kegwashing position. Free beer, I wasn't going to say no to that. I was there for two days and knew what I wanted to do with the rest of my life.
Unlike many craft brewers, Rob was not a craft beer enthusiast or homebrewer before he got into the industry. His story is the reverse.
RT: I kind of discovered the beer industry a different route than others. Most discover beer and get into the industry. I got into the industry and then discovered craft beer. I was blown away that little breweries were making great beers.
BW: Every craft beer enthusiast has at least one pinnacle craft beer experience that completely changes ones perspective on beer. I refer to this mind-blowing moment as a "craft beer epiphany." What was your first craft beer epiphany?
RT: I didn't know there were craft beers in the U.S. back in the 80's. I remember going to a keg party in Boulder in 1991. They had a keg of Pete's Wicked Ale. First dark beer I saw out of a keg and I was like wow. It is crazy to think it now, but I was just amazed that you could get big beer like that in a keg. I don't know if I even had Guinness at that point. At that time, I was just buying what I could afford.
BW: What was your first "Belgian craft beer epiphany"?
RT: Celis White — I randomly bought it off the shelf in the store. I opened the first bottle and took a sip and thought it was bad. I gave it to my friend and said, "taste this man, I think something is wrong with this beer." He didn't think it was that bad. I ended up finishing the beer. By the time I was four beers in, I was in love with that style. To this day, I remember that flavor. Piere Celis is a huge inspiration of ours. In fact, I visited him in December when I was in Belgium.
*NOTE: For those of you who may not be familiar with Piere Celis, he is considered the modern-day godfather of the Beglian wit style. Prior to founding the American brewery Celis, Piere Celis founded the founded the well-known Hoegaarden Brewery — where Celis revived the Beligan wit beer style. Unfortunately, both breweries today are corporately owned.
After hearing this story, it became evident why Rob Tod chose to brew Allagash White as his first beer, the beer that ultimately became the flagship of Allagash.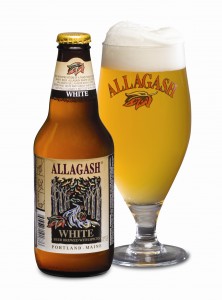 BW: What is the significance behind the name "Allagash"?
RT: Good question. Allagash is a region in Northwest Maine. I'm terrible at thinking up names. So I passed the task onto my buddies. One buddy told me to call it Allagash brewing because "you spent a bunch of time up there." I didn't like it at first. But then I found some space and needed to chose the name in order to start working on the brewery. One day I was staring at the paper and saw Allagash and went with it.
Allagash Brewing Company sold its first batch of beer in the summer of 1995. In the beginning, Rob was a one man team working out of a small, self-designed 15 barrel brewhouse in Portland, ME. Rob was the brewmaster, the kegging line, the sales force and the marketing team.
BW: Prior to starting Allagash, did you attend any formal brewing programs or schools?
RT: I did do a two week course at Siebel on the laboratory side of work. But really, I learned how to brew the hard way. We [Rob and his father] started alone just doing one beer only. Drafts only. Local only. Walk before we run. We've approached things slowly and cautiously.
This approach has seemed to work well for Allagash, who has gained a reputation as being one of the pioneers of experimental barrel-aged and sour beers in the craft beer industry.
BW: When and why did you decide to start using barrels?
RT: Curiosity. We have been doing it for over ten years now. We were just curious about the different flavors that can be imparted from wood.
BW: Allagash has also done a few collaboration with other breweries. What has been one of your favorites?
RT: Isabelle was a blast. Tomme deserves all the credit, though. He brewed the beer.
After learning about the history of Allagash, I wanted to learn more about the man behind the brewery — a more "intimate" side of Rob Tod.
BW: Who are some of your greatest mentors in the industry?
RT: Piere Celis, Ken Grossman, Kim Jordan. More inspiration than mentors. A lot of my peers, Sam,Vinnie, Adam, Tomme are all inspirations. Those guys are always doing new things that are inspiring us to do new things.
BW: What is your favorite style of beer to DRINK?
RT: Probably the Belgian White. In the beginning, my biggest fear was that I wouldn't love the beer we were brewing and wouldn't be able to go out and sell it. I love the style of white beer. I always seem to gravitate back towards that beer. I love the beer now more than we first started brewing it. I just love craft beer. When I'm on the road, I love trying new beers. So much cool stuff and innovation right now. I like to try a lot of styles of beers.
Let the record show, Rob Tod loves craft beer.
BW: What is your favorite beer style to BREW?
RT: I haven't had time to brew in quite awhile. As far as actually brewing it, I like learning and trying new things. So whenever we are doing new things at the brewery, learning a new style, experimenting, etc… — it's fun. What ever is new. Experimentation. Cool surprises. That is one of my favorite things about brewing.
Rob's willingness and love for experimentation has definitely helped put Allagash on the map. The brewery even has its own koelschip in the outside air where the brewers have been experimenting with a "house" wild yeast strand that was discovered in a batch of beer and has since been isolated. Those beers have not been sold yet, however, they are rumored to reach the market, ultimately. Errr … I mean, hopefully.
I think I might have confused Rob a bit with my famous "Off The Beaten Path" series of questions … however, he was kind enough to answer two of my favorites:
BW: If you were a style of beer, what style would be an why?
RT: I guess a white beer cause I like it, my favorite style.
BW: What are your thoughts on bacon.
RT: I love it, but my doctor doesn't think I should eat it.
Special thanks to Rob Tod for 1. providing me with an awesome interview 2. for being an amazing brewer and inspiration in the industry and 3. for being an all around genuine and truistic person. I truly adore you, your beer and your company.
Cheers!