DRINK WITH THE WENCH PRESENTS:
The Beer Blogger Interview Series
Curious what goes on in the minds of your favorite beer bloggers? Well, The Beer Wench is and she has embarked upon a mission to interview as many beer bloggers that she can — from all over the world. Are you a beer blogger? Do you want to share your story? Send me an email!
INTRODUCING: BRIAN ALDRICH
AUTHOR OF: SEACOAST BEVERAGE LAB
Beer Blogger Interview
Full name: Brian Aldrich
Twitter handle: @SeacoastBeverageLab & @BigBontheRoad
Name of blog: Seacoast Beverage Lab
Current location: Portsmouth, NH
Background "Snapshot"
1. Where did you grow up?
Lovely Belchertown (yes, Belch as in burp), MA.
2. What sports if any did you play growing up, through college and beyond?
I was big into basketball through my younger years and played volleyball through high school.
3. How old were you when you had your first beer?
My first full beer was a high school party when I was 17.
4. If you can recall, what is the story of your first beer? Where did you have it? What style and brand was it?
My first sip is the classic story of a father handing the can of Budweiser to his son. If my Dad drinks it it must be good, right? Yuck! Hated it and cursed it for years after, but now I can't stop talking about beer.
5. Where, if applicable, did you go to college? What did you study? What additional activities, organizations, sports did you partake in during college?
Went to Wentworth Institute of Technology in Boston where I studied Computer Networking Systems. I was big into volunteering, orientation, peer education against alcohol and drug abuse and video games. You can't enter Boston without praying to the Sox/Celts/Bruins either!
Craft Beer Epiphany
Every craft beer enthusiast has at least one pinnacle craft beer experience that completely changes ones perspective on beer. I refer to this mind-blowing moment as a "craft beer epiphany."
1. What was your first craft beer epiphany? Recall as many details about it as you can:
My dad brews beer and used to enter his beer into our local fair's contests for judging. My first craft beer epiphany came while sitting cross legged on the kitchen floor with the bottle capper at age 10, capping the beers my dad made. It was mind blowing in a sense that I never knew it was humanly possible to brew your own beer without machines and robots!
Beer Blog Background
1. How long have you been writing your beer blog?
Since March, a whopping 6 months
2. What inspired you to start writing your blog?
Lack of Seacoast (Southern NH) representation and I wanted to express my love of beer through words and the easiest way to tell everyone is through blogging.
3. Why did you choose the name of your blog?
A group of friends and I decided to make the title general enough where we could focus on beer but also focus on other beverages and bars that aren't beer exclusive. My friends since jumped ship on the blog so I'm steering this boat to beer land!
4. What are you personal goals for your blog? What do you hope to achieve with it?
My personal goals are simple, doing as best I can to represent this side of the U.S. and write interesting stories of my journey with beer. I love feedback on my posts.
5. What is one of the coolest things that happened to you as a result of being a beer blogger?
Nothing crazy yet. I think the coolest thing is being more informed about beer. I now enjoy going and looking for new beers at bars and beer stores. I recently interviewed the Assistant Brewer from the Portsmouth Brewery regarding the GABF which was pretty cool.
6. What are you top 3 favorite beer blogs/beer websites?
Tough question but I'll highlight 3 from my area
Beer Talk
1. What are your top 3 favorite beer styles?
Stout, Porter, Ale. I love winter brews all year round. Summer beers are not my favorite.
2. What are your top 3 favorite breweries?
Portsmouth Brewery, Smuttynose Brewery , Sam Adams
3. If you could work with or for any one brewery, which one would it be and why?
Any! That's too tough a question for me to answer but I will say I would love to work with/for a local brewery.
4. Are you a homebrewer? If yes, what is the most unique and interesting beer recipes you've brewed as a homebrewer?
I have tried brewing in April, didn't work well, but I am hoping to get another batch brewing in a month or so! Brewing takes care and patience, for which I have both but sometimes a batch won't turn out like you plan for one reason or another. The brewing gods were not upon me that day I guess.
5. Do you have any beer certifications (BJCP, Cicerone, Siebel, American Brewers Guild)?? If so, what are they?
Negatory
6. What is your favorite beer and food pairing?
I'm a huge fan of a bucket full of local beers and a BBQ. I'm not skilled with pairing beer with food but I enjoy the combination of burgers and beer. Recently I had a 'Headless Horseman' which was a Guinness and Pumpkinhead combination. Paired that with a big burger and it was bliss.
The Personal Side
1. What is your current day job?
Network Analyst aka nerd
2. If you could change your career at this very moment, without any restrictions on what you could do, what would you want to do and why?
Work for Gamestop or CNET. I love any and all things technology since I was little.
3. Are you married? Children?
None of the above! I have a girlfriend who supports my love of beer, but is more a wine/cocktail person. She got me the coolest gift ever for my bday, a trip to Burlington to go on the Burlington Brew Tours. A tour of 5 breweries which lasted all day, awesome way to spend a birthday!
4. Outside of beer and writing, what are some of your other hobbies?
I'm a runner. Back in 2005 I weighed in at 300+ pounds and now I am 110 lbs lighter, so I like to stick with it. I am also big into video games in my free time, Halo anyone (gamertag BigBWIT). Again, sorry for the nerdieness but I argue beer and video games go hand in hand. Have you ever heard someone sing Billy Idol in Rock Band without beer? Not pretty.
Off The Beaten Path
1. If you were a style of beer, what style would be an why?
Stout- Bold and Beautiful
2. You were caught smuggling beer illegally, which has now been made punishable by death. Right before you are sent to the executioner, you are offered one last beer. What beer would you chose and why?
Kate the Great from the Portsmouth Brewery. Even still I don't think the Brewery would give it to me since it comes out once a year, but by then I figure I would have enough pull to get a bottle sent to death row!
3. If I contracted you to brew a beer (or design a beer recipe) called "The Beer Wench" — what style would you chose and what, if any, extra ingredients would you add?
It would be a sour brew for sure, brewed with barrels of lemons dragged on horseback hundreds of miles through the rain and snow. The term Wench to me means someone who has a sour attitude and gets many sour looks. Served with crushed lemonhead candies around the rim.
4. If you could be a superhero, what would you want your superpowers to be?
Invisibility and the ability to refill drinks by looking at my glass, obviously.
5. What is one of the craziest things you have ever done and lived to tell the story?
Rode in a minivan with some friends with the sliding door open. Friend decides to take a left turn from the far right lane of a highway. I'm living to tell the story of how an oncoming car nearly entered the sliding door of the van.
I also ran the 2009 Great Wall of China Marathon, don't kid yourself!
6. What are your thoughts on bacon?
Not a fan. Hush your boo's! I'm not the only one I promise you. I do like bacon occasionally but I don't see what all the fuss is about.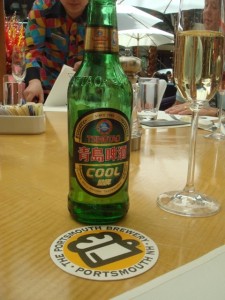 SPECIAL THANKS TO BRIAN FOR AN AWESOME INTERVIEW!
CHEERS!