DRINK WITH THE WENCH PRESENTS:
The Beer Blogger Interview Series
Curious what goes on in the minds of your favorite beer bloggers? Well, The Beer Wench is and she has embarked upon a mission to interview as many beer bloggers that she can — from all over the world. Are you a beer blogger? Do you want to share your story? Send me an email!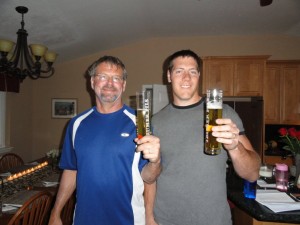 INTRODUCING: CODY JOHNSON
CO-AUTHOR OF: HEBREW MEN'S BREWING SOCIETY

Beer Blogger Interview
Full name: Cody Johnson
Twitter handle: Codysseus
Name of blog: Spirit of Brew
Current location: Reno, NV
Background "Snapshot"
1. Where did you grow up?
The beer mecca of West Valley City, UT
2. What sports if any did you play growing up, through college and beyond?
It would be easier to state what sports I did not play. Officially I played football, basketball, baseball, golf, wrestling, power lifting and track and field. I played football at the University of Nevada, Reno in college.
3. How old were you when you had your first beer?
18.

4. If you can recall, what is the story of your first beer? Where did you have it? What style and brand was it?
Again, we're talking about the beer mecca of Utah here. Actually the first beer I can really remember was my dad's homebrewed porter. I had it in our home in West Valley.
5. Where, if applicable, did you go to college? What did you study? What additional activities, organizations, sports did you partake in during college?
University of Nevada, Reno. I studied Engineering Physics and played football starting all four years…I know, a combination that one cannot fathom, but it's a true story, I swear!
Craft Beer Epiphany
Every craft beer enthusiast has at least one pinnacle craft beer experience that completely changes ones perspective on beer. I refer to this mind-blowing moment as a "craft beer epiphany."
1. What was your first craft beer epiphany? Recall as many details about it as you can:
I had been drinking craft beer for a while when I had my first real epiphany. It happened Thanksgiving 2006 in Portland, OR when my future brother-in-law showed up with Dogfish Head's 90 minute IPA. I was already on to IPAs at the time and they had quickly become my favorite style. The 90 minute IPA sealed the deal for me. To this day, I judge every IPA by this brew. While it is bigger than your standard IPA, it, to me at least, is the benchmark of the style, or anything wanting to be near it.
2. Have you have additional craft beer epiphanies since the first? Detail as many of them as you wish:
I think the next one would need to be Belgians. I chased IPAs so hard for so long that I almost passed on the style when I had a Chimay with my dad. Once I had it, I was hooked and every time I'd be on a business trip to Boise, ID, I'd find bitter creek because I knew they had Chimay on draft. Chimay Cinq Cents is still my favorite, but I find this to be probably the old world's best style, or a very close second to the best the Germans have to offer.
I have had more than three, but my third would need to be into the mind-blowing realm of sour ales. People have ventured into Lambics as if they were some sort of poor-man's version of "bacterial" beers, but there is a world of beauty in sour ale and complexities that can elude even the most well-trained beer connoisseur. While I have had a number of them to date, I think the most numbing is still New Belgium's Lips of Faith Series sour.
Beer Blog Background
1. How long have you been writing your beer blog?
Collectively, we have been producing the Spirit of Brew for almost two years now. It is published monthly.
2. What inspired you to start writing your blog?
The guys and I wanted to expand our influence to those around us who were also interested in talking about beer. Since we had a good local Email group we started it that way and then started posting issues on the web.
3. Why did you choose the name of your blog?
Oddly enough, HeBrew Men's Brewing Society started out as an attractional group within our church…hard to believe, I know. This is where the inspiration for both the logo and the group name came into play.
4. What are you personal goals for your blog? What do you hope to achieve with it?
My main goal is to make sure that our following has some interesting articles to read as well as something educational in each issue. I actually act as the editor of it, so my articles aren't typically the more interesting ones, I prefer reading the other guys more than my little quips and sections.
5. What is one of the coolest things that happened to you as a result of being a beer blogger?
Seeing people around me get more excited about beer and then actually having the guts to venture into brewing on their own. I like the fact that we inspire guys to try something new, fearlessly.
6. What are you top 3 favorite beer blogs/beer websites?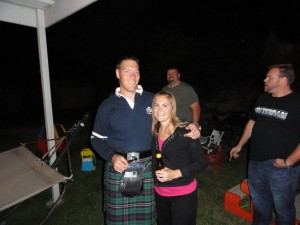 Beer Talk
1. What are your top 3 favorite beer styles?
IPA, Barleywine, Belgian ales (with lower esterification)
2. What are your top 3 favorite breweries?
Dogfish Head, Stone, Nogne O
3. If you could work with or for any one brewery, which one would it be and why?
I think I'd have to choose Dogfish Head. Sam Calagione is always pushing the limits of what beer can be. The guy is so exploratory and willing to try anything.
4. Are you a homebrewer? If yes, what is the most unique and interesting beer recipes you've brewed as a homebrewer?
Yes. We just brewed a sweet stout with Juniper Berries rather than hops. It's a little sweeter than typical, but it was a nice adventure. So far, I think that the most unique thing that I've found is actually mead. The first mead we brewed was so bizarre and unique I was blown away. Next would have to be our Novemberfest.
5. Do you have any beer certifications (BJCP, Cicerone, Siebel, American Brewers Guild)?? If so, what are they?
Not today.
6. What is your favorite beer and food pairing?
I love bold flavors so that's probably why I stick to bold beers. I would have to say today I could go for a 90 minute IPA with mango habanero chicken.
The Personal Side
1. What is your current day job?
I am a partner in an appraisal management company.
2. If you could change your career at this very moment, without any restrictions on what you could do, what would you want to do and why?
I will never retire and I love my work. I would love to own a brewery with a "brew-farm" on the side. That and I'd have to work our pub!
3. Are you married? Children?
Married with a son and a daughter…my wife just racked her first hard cider this week.
4. Outside of beer and writing, what are some of your other hobbies?
My family is the most important thing to me. I coach football, love to weightlift and I am a voracious reader, having typically three or four books going at a time.
Off The Beaten Path
1. If you were a style of beer, what style would be and why?
I'm a big guy and I'm really friendly with people I don't even know so I probably fit real well into the category of American lager…without the beer gut of course, but nearly everyone can drink me.
2. You were caught smuggling beer illegally, which has now been made punishable by death. Right before you are sent to the executioner, you are offered one last beer. What beer would you chose and why?
I thought I might want a beer that's hard to find…but sometimes, you just need to have the beer that you appreciate the most. To date, I still have not found that IPA to take the place of my beloved 90 Minute IPA.
3. If I contracted you to brew a beer (or design a beer recipe) called "The Beer Wench" — what style would you chose and what, if any, extra ingredients would you add?
I think the Germans have "beer wench" down. So it'd have to be an Oktoberfest, but we'd need to definitely throw out the Reinheitsgebot for reality and put some spice in that baby to make a real Winter Warmer.
4. If you could be a superhero, what would you want your superpowers to be?
The ability to stop time.
5. What is one of the craziest things you have ever done and lived to tell the story?
Crap, I don't think I've done anything crazy enough to answer this…squat 820 pounds??? Does that count?
6. What are your thoughts on bacon?
The most versatile edible known to man.
SPECIAL THANKS TO CODY FOR AN AWESOME INTERVIEW!
CHEERS!