DRINK WITH THE WENCH PRESENTS:
The Beer Blogger Interview Series
Curious what goes on in the minds of your favorite beer bloggers? Well, The Beer Wench is and she has embarked upon a mission to interview as many beer bloggers that she can — from all over the world. Are you a beer blogger? Do you want to share your story? Send me an email!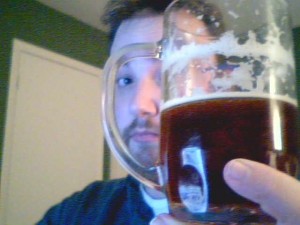 INTRODUCING: CHADRICK MCNEAL
AUTHOR OF: THE BEER FAN
Beer Blogger Interview
Full name: Chadrick McNeal
Twitter handle: mcnealc31
Name of blog: The Beer Fan
Current location: Lima, Ohio
Background "Snapshot"
1. Where did you grow up?
Wapakoneta, Ohio
2. What sports if any did you play growing up, through college and beyond?
Growing up I played baseball and basketball, CYO basketball in high school. I played a lot of intramurals in college including softball, basketball, floor hockey, soccer, and flag football. Since then I have played a little bit of rec league softball and sand volleyball. I have been known to be quite the defensive beast at dodgeball, too.
3. How old were you when you had your first beer?
18
4. If you can recall, what is the story of your first beer? Where did you have it? What style and brand was it?
Busch Light. Had it at a party in college. There isn't much of a story to it. I didn't like it and it took a long time to choke it down. It actually took me a while to develop a taste for beer.
5. Where, if applicable, did you go to college? What did you study? What additional activities, organizations, sports did you partake in during college?
I went to college at Bowling Green State University and studied Telecommunications. From there, I went to Syracuse University and studied Broadcast Journalism.
Outside of classes, I spent a lot of time doing radio sports for our college station, working part time in radio, and I was also in marching and other bands.
Craft Beer Epiphany
Every craft beer enthusiast has at least one pinnacle craft beer experience that completely changes ones perspective on beer. I refer to this mind-blowing moment as a "craft beer epiphany."
1. What was your first craft beer epiphany? Recall as many details about it as you can:
My craft beer epiphany was probably the first time I hadGreat Lakes' Eliot Ness. I liked Killian's and Amberbock but wanted to try something different. I was blown away! I didn't know beer could taste that good. It was so rich and full of flavor, and looked gorgeous. Plus I'm a big fan of the movie The Untouchables, so I thought the name was cool, too.
2. Have you have additional craft beer epiphanies since the first? Detail as many of them as you wish:
When I moved to where I live now, there was a store that had a huge selection of craft and imports you could buy by the bottle. I liked what I was trying, but I didn't really know what I was doing. That's when I started reading about different styles, different breweries, things like that. I wouldn't say there was one exact moment, but a collection of trying new beers, then figuring out what I was trying and why I liked it.
Beer Blog Background
1. How long have you been writing your beer blog?
I started about a year and a half ago but took about a year off when the only worthwhile place to get craft beer in town closed. Luckily, a new wine shop has started carrying craft beer that you can buy by the bottle. I live in a town that's pretty sheltered when it comes to craft beer. I have gotten laughed at by a bartender for ordering a Killian's because they didn't have anything "that fancy".
2. What inspired you to start writing your blog?
I wanted to keep track of everything I've tried. I found that with a lot of other reviews sites I either don't agree with the ratings, the reviewers' palates are much more adept than mine, or the descriptions are thesaurus-filled descriptions that didn't say anything.
3. Why did you choose the name of your blog?
I'm a fan of beer!
4. What are you personal goals for your blog? What do you hope to achieve with it?
I just want to get some more ideas and reviews out there. Things have really taken off since I joined twitter. It's been really cool to make connections with more bloggers, find more craft beer sites, and find out about more breweries. I would like to do more than reviews, but I'm not sure what yet.
5. What is one of the coolest things that happened to you as a result of being a beer blogger?
It's happening right now!
6. What are you top 3 favorite beer blogs/beer websites?
Beeradvocate.com, craftbeer.com, and there a ton of others I check out often. RSS feeds are pretty wonderful for that.
Beer Talk
1. What are your top 3 favorite beer styles?
Porter, Stout, Bourbon Barrel
2. What are your top 3 favorite breweries?
Great Lakes Brewing Company, Stone, Breckenridge Brewery. Founders is making a run, but I haven't had enough to put them in the top 3.
3. If you could work with or for any one brewery, which one would it be and why?
I'm going to cheat and name two. Great Lakes, because it was my beer epiphany, I like the Cleveland connection, I haven't had a beer from there I haven't loved, the variety is endless, and they've got killer names.
But since my last name is McNeal, I think McNeill's Brewery would be a good fit!
4. Are you a homebrewer? If yes, what is the most unique and interesting beer recipes you've brewed as a homebrewer?
I am! I have a new batch of Holiday Ale fermenting right now. This is just the fifth batch I've brewed, and it's got the potential to be the best. I am still using others' recipes, but I think I'm ready to branch out on my own next. Perhaps a vanilla porter.
5. Do you have any beer certifications (BJCP, Cicerone, Siebel, American Brewers Guild)?? If so, what are they?
Nope
6. What is your favorite beer and food pairing?
Beer and meat! Steak, burgers, bacon.
The Personal Side
1. What is your current day job?
I'm the production director for a group of 5 radio stations. I am also the afternoon drive DJ on our classic rock station.
2. If you could change your career at this very moment, without any restrictions on what you could do, what would you want to do and why?
Eventually, I want to own a craft beer and homebrew store. But before that, I'd love to work some kind of marketing/promotions/PR gig for a brewery.
3. Are you married? Children?
Nope. I'm not ready for a wife or kids right now. But hopefully some day.
4. Outside of beer and writing, what are some of your other hobbies?
I have been acting in community theater for a little more than a year and I love it! I've been in five shows so far and have played very different characters. It's quite a thrill to be in front of the audience in that setting, Some of my closest friends and the people I spend the most time with, I have met through the theater.
Off The Beaten Path
1. If you were a style of beer, what style would be and why?
Probably a spiced holiday/Christmas ale. I'm big, warm, there is some surprise if you dig, and I'll do a lot of things just because I think they'll be fun for others.
2. You were caught smuggling beer illegally, which has now been made punishable by death. Right before you are sent to the executioner, you are offered one last beer. What beer would you chose and why?
Great Lakes' Eliot Ness. It was my first craft beer and still one of my favorites.
3. If I contracted you to brew a beer (or design a beer recipe) called "The Beer Wench" — what style would you chose and what, if any, extra ingredients would you add?
Likely an Oktoberfest/Marzen style. That's what I think of when I hear "Beer Wench". Something smooth, but full of flavor. However, I would think some kind of spicy hops would be a nice touch, too.
4. If you could be a superhero, what would you want your superpowers to be?
Supreme mental powers. Being able to get whatever I wanted just by wishing! For the good of the world, of course.
5. What is one of the craziest things you have ever done and lived to tell the story?
I once had a man standing on my shoulders while juggling flaming batons. That was pretty wild!
6. What are your thoughts on bacon?
I would like some. Do you have any?
SPECIAL THANKS TO CHAD FOR AN AWESOME INTERVIEW!
CHEERS!