Last time I mentioned Black Star's Beer Barter, I had offered up my unborn child. Unfortunately, Black Star was a little smarter than I thought they would be and declined my "IOU" offer of Lil' Wench Numero Uno. Considering my current anti-reproduction stance and the fact and my awkward fear of babies and small children, the chances of my paying up on the barter are very slim. But lucky for me, Black Star beer was interested in making a different barter. They are going to send yours truly to the lovely state of Montana (woot, I get to check another one of the 50 states off my list) for the Whitefish Winter Carnival, where the official beer barter competition will go down.
The more I read about and learn about the Whitefish Winter Carnival, the more excited and the more nervous I get. The event is the furthest from normal that one can imagine. Based on descriptions and pictures, I picture the Whitefish Winter Carnival being a cross between Alice in Wonderland and the Renaissance Fair — a one-of-a-kind congregation of crazy characters in creative costumes attempting bizarre feats and causing mad chaos. Wait, why did I say I was nervous? I was made with this event! Now all I need is a crazy costume…
And although I will not be partaking in the Black Star Barter as a competitor, I am excited to announce my involvement in it. Check out the following press release for the official details! (Oh and if there was any question about it, you can guarantee I will be partaking in the Penguin Plunge.)
BLACK STAR BARTER TEAMS UP WITH THE BEER WENCH
Every beer event needs a beer wench, right? However, the insanely creative, distinctly quirky and uniquely exciting events require something more than just your average scantily-clad women serving beer to patrons. These require a personality just as unique and eccentric as the event, one that will not only take part in the festivities, but help to contribute to the overall chaos and debauchery. This is why Black Star Beer is thrilled to announce its partnership with beer writer and internet personality Ashley Routson, also known as The Beer Wench, for the Black Star Barterduring the Whitefish Winter Carnival.
Coming into its 52nd year, the Whitefish Winter Carnival slightly resembles The Renaissance Fair, but instead of having characters such as Robin Hood and his merry men, The Whitefish Winter Carnival consists of Viking divas, yetis, penguins, mountain goats in lederhosen, and a Nordic Royal Court loaded with esoteric characters. Words cannot do justice to this otherworldly event, you have to be there to understand it.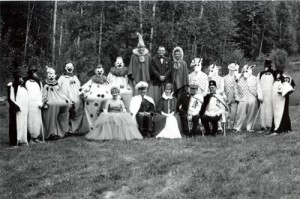 For this year's carnival, Black Star Beer decided to take its participation to the next level by introducing its Black Star Beer Barter. The concept is rather simple. Black Star Beer has challenged its fans to show up in front of the Great Northern Brewery at 1pm on February 5th and present to the judges something that they would give up, trade or do for a year's supply of beer.
Although her exact role is undefined, Black Star has enlisted Routson to assume the responsibilities of field reporter/crowd motivator/competition judge/social media siren and chief rock star of beer consumption. Routson will be traveling around the carnival, followed by a camera, engaging with the crowd and the participants, judges, and organizers of the Black Star Beer Barter. Over the course of the weekend, Black Star will release a series of viral videos capturing the excitement and insanity of the carnival.
"When we told Ashley, excuse me, Wenchie about The Black Star Barter, she went bananas and promised her first born child for a chance at a year's supply of beer," said Minott Wessinger, founder of Black Star. "Sadly we won't be accepting I.O.Us at the barter, but Wenchie's enthusiasm locked her in as the supreme beer wench of the weekend. We're excited to have her on board," said Minott.
Routson may play an integral part of the judging process should any of the judges on the panel get caught up at the Penguin Plunge, where the entire town jumps through a hole in a frozen over lake…for fun, held immediately before the beer barter. Routson notes, "To those who question my morals and ethics, allow me to ease your minds by saying that, yes, my vote can be bought. I will gladly accept bribes in the form of flattery and beer."
For anyone that lives remotely close to Whitefish, this is a -must-not-miss-or-you-will-regret-it-for-the-rest-of-your-life event. For those unfortunate folk who cannot witness the events in person, no worries, the video footage captured at the event should make you feel as if you were there in person. Find some delicious Black Star beer near you, using the handy-dandy Beer Locator on the official website, and feel like you are part of the action!
Black Star Beer Barter – Event Details
When: Saturday, February 5, 2011 1:00-3:00 pm MST
Schedule:

11:00 am-1:00 pm MST- Contestants register their submission in front of the brewery
1:00 pm-3:00 pm MST-Black Star Barter; spectators and contestants may enjoy the beer garden & brewery
3:00 pm- Winner of Black Star Barter announced

Where: Great Northern Brewery — 2 Central Ave. Whitefish, MT 59937
Websites: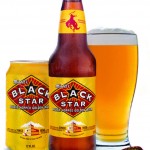 About Black Star Beer
15 years ago, Minott Wessinger, 5th generation brewer, chose to build a brewery in Whitefish, MT. He saw it as a fantastic place to create exceptional beer. Black Star is a double hopped golden lager. By hopping our beer in the kettle, and then again before finishing, Black Star opens up with a distinctive hoppy aroma and a rich, full bodied flavor. All this while remaining remarkably crisp, light and refreshing.