And the results are in! I must admit that, when I first started this project, I didn't know what to expect. As with all studies of this nature, the first time time was very experimental and a bit clunky. Naturally, this process will get tweeked with time. The goal of this study was to capture the top ten brewery social media users . Instead of developing my own market research study and collecting data through a more scientific approach, I opted to conduct an opinion poll, surveying fellow social media users to gauge perception of the use of social media by breweries.
Essentially, this was a people's choice awards. Participation was purely voluntary.
The nomination round kicked things off. I asked my fellow social media users to nominate 10 breweries they thought deserved to make the cut. I took all of the nominations and created a list of the top 20. I then asked people to score each of the 20 breweries on 3 different measures that I personally think are key to successful use of social media: proficiency, content and engagement. The total scores for each measure were combined to create the list of the Top Ten Social Media Breweries. Awards have also been given to the top 5 breweries for each measure.
Note: Breweries that promoted the survey to their fans and followers were significantly more likely to receive votes and nominations. This in itself is excellent evidence of a brewery's use of social media. After all, the most proficient users of social media can successfully get its followers to perform on its call to actions.
Note on the note: Although brewery promotion did have a noticeable effect, not all the winners promoted the survey and most of the breweries that did promote would have won regardless. So without any further ado… Drum roll please…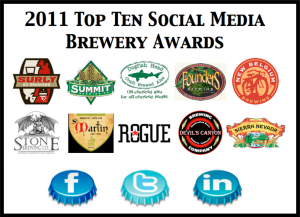 And the winners are….
3. Dogfish Head Craft Brewed Ales
5. New Belgium Brewing Company
8. Rogue Ales
9. Devil's Canyon Brewing Company
10. Sierra Nevada Brewing Company
PROFICIENCY: mastery, expertise, knowledge, skill of social media
1. Surly
2. Summit
3. Dogfish Head
4. New Belgium
5. Abbey St. Martin
CONTENT: relevant, compelling, genuine content creation on social media platforms
1. Surly
2. Summit
3. Dogfish Head
4. Founder's Brewing Company
5. New Belgium Brewing Company
ENGAGEMENT: involvement and interaction with followers & fan on social media platforms
1. Surly
2. Summit
3. Dogfish Head
4. Stone Brewing Company
5. Founder's Brewing Company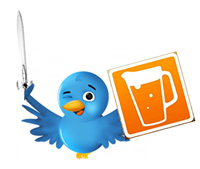 FINAL COMMENTS
I feel the need to reveal that, throughout the entire process, Surly Brewing has completely dominated as the number one social media brewery. They were to only brewery to receive over 100 nominations — 60 more than the 2nd place nominee. In the voting round, Surly received 33% more votes than the second place brewery. To my knowledge, Surly did not retweet/repost or promote the competition on its network.
The top 5 breweries were virtually indisputable. The 6-10 winners were very close and within a few votes of each other. In fact, they were so close that the results could have been shifted by even one person. The Top 10 breweries, though, were solid. The next place (11th) was separated by the group by at least 100 points.
I am rather pleased with the results. It would be one thing to conduct my own research and the create my own personal list of social media breweries based upon metrics that I created. Instead, I asked social media users to vote on the breweries they thought were most proficient, compelling and engaging. Next time, many adjustments will be made to the process. I am very open to suggestions, so please feel free to leave me comments or send an email to: routson@gmail.com!
CHEERS!