Judging by the title of this blog post, one can correctly assume that The Wench is about to start a, somewhat alcohol induced, rant of the, always expected, very bitchy nature.
A few people in my close personal circle have heard my incessant complaints about this subject for years, but I have held my tongue (and my typing fingers) on this topic for entirely way too long.
Many things in this world piss me off, but nothing frustrates me quite like the hypocrisies with craft beer in the restaurant industry.
You see, my roots in craft beer originated in the restaurant industry. Like many lost souls who find themselves working in restaurants, I graduated college with no clear goals and aspirations. And when in doubt, wait tables… right? Unlike many front of the house employees, I developed a sincere interest for culinary techniques and the artistry behind cooking. But like most restaurant employees, I developed quite a liking of booze. However, my constant pursuit for flavor stimulation in the kitchen carried over into my beverage habits, and I began to appreciate and study the nuances of wine.
It wasn't until I developed a love and understand of wine, that I began to develop respect for alcohol. But this isn't a sap story about my love for wine… so let us move on.
My enthusiasm, knowledge and passion for cooking, serving, and wine ultimately landed me a job as a restaurant manager — a job that changed my life completely. The owners of my restaurant put me in charge of all things beverage — which was cool since I was studying for my sommelier certification and I loved coffee and tea. The hard part was the beer. Before then, I never drank beer. Even in college I preferred hard spirits and if I did drink beer, it was shitty-ass corporate beer, brewed with adjunct ingredients, that I purely used as a vehicle for drunkenness and debauchery.
The owners of my restaurant were focused on sustainability and making healthy choices that positively impacted the planet. One such environmentally conscientious decision was to only offer craft beer. No mass-produced yellow fizzy beers for us. Only beers brewed from the highest quality ingredients by true artists of the craft. And it was here that I learned that, not only was craft beer superior to mass-produced beer, it deserved a righteous place on the dinner table, along side all of the other fine beverages — especially, wine.
It took many, many years of denial and protestation before I was finally able to admit that beer was, in fact, the finest beverage of them all. And don't get me wrong, I live in Napa for a reason. I drink wine almost every day of my life. I love my wino friends, wine bloggers, wine makers… but at the end of the day I am fully confident when I say…
the complexities and nuances in craft beer surpass those in wine.
And this brings us to the main topic of discussion: craft beer & the restaurant hypocrisy.
Now, there are several things about the restaurant industry that piss me off, in regards to craft beer. But my greatest pet peeves are:
______________
Great Restaurants with Sub-Par (or non-existent) Craft Beer Menus
I live in Napa Valley, hypothetically the home to some of the most discerning palates in the world, and yet I am constantly disappointed, if not appalled, by the lack of craft beer on the menus of our most prestigious restaurants. For most, the beer menu is an afterthought — if even a thought at all. They see beer as a blue-collar beverage, barely worthy of gracing their menu. But, they acknowledge that they need to carry it, even though it has the lowest profit margin, and end up selecting sub-par mass-produced non-craft beers.
The hypocrisy?
These restaurants fly in fresh fish, over-night. These restaurants source ingredients from only the best, most coveted, local producers. These restaurants will pay an arm and a leg for their food ingredients, because they want to provide the most fresh, highest quality and amazing tasting ingredients possible.
And it doesn't stop there.
The wine lists are extraordinary, the liquors are top shelf. And the beer?
The beer lists are uninspired, unoriginal, underwhelming and extremely disappointing.
Nothing, and I mean nothing, turns me off more that going to a prestigious restaurant with an acclaimed executive chef, with one of the most amazing menus and wine lists in the world… and witnessing them serve mass-produced corporate beer.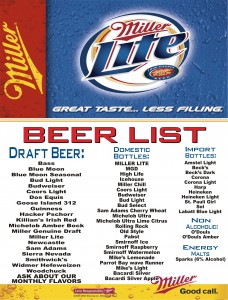 When I lived in Florida, I worked at a pretty fancy corporate wine concept. The whole place was run like a tight ship. Only the freshest, perfectly plated food made it to the guests. Our wine list was spectacular. We had super high-end spirits. But the beer? Only one beer on the menu was craft, and even that beer was the best seller of the largest craft beer producer. The sad part about the entire company was that the beverage director was one of the ONLY Master Sommeliers in the world. We are talking about a man that has a better palate than 99.9% of the world. I can throw his name around the wine industry and most know of him, if not know him personally.
I cannot complain, though, for working under him. His server training program was of the utmost level. When it came to wine studies, I had everything at my disposal. My company paid for my Certified Specialist of Wine training and certification. It also offered to pay for the sommelier test, which although I never took, is pretty expensive. They wanted us to excel and were prepared to give us all the tools necessary to make it happen.
One day, during a race that our restaurant sponsored and I volunteered to help with, I approached my Master Sommelier and addressed this very issue, my biggest frustration, with him. His, oddly expected, response was that the people who would come to our restaurant and drink beer would not be interested in fine craft beer. In other words, our restaurant was a fine dining establishment and "wine bar" with a sophisticated clientele who appreciated wine, and anyone who would dare so much as drink beer, well they were blue-collared and only liked yellow fizzy mass-produced swill.
To this day, I love that man. And he was a big supporter of me after I left. But, I cannot deny my sincere disappointment.
It is not cool, no matter how much you argue the case, for a Master Sommelier, a man with one of the most amazing and most discerning palates in the world, to neglect and dismiss craft beer.
______________
Untrained, Uneducated Staff
Along with local, sustainable, and artisan, craft beer has become a buzz word and growing trend across the world. And although few people outside of the very small niche market actually know what the term craft beer actually constitutes, many restaurants have attempted to embrace the trend, incorporating craft beers into beverage menus.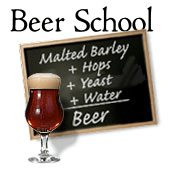 So you got the memo that craft beer is "hot" and you went to your distributors and ordered some buzz craft beer brands and put them on your menu. And now you think you are hip and cool and trendy. Heck, you might think that you are innovative because you were the first person in your town to do it.
I see it in Napa, I see it in San Francisco, I have witnessed it in Chicago, L.A., NYC and pretty much every big city in the U.S. A great beer list is virtually useless if you and your staff are uneducated.
Now, I am not insisting that all front of the house restaurant employees develop an extensive understanding of the brewing process and the entire spectrum of ingredients and flavors in beer. It is necessary, however, to understand the basic flavor profile and a few details about the brewery for each of the beers on your menu.
Sales & Marketing 101: If you want to sell a product, you have to know your product.
The hypocrisy?
I have seen several restaurants go to extensive lengths to train employees on food menus and wine lists. Heck, I worked for a restaurant that used to test us on every menu change.  We had written exams that required us to list every single ingredient in every single dish, every single house cocktail as well as rattle off tasting notes for all the wines. But beer? Forget about it. Beer is typically the LAST priority, and using the word priority is a stretch, on most restaurant menus.
Now, I don't expect bartenders and servers to know more about beer than me — after all, craft beer is my career, greatest passion and my raison d'etre. I do expect, however, for the person serving me to know details about the beer that they are serving. And I don't mean being able to tell me "yeah, it's good." Where is the beer made? What is the style? What are the characteristics of that style? Can you give me the basic flavor profile? And even better, what food on the menu do you recommend pairing with this beer? And even better than that, why do you recommend pairing this beer with that dish?
Sounds easy, right? Well, it is. And witnessing restaurants neglect or refuse to train and educate staff on craft beer really REALLY irks me because 1. it is lazy and 2. it is disrespectful to the craft beer industry.
Would you order a cocktail from a bartender who doesn't know the difference between a Cosmopolitan and a Manhattan? Me neither….
The greatest barrier to converting people to craft beer is LACK OF EDUCATION. Most consumers are not educated on craft beer, but most beer drinkers have potential to be converted. Education = confidence + empowerment. And a confident and empowered consumers = sales.
If you work in a restaurant that sells craft beer and has an untrained staff, but you do not know where to begin when it comes to education — PLEASE do not hesitate in contacting me. I have several tools at my disposal, as well as have developed (and currently revising) an extensive server training program.
______________
Improper Glassware & Serving Temperature

"Glassware is key nowadays when it comes to beer. It's not imperative, but would you drink wine out of the bottle? No, you're going to pour in it a glass. The same treatment and respect should be done for your craft beer. When you do that, you get the opportunity to have full enhancement of the aroma and the flavors in that beer." — Julia Herz, Brewer's Association
Many regions and varietals of wine require special glassware designed to enhance the wine experience. This is also true for beer, except the range of beer glasses is way more extensive than wine glasses. In Belgium, virtually every beer produced has its own glass. In wine talk, this would be the equivalent of each and every single winery in France developing its own glass for each of its wines.
I cannot express my pure and utter frustration upon being served a craft beer in an improper glass. The biggest examples of improper glassware presentation = Imperial styles in pint glasses and High-gravity Belgian beers in pints glasses. Pint glasses, in most situations, are not the appropriate or preferred vessel, especially with beers boasting high levels of alcohol and extremely complex flavor profiles.
Carrying all the proper glassware can be very daunting, expensive and time consuming. For the most part, two or three different styles should suffice for most craft beer menus, unless of course you specialize in Belgian styles. The basic glassware types, with recommended beer styles, can be found here at CraftBeer.com.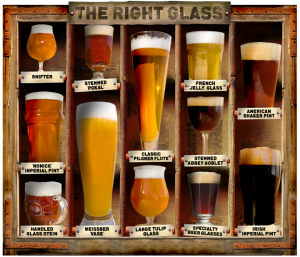 As with wine, craft beer presentation requires a properly cleaned glass.  Glassware must be completely free of oils, soap residue, and pretty much all foreign materials. Bottom-line: beer must be poured into SPOTLESS glassware. (To learn how to properly clean glassware, check out this guide from the Brewers Association.)
Sure, you can pour the beer behind the counter so that I cannot see whether or not the glass was clean. But the beer will not lie, and I will find out. Beer poured into a properly clean glass forms a proper head and creates residual lacing as the beer is consumed. There are several ways to test for a clean glass. The Brewers Association details them here.
"Temperature is actually something that many beers need to scream loud and clear about. Because if you listen to your beer, it doesn't want to be served totally cold. Most beers, beyond light American Lager and Pilsners, want to be served warmer at cellar temperatures." — Julia Herz, Brewer's Association
The factor in beer presentation that is almost always neglected is beer temperature. Would you serve a Sauvignon Blanc warm or a big Napa Valley Cabernet at white wine temperatures? I don't think so. As with wine, not all beer is created equal. If you are a restaurant that has chosen to carry special styles that require service at special temperatures, you need to recognize and honor temperature ranges.
Despite what the average beer consumer, brainwashed by admen and mega-corporation ad campaigns, think — most beer should not be served ice cold. Why would people be brainwashed into thinking this? Because bad beer tastes much better ice cold. Your taste receptors are numbed by the cold and you actually can't get a good impression of the flavors in that beer. RateBeer.com has an excellent and comprehensive guide for proper beer serving temperatures.
Now don't even get me started on "chilled" glassware. Unless you are serving a mass-produced light lager made with adjunct ingredients, chilled glassware is not only unnecessary, but undesirable. Not only is it an unnecessary step in beer service, it can always adversely impede the beer drinking experience. For more on this topic, visit the section on Glassware Temperature from the Brewers Association.
Not to mention, chilling glassware is the biggest cop-out when it comes to cleaning glassware.
And last but not least, my final grievance of today (and trust me, this is not all of them…)
______________
Improper Pouring and Poor Presentation of Craft Beer
Case Study #1: To date, I've had two rather disappointing experiences with beer service at a new, super trendy downtown Napa Valley waterfront establishment owned by a pretty well-known Food Network star chef (how is that for subtly?). The service there is impeccable and the food is top notch. The draft beer, although partially craft, is uninspired and typical of the area. The bottle list seems to rotate a bit more, so they have that going for them
One night I decided to order a Belgian beer in the bottle. First mistake: the female behind the bar poured it into a pint glass, almost always the improper glass for any beer from Belgium. The second mistake she made was to treat it like wine. Instead of pouring a full glass of beer, pouring straight down towards the end, allowing the CO2 to release from the beer and give it a nice foamy head… she opted to tilt the beer, slowly pouring out 1/3 of it, carefully making sure not to agitate it and allow a head to build. She placed the glass and the partially poured beer in front of me.
First of all, if you are only going to partially pour beer, then you better give me a smaller glass. Second of all, WTF. I took the bottle and I proceeded to finish it off with a nice hard pour, creating a desired amount of head.
Case Study #2: I was excited to learn that a recently Michelin-rated (but not starred) restaurant in downtown Napa had Orval, quite possibly my favorite beer in the world. And not only did it have the beer, but it had the proper glassware. Call me naive, call me assuming, but I figured that a place which not only carried ORval, but it's proper glass, would also know how to make the proper pour.
Sadly, my assumptions were proven wrong.
For those unfamiliar with the wiles of Orval, it is a bottle-conditioned Trappist ale that gets spiked with brettanomyces (a wild yeast strand) at bottling. The bottle is specially designed with a "yeast catcher" in the neck, which prevents yeast from being poured into the glass. Orval requires a very attentive pour, which allows it to develop a large, billowy almost meringue like peak of foam which raises above the glass (but does not flow over). This pour is easily to obtain with practice, and should not intimidate anyone. '
Now, I can handle a sub-par pour, but what I will not stand for is the yeast to be poured into the glass, which is exactly what to obviously untrained server did. The experience almost turned me into a beer nazi. I wanted to strip them the right of serving Orval until they learned how to give it the respect it deserves.
If there is one lesson that should be taken away from this experience, it is DO NOT POUR YEAST FROM BOTTLE-CONDITIONED BEERS INTO THE GLASS WITH THE BEER. And if you are curious to know what happens when you do so, specifically with Orval, feel free to watch my video tasting with Orval where I discover first-hand just what yeast does to the flavor…
If there is one things, just one thing, on this entire list of grievances that I will encourage all restaurants to learn above all else — it is how to properly pour beer. Everything else is just gravy on the cake. A great resource is, once again, the Brewers Association.
______________
I wish I could say that the rant ends here, unfortunately this is only the tip of the iceberg. However, have faith in knowing that these grievances were not done in vain and that I have set out on a personal mission to change the current state of craft beer in the restaurant industry. Stay tuned.