Professional beer journalist, deconstruction worker, environmentalist, homebrewer, national BJCP judge, Timbers Army leader and billboard model — the very talented Abram (Abe) Goldman-Armstrong is a lot of things, to a lot of people.
I had the opportunity and honor to meet Abe in person at the Oregon Brewer's Fest a few weeks ago. It was my first time in Portland and Abe, being the beer guru and Portland enthusiast he is, took it upon himself to serve as my personal beer escort. And because of him, I was able to experience a level of Portland that most visitors miss.
After spending several hours over the course of a couple of days with Abe, I was not only impressed with his knowledge and passion, but completely blown away by how loved and respected he was amongst his friends and fans.
While Abe might only be 33, he already has a tremendous story — which I have been granted the opportunity of sharing with my friends and fans. So without any further ado…

Confessions of a Teenage Beer Geek
An Interview with Abram Goldman-Armstrong
At the ripe age of 21, Abe was one of the, if not the youngest people to achieve national BJCP certification. How, you may be asking yourselves, does one go about becoming, essentially, a beer expert when one is barely legal to drink?
Abe attributes his early love for beer to being raised by "hippie parents" on a subsistence farm with 90 acres of woods in the Cascadian foothills along the Oregon coastal range. Surrounded by artisan wine and craft beer, Abe developed an early appreciation for craft beer from taking sips of his parents beers, which were always craft.
"My generation and older are really lucky, because you can grow up with the understanding that beer is craft beer. That's what beer was to me … good beer. The beer that I liked was always craft beer, or Guinness. If you asked me what my favorite beer was when I was 13, I would probably say Rogue Old Crustacean and Guinness." — Abram Goldman-Armstrong
The pinnacle moment came when Abe was 13 years old. His parents took him to Rogue's pub in Newport, where his mom ordered an Old Crustacean Barleywine. Unfamiliar with the style, the family was shocked when the beer arrived to the table in a wine goblet. While his mom was grossed out by the chunks of sediment, Abe was fascinated by the red ruby hue and the chunks, "It was like a crusty thing that had emerged from the depths."
Although he only had a few sips worth, Abe was instantly hooked, "It was the most amazing beer that I had ever tasted: intensely hoppy and just blew me away. I only had an ounce, but I thought yeah I want to make beer, this is awesome, this is the coolest thing ever. Trying something that massive and packed with flavor. From then on I was like this is what I want to do."
Abe entered Macalester College at age 17, where he majored in Writing with a focus on Creative Writing. While there, Abe juggled his time with three radio shows, a punk rock fanzine, theater (acting and set building), playing rugby, and most importantly, refounding the Macalester Homebrew Club. Like many brewers, Abe discovered that being able to make beer in his dorm room was a much easier option that finding someone that was 21 to go down to the liquor store and buy it.
During his junior year, Abe found himself at University College Cork in Ireland, where he pursued a certificate of Irish studies. While in Europe, Abe had the opportunity to train his palate on beer styles from across the world. He gives credit to the Cork City bar Rumplestilskins, for really getting his palate BJCP ready. Back then, the craft beer revolution was just in its infancy in Ireland. There were very few breweries in Ireland, and most people only drank the standard three dry Irish stouts and various imported lagers — which could be found in just about every pub. Outside of that, it was pretty hard to find anything. Expect at Rumplestilskins, which boasted a relatively extensive offering of Belgian and German beers.
The last piece of the puzzle was a bit of self-education. Abe looked to books written by Michael Jackson and Ray Daniels for beer history, style guidelines and general brewing knowledge. And so, educated by books and beer gurus with a few years of homebrewing and extensive tasting under his belt, Abe was able to become one of the youngest BJCP judges in the world.
Being a beer expert with a degree in creative writing, it was almost natural, if not expected for Abe to become a beer journalist. His first stab at beer journalism was in 1997, when he began writing a beer column in his punk rock fanzine, Hector's Bag of Fish. Professionally, Abe got hired as a beer writer in 2000 for Willamette Week. Since then, Abe has developed into a well-known and respected writer, boasting regular columns in both Northwest Brewing News and Ale Street News, is a regular contributor to American Brewer, occasionally contributes to the Celebrator, the Brewing Association's journal The New Brewer and various other beer publications. He also wrote two entries for Garrett Oliver's Oxford Beer Companion and has a website called Brewsville, which he adamantly argues is NOT a blog.
"I'm your typical journalist. I'm a whore. I will write for anyone who will publish me."- Abram Goldman-Armstrong
(To which I retorted, "I'm your typical blogger. I'm a slut. I give my content away to everyone for free!")
Being a beer journalist definitely has its perks. According to Abe, the best part about being a beer writer is not actually the beer, but the people he gets to meet, whose stories he is able to share through his writing. "I get to find out about something that I'm really excited about and turn around and share it with the world."
As for mentors, Abe places a tremendous value on his friendship with famous Portland beer writer and beer historian, Fred Eckhardt, who has been very encouraging and inspirational. Along with Michael Jackson and Ray Daniels, Abe considers Fred to be one of his top three favorite beer writers.
When he isn't writing about, brewing or drinking beer, Abe devotes the rest of his time to giving tours of the Widmer Brothers Brewery, environmentalism, traveling, cooking, studying history, hiking, going to shows, hanging out with his cats, and supporting the local professional soccer team, the Portland Timbers. Although currently not working as a result of knee surgery, Abe is employed with Lovett Deconstruction, a company that systematically dissembles buildings and salvages the materials for reuse. According to Abe, the first step in green building is reusing — definitely an idea The Wench can get down with.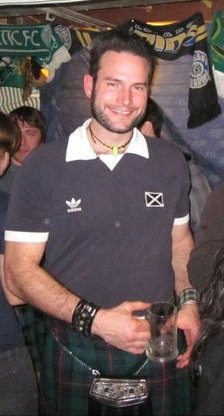 "I'm passionate about beer, but sustainability is what I get excited about. I geek the fuck out about it." — Abram Goldman-Armstrong
Abe's dedication to sustainability is directly correlated with growing up in Cascadia, the bioregion that encompasses Oregon, Washington, British Columbia, the Alaskan panhandle, the Northern tip of California and some parts of Idaho. Cascadia is named for the Cascade Mountain range which, in addition to the watersheds that drain through that region to the Pacific Ocean, is a major factor in the defining the region.
According to Wikipedia, "Cascadian bioregionalism deals with the connected ecological, environmental, economic, and cultural ties that bind the Pacific Northwest states and provinces together and distance them from their eastern counterparts."
And Abe definitely agrees; "Cascadia is bigger than a bioregion, it's a cultural region. It's redefining the Pacific Northwest as Cascadia. It's a prettier word. It's where I'm from, and I have a lot of pride here. We have had really strong environmental legislation that has set the tone for the way we live our life here. We have a higher quality of life, a way of looking at the world that I find is better."
Naturally, a strong part of Cascadian culture is craft beer. It is home to various regional styles, including the Cascadian Dark Ale. There continues to be a hot debate on whether or not the concept of a hoppy dark beer, also called the American Black Ale, originated from Vermont or Cascadia. Regardless of where it originated, Abe attests that it is a style that became popular year-around in Cascadia. He even wrote style guidelines for the CDA. "It is a style that I really liked, and no one had written the style guidelines, so I did it."
As for favorite styles, the Dry Irish Stout, Helles and CDA (as well as the IPA) round up the top three on Abe's list. And interestingly enough, some of Abe's favorite styles to brew are not necessarily his favorite to drink.
As for brewing, Abe uses a tier-system made from converted kegs with a 15 gallon mash tun and in-line water heater, which allows for on-demand mash-in and sparge water. His favorite style to brew is the Scotch Ale, but he also dabbles with using interesting ingredients such as mint and honey in a Golden ale and real oyster meat in an Oyster Stout.
When it comes to favorite breweries, all of Abe's share some important threads in common — a dedication to sustainability and/or using locally-sourced, if not on-premise grown, ingredients. His top three include:
Driftwood Brewing from Victoria, BC — "They are just phenomenal, everything that comes out of that brewery."
Crannóg Ales, Canada's first Certified Organic farmhouse microbrewery in  Sorrento, BC — "Fully sustainable, fucking awesome people, some of my best friends and people I look up to."
Schweinsbrau, an on-farm organic brewery in Bavaria — "That place is also pretty amazing. They are serious about sustainability and have an outdoor school where you learn about farming, making cheese, brewing etc. Great beer is awesome, but if you make great beer and have this other aspect — the on-farm nature, to me that is a big deal. The connectivity really turns me on. That's what I would want to do, have an on-farm brewery. Very old-fashioned in a way, but you can do it."
Abe also enjoys experimenting with food & beer pairings. Every February, he visits Timmy Brown, the Brewmaster at Mission Springs brewpub in BC, with a chef and they do a beer dinner at Timmy's house. One of his most memorable pairings was bacon-wrapped scallops with the Springboard Lager from Central City Brewing, "It was just phenomenal."
Towards the end of the interview, I got into some less traditional, more creative questions. They were as follows:
Wench: If you were a style of beer, what style would be and why?
Abe: I would be something black, either a CDA or a stout. Probably an American Style Stout. I would be a Shakespeare Stout. Big, kind of burly, a little brash, and pretty hoppy. And I'm definitely hoppy now that I injured my leg. Independent, malty and really good in winter on a rainy day. Perfect for a rainy walk on the beach.
Wench: You were caught smuggling beer illegally, which has now been made punishable by death. Right before you are sent to the executioner, you are offered one last beer. What beer would you chose and why?
Abe: I would say a really hoppy barelywine, to mellow me out before the kill.
Wench: If I contracted you to brew a beer (or design a beer recipe) called "The Beer Wench" — what style would you chose and what, if any, extra ingredients would you add?
Abe: Raspberry Belgian Golden Ale — cause your a little bit of a tart. I think you have a very strong and effervescent personality: and that's how I would sum it up. Beer Wench implies some femininity, which I think the raspberries apply to it. It would be served in shapely stemware.
Wench: If you could be a superhero, what would you want your superpowers to be?
Abe: I would be Saint Bridget and brew by the power of my blessing. One of the reasons she was made a saint was because she was looking after the lepers, they were thirsty and all they had was bathwater. She turned bathwater into beer by the sheer power of her blessing.
————————————-
All in all, Abe is one of the most extraordinary people that I've had the honor of meeting. Hopefully, I was able to convey his passion, knowledge and talents in such a way that my readers will also see just how awesome he truly is.
Special thanks to Abe for subjecting himself to my interview!
Cheers!
Follow Abe on Twitter @beerabe