Today marks the first ever International #IPADay — the world's largest collective celebration of craft beer. And in honor of one of our most iconic styles, I am re-releasing my "Drunken Shrimp Scampi" recipe that uses Dogfish Head 60 Minute IPA as the "main ingredient"…
ENJOY!
The greatest part about cooking is that there is no science to making food taste good.
As long as you have quality ingredients and treat them with the respect they deserve - the end result is almost always pleasant. BUT then again, I take for granted the fact that I am very knowledgeable about food, ingredients, herbs, classic pairings and culinary techniques. Despite that, though, I still believe that anyone can be a wizard in the kitchen.
So on to my recipe, eh? Oh but wait. I need a disclaimer.
WARNING: This is not your mother's shrimp scampi. In fact, it is probably unlike any shrimp scampi you have ever had in your life. Many chefs will probably "spit in my general direction" (note: Monty Python reference). This recipe is not for the faint of heart … or the faint of palate. No sir. The Wench's Drunken Shrimp Scampi is for hopheads … and those who do not like hops should stay far, far away. The recipe is bold, bitter and insulting … yet adventurous and deliciously satisfying.
Have no fear, if you are not a hophead this recipe is PERFECT with Belgian wit beers or even a Bavarian Pils.
THE WENCH'S DRUNKEN SHRIMP SCAMPI
Featuring Dogfish Head 60 min IPA
INGREDIENTS
1 lb. large fresh shrimp - whatever kind you want - shelled, gutted & deveined
1/2 stick of unsalted BUTTER (real butter you sissies)
1/4 c. Extra Virgin Olive Oil
4 cloves garlic - minced, sliced, or chopped to preference
1/4 yellow onion - diced
3 (firm) Roma tomatoes
Juice of one lemon
Flat leaf parsley - finely chopped
2 12 oz. bottles of Dogfish Head 60 Minute IPA
Salt and pepper to taste
Crushed red pepper (if you are like me and need to kick EVERYTHING up a notch)
A loaf of FRESH baked bread
INSTRUCTIONS
The first instruction is vital. It must be followed EXACTLY as written or the whole recipe is a big FAIL.
Open the first bottle of Dogfish Head 60 min IPA. Pour into a brandy snifer, tulip glass … oh hell … pour it into a freaking glass and take a big long sip. Ahhhh. Isn't that nice? Thought so … but don't get soft on me now. There is still work to do here.
Fill a super big pot - the bigger the better - with water. Salt the water. Put it on the stove and bring it to a boil. While you are waiting you can either:

Shell, gutt and de-vein the shrimp
Mince the garlic, chop the onion and dice the tomatoes
Continue drinking the 60 Minute IPA as you watch family members and/or friends complete the previous tasks.

When the water reaches a boil - add the pasta. Cook until is is "al dente" - aka slightly undercooked, with a bit of a "bite." Strain pasta at the point and set aside.
At the same time the pasta is cooking … Heat the EVOO in a large skillet heavy skillet over moderately high heat until hot but not smoking. Sauté the shrimp, until just cooked through. Takes approximately 2 minutes. This is a good time to open another beer. Once the shrimp is cooked (ie: turns PINK) … transfer those bad boys over to an adequate sized bowl with a slotted spoon (we want to retain as much oil as we can in the pan so a regular spoon esta no bueno)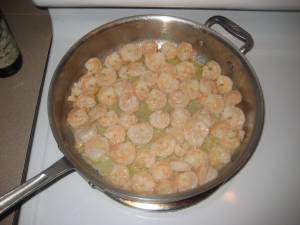 Add the garlic to the oil remaining in skillet. Heat for a hot minute (i.e: just long enough to release some juices, yet not burn). Add the Dogfish Head 60 Minute IPA, salt, pepper, lemon juice and (optional, yet HIGHLY suggested) red pepper flakes. Cook over high heat, stirring occasionally until the mixture is reduced down to desired thickness. According to The Wench, this will take around 10ish minutes. Add butter to skillet, stirring until melted.THIS IS A CRUCIAL STEP. The fat in the butter helps to cut the intense flavor of the IPA. Stir in the shrimp. Remove skillet from heat.
Somewhere in this process, either you or your sous chef (aka - child, friend, random guy off the street) will have chopped the flat leaf parsely. This, my friend, is the opportune time to add the parsley to the garlic butter beer shrimp mixture. Toss the pasta into the skillet with all of the other ingredients and ….
VIOLA! There you have it … The Wench's Drunken Shrimp Scampi. Don't forget to slop it up with some fresh baked bread (garlic bread if you feel ambitious). And I would be utterly insulted if you did not pair this dish with a beer - preferablely the Dogfish Head 60 Minute IPA. But I would not be insulted if you paired it with and equally delicious IPA … or craft brew of some sort.
NOTE: If you do NOT like to drink IPAs, you will not like cooking with them either. This dish definitely has a BITE. I do not suggest using the DFH 60 minute IPA unless you love the flavor of the beer, otherwise the meal will be a disaster. Feel free to substitute the IPA with your favorite beer - I suggest a Hefeweizen or Belgian-style white ale.
Any questions? EMAIL me at - drinkwiththewench@gmail.com
Otherwise, enjoy! And, as always … CHEERS!