DRINK WITH THE WENCH PRESENTS:
The Beer Blogger Interview Series
Curious what goes on in the minds of your favorite beer bloggers? Well, The Beer Wench is and she has embarked upon a mission to interview as many beer bloggers that she can — from all over the world. Are you a beer blogger? Do you want to share your story? Send me an email!
INTRODUCING: BECKI KREGOSKI
AUTHOR OF: BITES N' BREWS
Beer Blogger Interview
Full name: Becki Kregoski
Twitter handle: @BexterK
Name of blog: Bites 'n Brews
Current location: Los Angeles adjacent
Background "Snapshot"
1. Where did you grow up?
I was born in Illinois but spent the happiest, most active years of my life in Boulder, Colorado.
2. What sports if any did you play growing up, through college and beyond?
I was a competitive skier for exactly one winter season. Besides that, I've always been competitive – billiards, sprinting, soccer, jump-rope, hiking, you name it. I always had to show up the boys.
3. How old were you when you had your first beer?
I was nineteen (but don't condone drinking until you're of legal age, of course) when I tried my first beer.
4. If you can recall, what is the story of your first beer? Where did you have it? What style and brand was it?
It was St. Patrick's Day at UCSB. There was a big kegger on DP (the party street) and a mass of trashed, sweaty college kids dancing around the keg. A friend went to said keg, came back with a huge cup of foamy green nastiness and told me that was "beer". I took a sip, handed the cup to someone else and was too disgusted to try another beer for at least a year after.
5. Where, if applicable, did you go to college? What did you study? What additional activities, organizations, sports did you partake in during college?
I went to UCSB for a year and studied dramatic art. Their department focused on theater though, which wasn't in line with where I wanted to work – TV/Film. I spent my time at UCSB challenging people to billiard games, biking down the coast and, most memorably, running with a friend all the way from the campus down the beach to State Street (about thirteen miles) to watch a beach volleyball game. We then consumed four times our body weight in pancakes and pie. It was epic.
Craft Beer Epiphany
Every craft beer enthusiast has at least one pinnacle craft beer experience that completely changes ones perspective on beer. I refer to this mind-blowing moment as a "craft beer epiphany."
1. What was your first craft beer epiphany? Recall as many details about it as you can:
My first experience with actually enjoying a beer was a 1554 by New Belgium. At that point, I was enjoying Pacifico with lime with my college buddies, and while the aroma of Pacifico still gives me great memories, it doesn't exactly scream "craft" or quality.
My brother, who'd been brewing for a couple of years by then, brought out a snifter and a bottle of 1554. He poured the beer into the glass and handed it to me. "First," he said, "See what aroma you get immediately after pouring." I smelled the beer, and it smelled like beer. Then, he had me swirl the beer to open it up. The next breath I took bowled me over. It was as if swirling the glass opened up a door to another world. I could distinguish the chocolate malts and coffee essence that softly lifted from the head and curled up through my nostrils into my brain, sparking it to life. Each sip brought forth a new complexity that I'd never tried, or cared, to notice before. I'd officially been introduced to beer appreciation, and haven't looked back since.
2. Have you have additional craft beer epiphanies since the first? Detail as many of them as you wish:
I've found that since brewing my first beer last December, and diving into studying to be a Certified Beer Server (and eventually Certified Cicerone followed even more eventually by Master Cicerone), every single craft beer I have has opened my eyes a little more to every little nuance and possibility contained in a brew. The coconut milk porter that I tried at Odell's Small Batch Revival made me realize that there's really no way to be too "out there" when it comes to beer. No matter what I drink, I'm able to appreciate the brew in ways I never could have imagined before.
Beer Blog Background
1. How long have you been writing your beer blog?
I've been writing my blog for about fifteen months.
2. What inspired you to start writing your blog?
I simply enjoy eating, drinking good beer, attempting to take photos that don't suck, and writing, so originally it was simply an outlet for all of my combined interests. It started as a healthy living blog, then morphed into what it is today: a blog that centers around my visits to different breweries, restaurants, the recipes I create, and new craft beers I try.
3. Why did you choose the name of your blog?
The original name of my blog was Hike, Bike, Eat, but all I really did was eat. After a year of blogging about food and beer, I began rolling names around in my head that would fit the lifestyle I live, as well as bring in tons of readers who enjoy drinking, brewing and eating. Bites 'n Brews has definitely brought in the beer lovers!
4. What are you personal goals for your blog? What do you hope to achieve with it?
Right now I write my blog because I enjoy it. I've actually gone back over my blog to look up recipes I created, and to make sure I haven't tried a certain beer before. I love being able to keep track of the craft beers I try and read my notes about what they tasted like. I also truly enjoy getting feedback from my fellow craft-beer lovers who throw massive amounts of brewery/beer recommendations my way that will take me years to fulfill.
5. What is one of the coolest things that happened to you as a result of being a beer blogger?
I was featured on TheChive.com after the owner/creator began following my blog and as a result, my viewership has spiked tremendously. All of the true craft beer fanatics have stuck with me and I've received countless invitations to brewery tours and many behind-the-scenes looks that I would not have been privy to prior to this feature.
6. What are you top 3 favorite beer blogs/beer websites?
Drink, Eat, Travel. -their photography and insight to local craft breweries and events leave me drooling every time.
Jace Milstead's blog –while he doesn't update often, he has been featured on Drink, Eat, Travel, and after seeing his "tasting training", I'll be following.
Drink with the Wench – not trying to brown-nose but I honestly love the craft beer mixology recipes and her insane amount of knowledge when it comes to food pairings and style guidelines. I originally found Ashley while looking for a Cicerone study-guide and have been following her ever since.
Beer Talk
1. What are your top 3 favorite beer styles?
I adore IPAs, Imperial Reds and classy sessionable Hefeweizens during summer.
2. What are your top 3 favorite breweries?
Odell Brewing Company, Ladyface Ale Companie and Stone Brewing Company.
3. If you could work with or for any one brewery, which one would it be and why?
I would give anything to work for Odell Brewing. Ever since my first visit there, three years ago before they expanded, I've been in love with their beers and the atmosphere of the brewery. I would be content spending my days biking to work, assisting with brews, scrubbing out the mash tuns in ridiculous looking polka dot rain boots, serving the throngs of craft beer enthusiasts, blogging about all the behind-the-scenes happenings and then going to the mountains to rock climb with a chilled six-pack of St. Lupulin. I haven't really given it that much thought though…
4. Are you a homebrewer? If yes, what is the most unique and interesting beer recipes you've brewed as a homebrewer?
I am a homebrewer, but only have two brews under my belt. My first brew was an extract American Amber aptly named "Dos Beckis", and my second brew was an all-grain nut brown shop brew I completed with the Maltose Falcons. While neither was extremely unique or interesting, they both hold a special place in my heart.
5. Do you have any beer certifications (BJCP, Cicerone, Siebel, American Brewers Guild)?? If so, what are they?
I'm taking the test to become a Certified Beer Server this Saturday!
6. What is your favorite beer and food pairing?
The best pairing I've ever had was an orange crème brulee with Derailleur from Ladyface. The citrus in both the dessert and the beer swirled together, the sweet orange essence mingling in a dance of sugary ecstasy to become a gift from heaven.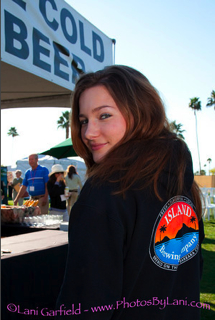 The Personal Side
1. What is your current day job?
I work for an artist. We travel across the Western states visiting breweries along the way, eating at local non-chain restaurants and touring the towns. Oh yeah, we also sell her surreal oil paintings at the fine art and wine festivals as well.
2. If you could change your career at this very moment, without any restrictions on what you could do, what would you want to do and why?
My ideal job, would be to write for Backpacker Magazine. I love hiking, camping and photography and would love to get paid to do all of the above.
3. Are you married? Children?
Not yet. And definitely not yet.
4. Outside of beer and writing, what are some of your other hobbies?
I love anything active – hiking, camping, rock climbing, billiards, biking, fly fishing… I also love anything to do with food – eating, cooking, creating recipes, eating, baking, eating…
Off The Beaten Path
1. If you were a style of beer, what style would be and why?
I would be an IPA. I've got a bite, am incredibly strong (seriously, I lift 100lbs repeatedly for my job setting up the booth), and while some may perceive me to be bitter at first, they discover that I am really easy-going and mellow after a short amount of time.
2. You were caught smuggling beer illegally, which has now been made punishable by death. Right before you are sent to the executioner, you are offered one last beer. What beer would you chose and why?
I'd have a Chesebro IPA from Ladyface. It is quite possible that that is my favorite beer of all time. I'd definitely want a tall glass of that (100 IBU and 10% ABV) before the end.
3. If I contracted you to brew a beer (or design a beer recipe) called "The Beer Wench" — what style would you chose and what, if any, extra ingredients would you add?
I'd make a spicy IPA and call it "Real Women Like Flavor". I'd add ghost peppers to the mash and prime it with honey – you seem to be full of spice and life. I would also include your hate letter to Molson Coors in the description.
4. If you could be a superhero, what would you want your superpowers to be?
I would want to be able to retain every fact I've ever learned. That would really help with my Master Cicerone certification in a few years… Apparently I'm a nerd.
5. What is one of the craziest things you have ever done and lived to tell the story?
I went paragliding off the peak of Rendezvous in the Grand Tetons. I spent a life-changing fifteen minutes speeding down the side of the mountain, twisting, turning and at one point flipping over the parachute as we flew through the chilly air thousands of feet above Teton Village.
6. What are your thoughts on bacon?
Chocolate Oatmeal Stout Brownies with Caramelized Bacon.  Yes – brownies topped with candied bacon. I imagined. I created. I devoured. Need I say more? BACON!!!
SPECIAL THANKS TO BECKI FOR AN AWESOME INTERVIEW!
CHEERS!