DRINK WITH THE WENCH PRESENTS:
The Beer Blogger Interview Series
Curious what goes on in the minds of your favorite beer bloggers? Well, The Beer Wench is and she has embarked upon a mission to interview as many beer bloggers that she can — from all over the world. Are you a beer blogger? Do you want to share your story? Send me an email!
INTRODUCING: CHRIS CREECH
Beer Blogger Interview
Full name: Chris Creech
Twitter handle: @NChomebrewing
Name of blog: www.NChomebrewing.com
Current location: Chapel Hill, NC
Background "Snapshot"
1. Where did you grow up?
I grew up in Wake Forest, NC. A small town just north of Raleigh that used to be home of Wake Forest University before they moved to Winston-Salem.
2. What sports if any did you play growing up, through college and beyond?
I have always loved basketball, and played for most of my childhood, but when I stopped growing, I switched over to track and field where I was a high jumper in high school. In college I was a rower on the UNC men's rowing team, and now I try to work off the beer I drink by training for and running in triathlons.
3. How old were you when you had your first beer?
Younger than I should have been…
4. If you can recall, what is the story of your first beer? Where did you have it? What style and brand was it?
Ugh, it was a Miller Lite out of my buddy's grandparent's fridge and I hated it. As much as I wanted to like beer, I couldn't even finish the can.
5. Where, if applicable, did you go to college? What did you study? What additional activities, organizations, sports did you partake in during college?
A Tar Heel born and bread, I graduated from the University of North Carolina and I haven't been able to leave this lovely place since. I "studied" journalism and mass communication with a focus in advertising, but realistically I spent most of my time with the crew team either practicing, traveling to races, or helping to support our reputation of throwing the best parties on campus.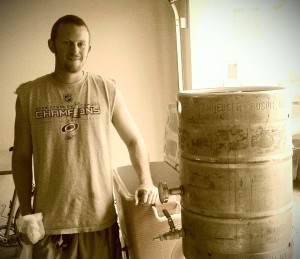 Craft Beer Epiphany
Every craft beer enthusiast has at least one pinnacle craft beer experience that completely changes ones perspective on beer. I refer to this mind-blowing moment as a "craft beer epiphany."
1. What was your first craft beer epiphany? Recall as many details about it as you can:
Having not yet found my love for craft beer, my college roommate and I were sitting around talking about the things we wanted to do before we died. On his list was to brew his on beer. I stopped and said, "we could do that." He kind of shrugged it off and said "yeah, I know, I'll definitely do it some day." But then I said to him, "No really, let's do it…now. Why not?"
So, we drove to the local home brew store and bought an equipment set and our first ingredient kit. We did a nut brown ale where we had to steep specialty grains, add hops and different times, everything. It was a lot of fun and the beer turned out pretty good.
Since that first batch, we've been on a mission to try as many different styles of beer as possible and then brew the ones we really like. That is what led us to craft beer. Adding to that, the North Carolina craft beer scene was simultaneously taking off, which gave us a lot of new local options for craft beer.
2. Have you have additional craft beer epiphanies since the first? Detail as many of them as you wish:
Almost every time I visit a new craft brewery I have an epiphany! I will either see something in their process that they do that is unique or I will try one of their more specialty beers and see a style through a new light. I think that visiting your local craft/micro/nano breweries is a great way to learn about craft beer and the intricacies that go into every batch. Not to mention, since I am a home brewer, I can then go home and try out some of the things I learned or tasted from the brewery!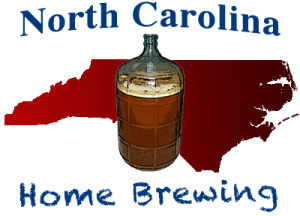 Beer Blog Background
1. How long have you been writing your beer blog?
The blog is brand spanking new. We just launched on August 1, 2011, but I've got some great content lined up with some expert guest posts on the way, local brewery features and showcases of some awesome brewing DIY projects from other home brewers in North Carolina. It is going to be a really fun ride!
2. What inspired you to start writing your blog?
These days, there are a lot of great resources for home brewers. There are local clubs that cater to small geographic areas, and there are huge online resources catering to the masses. I wanted to capture both of those and bring in the great resources of the big guys but take it down to a local level. Because of the exploding NC craft beer and home brewing scene, I really saw a niche for a site that would provide this. I wanted to not only teach people how to build their own all-grain brewing system, I wanted to show them how their neighbor over in Charlotte built his compared to the guy down the street in Durham.
3. Why did you choose the name of your blog?
Ok, let's be real…it just made sense. And I figured it wouldn't hurt in terms of SEO.
4. What are you personal goals for your blog? What do you hope to achieve with it?
I want my blog to be seen as the go-to resource for home brewers of any level in North Carolina whenever they need to be inspired to do a new project, or look up info pertinent to brewing in NC. I want people to think of the site first whenever they want to find their local home brew club or local home brew supply store.
5. What is one of the coolest things that happened to you as a result of being a beer blogger?
A few things:
1) Twitter is great. I started tweeting about 2 weeks before starting the blog and I had 125 followers before the blog even launched. Most of them home brewers I had never met.
2) I have gotten to meet some great craft beer professionals. Sean at Fullsteam is great! Erik, who is launching Mystery Brewing this fall/winter told me all about his transition from home brewing to opening a craft brewery, and the guys at Roth invited us to come back and brew with them one day! It is such a great community.
6. What are you top 3 favorite beer blogs/beer websites?
That is hard to say. As far as home brewing goes, BeerSmith, who makes some great software, also runs a legit blog covering some very interesting topics.
HomeBrewTalk is the #1 forum in the game and they get me thinking about a lot of ideas for my own blog and for brewing in general. Lastly, I would have to say NCbeer.org (the NC brewer's guild site) because they keep me up to date on all of the events for the NC craft breweries.
Rounding out my RSS feed I also have BillyBrew, HomebrewAcademy (who I just wrote a post for!), Craft beer collective, brewgasm, and of course the Beer Wench!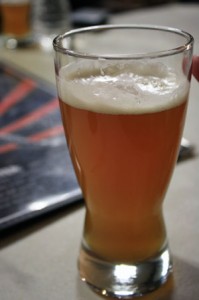 Beer Talk
1. What are your top 3 favorite beer styles?
Don't make me choose! I'm a big fan of the classic American Pale Ale, but I also love the Belgian brews, particularly the Trippel. 3rd…a solid robust porter or stout done well may take the last slot.
2. What are your top 3 favorite breweries?
Ok…I such at making decisions, this top 3 stuff has to stop! But here's my best guess (it changes daily):
1- Lonerider
2 – Fullsteam
3 – French Broad
(followed by every other NC brewery, of course!)
3. If you could work with or for any one brewery, which one would it be and why?
As any home brewer will tell you, the brewery I want to work for is my own. Almost anyone who brews their own beer will tell you that as soon as you see the look on the faces of people drinking your very own beer, you will want to open up a brewery and start sharing your creations with the world!
I would love to open up a brewery one day and make beer to share with the world, but who knows if/when that day will come. Maybe if someone has an extra $500k laying around then we could talk!
4. Are you a homebrewer? If yes, what is the most unique and interesting beer recipes you've brewed as a homebrewer?
Man, I've run the gauntlet of recipes. My most unique would probably have to be an imperial honey cream ale. However, the most interesting was definitely what started as a Guinness clone because I did taste tests with Guinness lovers and every single one of them preferred my brew to the actual Guinness, and most guessed that mine WAS the Guinness. When they were told which was witch, they all agreed that the Guinness just tasted like water compared to the delicious robust dry stout that I had created. It's definitely a beer I like to keep on tap!
5. Do you have any beer certifications (BJCP, Cicerone, Siebel, American Brewers Guild)?? If so, what are they?
Psh, I like to drink beer, and I like to make beer. Maybe one day I'll make it official, but for now, I'm just doing it because I love it! I have considered getting the Siebel certificate someday though, especially if I ever do open up a brewery.
6. What is your favorite beer and food pairing?
I would have to say a solid American Pale Ale or IPA on a warm summer evening with a big juicy cheeseburger and french fries!
The Personal Side
1. What is your current day job?
I am a project manager for a website development firm.
2. If you could change your career at this very moment, without any restrictions on what you could do, what would you want to do and why?
As I said earlier, I would own and run a brewery. I would love the chance to brew beer (my own beer) and get paid for it. I would also enjoy being able to hang out with all of the local bars and call it "business." And as I said earlier, it brings me such great satisfaction to see people drink my beer and really truly enjoy it.
3. Are you married? Children?
Engaged. Getting married in less than 2 weeks! AHH! Why am I also starting a blog!? I'm just that stupid..er crazy…err in love (with my fiancee AND brewing, haha!).
4. Outside of beer and writing, what are some of your other hobbies?
I do crazy things like whitewater kayak and run in triathlons. I also play guitar on occasion. Oh and I love hanging at the lake and wakeboarding!
Off The Beaten Path
1. If you were a style of beer, what style would be an why?
I just asked my fiancee because I couldn't decide and she said I was a Pale Ale because I am smooth and most people enjoy me and most bars will let me in. I'm not too plain, I even have a little bite every once in a while, but I'm not overly bitter either. I am balanced and not fruity. (Oh and I am American…and pale…).
2. You were caught smuggling beer illegally, which has now been made punishable by death. Right before you are sent to the executioner, you are offered one last beer. What beer would you chose and why?
La Fin Du Monde! Obviously! (followed closely by Angry Angel or Hell's Belle).
3. If I contracted you to brew a beer (or design a beer recipe) called "The Beer Wench" — what style would you chose and what, if any, extra ingredients would you add?
I would have to get to know you a little better first. But since "wench" is often used as a term for a female pirate, I would cask condition it in rum barrels for sure. Since you are such a hop head, then I would definitely dry-hop it to really hold onto the hop flavor and aroma. I would consider making it a sour, not because you're sour, but because you seem to not fit the mold and would probably rather your beer ferment in the wide open than be all boxed up in a sealed tank. Oh, and it would definitely be imperial, because you are competitive and want to bring the biggest punch.
So I guess that would be an imperial sour that is dry-hopped and aged in rum barrels. How do you like that!?
4. If you could be a superhero, what would you want your superpowers to be?
I know this sound cheesy, but my superpower would be the ability to slow down time, not to make everyone go in slow motion, but just to make there be more time in the day. Life passes us by too quickly and we're grown up before we had time to enjoy being young. So I guess you could call me "Glory Days Man" or something, but I would love to spend more time enjoying each and everything I do, and each and every beer I drink (those always seem to disappear too quickly!)
5. What is one of the craziest things you have ever done and lived to tell the story?
To be honest, I don't have any one killer story. I could talk all day about just stupid crazy things that I've done, but I don't have that one shining moment like that…maybe one day…
6. What are your thoughts on bacon?
Dude…seriously. Rauchbier = awesome. Pig = man's best friend. Love it. Have you ever eaten peanut butter and bacon cookies? Seriously, try it. Just substitute the chocolate chips for bacon and make it into a peanut butter cookie…delicious.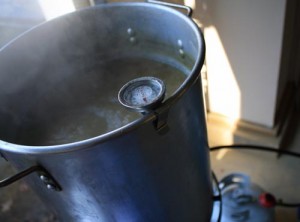 SPECIAL THANKS TO CHRIS FOR AN AWESOME INTERVIEW!
CHEERS!!