DRINK WITH THE WENCH PRESENTS:
The Beer Blogger Interview Series
Curious what goes on in the minds of your favorite beer bloggers? Well, The Beer Wench is and she has embarked upon a mission to interview as many beer bloggers that she can — from all over the world. Are you a beer blogger? Do you want to share your story? Send me an email!
INTRODUCING: NORA MCGUNNIGLE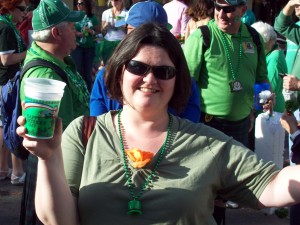 Beer Blogger Interview
Full name: Nora McGunnigle
Twitter handle: @noradeirdre
Name of blog: NOLA Beer Bitch
Current location: New Orleans
Background "Snapshot"
1. Where did you grow up?
Hartford, CT
2. What sports if any did you play growing up, through college and beyond?
Ahahahaha! No.
3. How old were you when you had your first beer?
Oh man, I don't know. High school maybe? Nothing memorable
4. If you can recall, what is the story of your first beer? Where did you have it? What style and brand was it?
I drank cheap wine and vodka-juice drinks for the most part, but in college I studied in the Netherlands where beer drinking was a) legal b) cheap and c) pretty tasty. Café Vink had Brand beer (a pils? They had two beers on draft: Brand or Brand dark), and it was like a dollar a glass. I was 19 and it was awesome.
5. Where, if applicable, did you go to college? What did you study? What additional activities, organizations, sports did you partake in during college?
Went to Emerson College in Boston, MA to study acting- got a BFA in Performing Arts. I acted and did a lot of writing.
Craft Beer Epiphany
Every craft beer enthusiast has at least one pinnacle craft beer experience that completely changes ones perspective on beer. I refer to this mind-blowing moment as a "craft beer epiphany."
1. What was your first craft beer epiphany? Recall as many details about it as you can:
Probably in college, after I returned from Holland- Harpoon Brewery had just opened and I heard about a party they were having at the brewery (low entrance fee, as much beer as you wanted), and hauled out to South Station and took the shuttle and got my pint glass and OMG. I never knew good beer could be so good. I think back then (in 1994) they had the Harpoon Ale, the Harpoon IPA, along with the seasonal- Oktoberfest and Winter Warmer. I drank many excellent pints that night.
2. Have you have additional craft beer epiphanies since the first? Detail as many of them as you wish:
1) Finding a good craft beer bar. In the mid- to late 90s, there weren't many around. My friends and I explored so many excellent beers at Redbones!
2) My second trip to the UK with my husband and discovering the prevalence of cask ale. Oh. My. God. I'd gotten a taste for it at the NERAX festival, but this was just amazing.
Beer Blog Background
1. How long have you been writing your beer blog?
Since November 2010
2. What inspired you to start writing your blog?
I had started writing a lifestyle/food/drink blog (norainnola.blogspot.com) when I moved here (in May 2010) from New England, but was spending a lot of time delving in the craft beer community down here (small but awesome, and growing.) I'd been talking to Jeremy "Beer Buddha" Labadie about beer and blogging, and one night after several delicious beers at the Avenue Pub, he was like, "why don't you write a beer blog?" I said, "Um, OK!" and I did. It's a little looser and drunker than my other blog, which is more family friendly. (So my family can read it.)
3. Why did you choose the name of your blog?
I was drunk, and I love alliteration!
4. What are you personal goals for your blog? What do you hope to achieve with it?
I'd like to be recognized as a knowledgeable beer drinker with a decent palate. I'd like to be at the forefront of the burgeoning craft beer scene here in New Orleans. I also think that the more women who talk about beer, the more likely this stereotype of ladies not liking beer will go away.
5. What is one of the coolest things that happened to you as a result of being a beer blogger?
Um, people read my stuff and say they like it? My blog is so small at this point that I am easy to please. I did scoop the Buddha on a distribution announcement a couple times though! (See?)
6. What are you top 3 favorite beer blogs/beer websites?
(I assume other than The Beer Wench?)
1) I use the Beer Advocate a lot in looking beer and breweries up. Especially when travelling.
2) Beer Buddha, of course.
Beer Talk
1. What are your top 3 favorite beer styles?
Ooh, I don't even know how to choose. ESB, IPA, Belgian Pale. I know it's not a style, but I love pretty much everything with rye and am insane over cask/real ale.
2. What are your top 3 favorite breweries?
NOLA Brewing, Russian River, Cambridge Brewing Company. (do you know how many times I have changed this list while filling out this interview document?)
3. If you could work with or for any one brewery, which one would it be and why?
Hm. I'd say Anchor or Bear Republic or Russian River because then I'd be working in the San Francisco/Napa/Sonoma area. Or, ooh! Moylans because the head brewer is a lady. Or NOLA Brewing because it's right around the corner from my house and everyone there is so awesome. Also, there's an amazing woman brewer there too. I think it's cool when women are accomplished brewers.
4. Are you a homebrewer? If yes, what is the most unique and interesting beer recipes you've brewed as a homebrewer?
My husband homebrews, and he's done a lavender saison that I liked, he didn't, and other folks were divided on. Lavender is tricky business. He's got a Belgian single fermenting right now.
5. Do you have any beer certifications (BJCP, Cicerone, Siebel, American Brewers Guild)? If so, what are they?
Nope.
6. What is your favorite beer and food pairing?
I love beer and cheese, there's a place here – St. James Cheese Company – that does great recommendations for beer and cheese pairings. I've been to several beer dinners in my time, both here and back in Boston (Cambridge Brewing Company, especially. Man, I miss that place.) When we first moved here, we went to a beer dinner sponsored by the local breweries and distributers and we had an amazing pairing of smoked quail stuffed with headcheese, paired with Bayou Teche Bouchanee (a smoked Hefeweizen).
The Personal Side
1. What is your current day job?
I am the operations manager for a small New Orleans nonprofit, Neighborhoods Partnership Network.
2. If you could change your career at this very moment, without any restrictions on what you could do, what would you want to do and why?
I would love to own and operate a pub/brewpub in New Orleans, with cask ale and my husband's beer. A British/Irish type pub. In fact, that was one of the reasons we moved down here, because of my dream of pub-running. We'll see how that shakes out. It's a long range plan.
3. Are you married?
Yes, to another beer geek. We planned our elopement/honeymoon in Vermont around visiting the local breweries there.
Children?
No human children, but we are the proud cat parents of Taz and Marley.  I suspect that when we are out for the day, they fight crime like any proper duo should. Why else would they be so tired and hungry when we come home?
4. Outside of beer and writing, what are some of your other hobbies?
Eating, cooking, fundraising, volunteering, living in New Orleans (which takes up a lot of free time, what with the parties, music, parades, fests, fairs, second lines, football games, and the like.) I was one of the primary organizers for a recent fundraiser (to benefit a local chef with a taste for beer) called "Beers Not Bullets" that gathered all the breweries and distributors in Louisiana for a beer tasting. We also gathered all the local beer aficionados and challenged them to dig deep in their collections to bring hard to find or rare beers- we had about 250 different bottles of beers from all over the world. We raised $13,000 through ticket sales, raffle tickets, and silent auction lots.
Off The Beaten Path
1. If you were a style of beer, what style would you be and why?
A Rye IPA, because I'm spicy, awesome, and kinda bitter.
2. You were caught smuggling beer illegally, which has now been made punishable by death. Right before you are sent to the executioner, you are offered one last beer. What beer would you chose and why?
Whichever beer has a hacksaw, a gun, a fake passport and a cunning disguise in it.
3. If I contracted you to brew a beer (or design a beer recipe) called "The Beer Wench" — what style would you chose and what, if any, extra ingredients would you add?
Some British style for sure, since I associate the word wench with olden days in the kingdom.
4. If you could be a superhero, what would you want your superpowers to be?
Flying. Or the ability to upgrade to first class flying without paying for it.
5. What is one of the craziest things you have ever done and lived to tell the story?
Tried to talk a cop out of rousting my pothead friends. It didn't work, but no one got arrested!
6. What are your thoughts on bacon?
I have many thoughts on bacon, and they are all very good. I have a very Homer Simpson-esque view on bacon. Not on Spider Pig though.
SPECIAL THANKS TO NORA FOR AN AWESOME INTERVIEW!
CHEERS!