What's in a name? Apparently a lot, as evidenced by the seemingly endless debate over the name of one of the newest style categories of beer.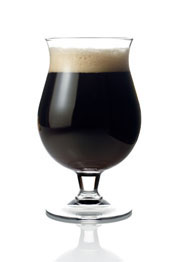 Black India Pale Ale
India Black Ale
American-style India Black Ale
American-style Black Ale
Cascadian Dark Ale
All names for what is, at its most basic, a really hoppy dark ale with North American origins. And the name is not the only thing being questioned, its exact region of origin is also something hotly debated. Depending on what side of the country you hold allegiance, or your own personal school of thought, the not-going-to-name-it-at-this-point hoppy black ale originated in either Vermont or Cascadia (a bioregion in the Pacific Northwest named for the Cascadian watersheds that define its borders). Both arguments hold weight, in my opinion. But we will go into that later…
Although the style isn't entirely "new" and dates back to the early 90's, the rapid rise of these beers in the marketplace and the inability for them to fit into any proper judging style category for competitions created a demand for the Brewer's Association to name and define them.
The first official BA designated name was American-style India Black Ale, probably one of the most confusing and contradictory names in the history of beer. Criticism quickly surrounded the new name — how could something be both American and Indian? And how could a beer be both Pale and Black?
American-style India Black Ale was quickly replaced with American-style Black Ale, which, despite logical reasoning from the BA, was still widely criticized and rejected. Which is why the argument has not ended, and the style category still lacks a proper name.
And before we go into my opinions on the matter, there are two very well-written articles on CraftBeer.com that I would like to turn your attention to:
By Matt Van Wyk, Oakshire Brewing
By Greg Koch, Stone Brewing
It was actually Greg's recent article that inspired this current response to the style debate, which obviously, despite desperate attempts, has not been put to bed. Since both the Black IPA and CDA arguments have been well articulated by the two articles above, I do not feel the need to go into depth about them now.
While both my colleagues/comrades make an excellent case for each name, I cannot help but find myself supporting neither as the official style name. Now, it is important to note that I'm 100% supportive of the name Cascadian Dark Ale, which by its definition is exactly on point. However, I do not necessarily think that the name can be applied to a much more broad category of dark hoppy beers. Essentially, without going too far in depth, the CDA is a dark ale brewed almost entirely with ingredients, hops being primary, that originate in the Pacific Northwest. This style, by definition, excludes dark ales brewed with noble hop varietals and other varietals not originating from Cascadia, i.e.: New Zealand etc. So whereas the name CDA is completely legit, it is entirely too exclusive to cover an entire spectrum of dark hoppy beers.
In the history of beer, most style names were born from the region in which they were developed: Kolsh, from Cologne (Koln). Pilsner from Pilsen. Irish Red from Ireland. Scotch Ale from Scotland. I find nothing wrong with Americans taking pride in the development of a new style of beer, and naming it accordingly. After all, most if not all of these beers use native American hops — which makes the style even more distinctly American.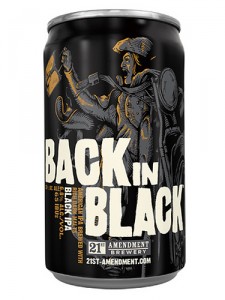 At its most basic, the still-not-going-to-give-it-a-name hoppy dark ale is an ale brewed with dark roasted malts and the alcohol and bittering units (IBUs) similar to that of an IPA. And although renditions of this style can be dated back to England, it is pretty much agreed upon by most that this style is, in fact, American. Which brings us to my thoughts on the matter.
________________________________________
Ashley's Argument AGAINST the American Black IPA: The name has a double contradiction, no real roots to India, and is crazy confusing. As I mention below, confusing consumers is not a smart tactic in the overall plan to convert people to craft beer.
Ashley's Argument FOR the Black IPA: The IPA is the most brewed style and the name IPA is one that consumers find familiar. Adding the word "Black" to the name implies dark beer that tastes like an IPA — a concept which might be fairly easy for consumers to grasp.
Ashley's Argument AGAINST the Cascadian Dark Ale: Outside of Cascadia and maybe the beer industry, most consumers do not know what a CDA is and probably don't even know what/where Cascadia is. Confusion leads to insecurity and it is harder to convert beer drinkers to craft beer when they are confused and insecure.
Ashley's Argument FOR the Cascadian Dark Ale: By its definition, this is the perfect name for the beer. It is named for the region of origin, which is also the region from which the ingredients are sourced.
________________________________________
So what do we call it? For starters, the word American is good.  But, for fear that the Canadian Cascadians (try saying that 5 times fast) might feel some sort of insult in using only American, perhaps the name North American would be more appreciated. It is important to note that the Brewer's Association describes the hop character of this style as "fruity, floral and herbal from hops of all origins." Which means that designating the style as North American does not necessarily imply that the ingredients are exclusively from the North American continent.
But before we go on, it is important to address the argument that against using the word American to signify "hoppy." Well, let's look at other American styles, shall we? Adding the term American in front of Pale Ale, Brown Ale, Red Ale, IPA, Barleywine etc. does in fact mean that these beers have higher IBUs than their English counterparts and that the hop profile of said beers tends to reflect the nature of native American hops. So yes, since past examples illustrate that using the term American does constitute beers that are significantly more hoppy than their European cousins,  I do believe that using the term American is appropriate in this situation.
And then there is the matter of color. The style guidelines, according the the Brewer's Association, describes the beer as anything above 25 SRM. This means that the beer does not, in fact, have to be black. For comparison, the porter, which  is typically ruby brown in color, falls in between 20-40 SRM.
Now, since the SRM requirements are not exclusively black, and include darker brown shades, using the term black does not seem appropriate. And thus I propose the term dark as a replacement. And since the beer is brewed with ale yeast, we will go ahead and call it an ale.
In summary, I think that the name "North American Dark Ale" would be an appropriate name for the style category. It details the region of origin, without excluding all of Cascadia, speaks correctly to the color of the beer as described in the official style guidelines, and is not contradictory or confusing. And the moniker? NADA? As in niente, nada, nothing, can we please stop talking about this issue and just settle it already? Besides, I have bigger bones to pick… (do not get me started on some of the ludicrous categories judged at the GABF…)
And if NADA doesn't strike anyone's fancy, let it be known that my vote is for  returning to the American-style Black Ale category name.
Cheers!