I frequently get asked for suggestions on beer brands, bloggers and personalities to follow on Twitter. Over two years ago, I released a blog post about the 20 Most Compelling Beer Personalities on Twitter — and to this day it remains of of my most popular posts. Being that it has been two years since I released that list, and many things have changed since, I thought that this would be an appropriate time to update it.
Naturally, this list is entirely subjective and based solely on my own opinions and personal experiences. You may be asking what my criteria is for developing such a list? Well let us start by defining the word compelling:
com⋅pel⋅ling  [kuhm-pel-ing]
–adjective
1. tending to compel; overpowering: compelling reasons.
2. having a powerful and irresistible effect; requiring acute admiration, attention, or respect: (a man of compelling integrity; a compelling drama)
The Wench's Criteria:
COMPELLING ENOUGH TO FOLLOW: I must follow this person (duh!). Unfortunately, this rules out the people I do not follow — which means this list has potential to change in the future.
COMPELLING CONTENT: Tweets contain information of value in relation to the craft beer industry. (i.e.: news updates, events, announcements, beer reviews, links to beer related information, etc…)
COMPELLING PERSONALITY: Twitter personality is interesting and captivating. There is a person behind the twitter handle — they are more than just a "brand" or a "blog".
COMPELLING CONVERSATION: Community engagers — people who are constantly engaging in conversations with the twitter community (whether it be through retweeting or replies). People who constantly have one way conversations, in my opinion, are not compelling. Talk to me. And I will follow you.
Essentially, what I'm about to give you is a list of the beer personalities and brands on Twitter that I follow the closest. These are the sources I trust most and the people whose opinions I value the highest — when it comes to craft beer. When they tweet about a beer, I want it. When they post a link, I click on it. When they talk, I listen.
Drum roll please….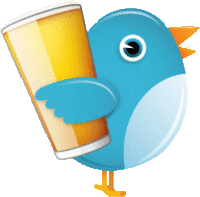 The Beer Wench's Top 20 Most Compelling Personalities on Twitter (2011)
1. @HerzMuses: Julia is one of my favorite people in the craft beer industry — as well as one of my favorite humans on this planet. She is the Craft Beer Program Director for the Brewers Association and one of the biggest craft beer evangelists I have ever met. She tweets out great links to very important articles and is a huge supporter of beer bloggers. AND, she has one of the best palates in the biz.
2. @Cicerone_Org: Ray Daniels is one of the foremost educators on the subject of beer. He is one of the most brilliant men I have ever had the pleasure of meeting in real life. If you need to know something about beer, from brewing to serving to pairing with food, he is the man to talk to — especially since he is very interactive with followers.
3. @Homebrewchef: Chef, brewer, writer, radio host — when it comes to all things beer, Sean is king. Whether it be posting menus from his beer dinners, recipes or pictures of food, Sean is constantly torturing his followers with his food and beverage experiences. He is very engaging and is always offering advice and suggestions to his friends and followers.
4. @adamnason: Adam currently runs one of THE best beer news sites out there — beernews.org. He is always tweeting out the most cutting edge beer news. Whether it be announcing new beer releases or beer events, this guy is definitely one of the best beer sources on the web! Also follow @beerpulse for more of his updates.
5. @beerwars: Anat Baron might be allergic to beer, but that hasn't stopped her from being one of the biggest advocates in this industry. In addition to creating the best documentary on craft beer, she is also a fantastic speaker and a very strong woman. Her tweets are extremely informative and I always click on every link she posts — because I know it's going to be good.
6. @dogfishbeer: Dogfish Head has one of the best beer brand presences on Twitter. Mariah is constantly retweeting her followers and engaging in conversations. The majority of the time, if you send her a question or mention her brand, she responds. AND she pays attention to other people's conversations, not just her own. Mariah kicks ass.
7. @StoneGreg: Another "brand" that utilizes social media very well. Greg is the owner of Stone Brewing Co. He travels a subhuman amount and is constantly engaging the Twitter communities and bars in the places he visits. He also does a great job of voicing his opinion on important topics in the craft beer industry.
8. @JasonAlstrom: Jason is the co-founder of Beer Advocate — one of the largest internet based forums for beer. Jason is constantly tasting new beers from all over the world, and shares his experiences with us on Twitter (many of which are also paired with a song from Pandora). He also does a great deal of travel and shares his beer adventures with his followers on Twitter. Also follow @BeerAdvocate for more of his musings.
9. @MelissaCole: Melissa is my top resource for beer news from across the pond (she's a Brit). She is the author of the book "Let Me Tell You About Beer" and the beer blog "Taking the Beard Out of Beer." Melissa can also be found standing strong, beside me and some other strong women in beer, on the soapbox against sexism in beer marketing and other controversial topics. Her tweets are both informative, as well as entertaining.
10. @newbrewthursday: Video beer podcast consisting of a very dynamic and geeky crew. New Brew Thursday is always on the move, attending some of the industries hottest events and drinking some of the most coveted beers — sharing all of the experiences with their fans on Twitter. Follow the crew: Stephen: @darthweef, John: @johnholzer, and Matt: @SmallBatchBrew
11. @FW_Brewmaster: Although brand spanking new to Twitter, Matt Brynildson is one of the most compelling people on Twitter because he is, quite possibly, the best brewer in the world. But don't just take my word for it, count his medals. To be fair, though, he has already done an awesome job at providing great content and engaging his followers on Twitter.
12. @BeaumontDrinks: Stephen is my favorite beer writer, aside from the late Michael Jackson. He is also one of my greatest influencers and the man responsible for introducing me to the Saison — my second favorite beer style of all time. It only took him about 3 years of nagging to get on Twitter, but now that he has he is definitely doing a great job and I try never to miss a tweet.
13. @BREWPUBLIC: Focused primarily on Portland and the state of Oregon, Angelo runs one of the highest ranked and most popular beer blogs in the world. He was also named the best beer bartender of the best beer bar in the state of Washington by the Northwest Brewing News — which is no small feat. But no worries, fame does not get to this kid's head, he is probably the most humble and loving person in the beer industry.
14. @hopcast: Chicago is a great beer town and, thanks to Brad and Ken of the video beer podcast Hop Cast, I am able to keep up with all of the latest news. The duo runs one of the most entertaining video beer podcasts (all others, except NBT, fall flat) and I am most definitely a subscriber. Also follow the boys on their alter egos: @beerad and @hopcastken
15. @lucybeercook: A pioneer in the craft beer industry, Lucy has been publishing books and writing articles about beer for decades now. Her specialty is cooking and grilling with beer and her tweets about recipes and food are sure to make you drool. When she isn't rocking the world of beer and food, Lucy is sustainability leader in the industry and the organizer of water conservation conferences for the beer industry.
16. @masterpairings: Dr. Bill has tasted over 30, 000 — yes, count those zeroes — beers in his lifetime. He is quite possibly the most well-traveled man in beer as well. His expertise lies in food and beer pairings, and all of his tweets will torture you to no end. Foie Gras and Westie 12? Yep, Dr. Bill will go there. And you can watch it all go down on Twitter.
17. @bruisinales: This woman must be a robot, because I swear she never sleeps. Julie can be found on Twitter just about every minute of every day. No really. Julie is a great example of a craft beer retailer that really understands how to use social media to reach out to and influence her target audience. Her tweets are very entertaining and she provides a lot of great content regarding beer releases, beer events and beer news. (Plus you can order beer from her online! Win!)
18. @TheArtofBeer: Taylor is one of the biggest craft beer evangelists on Twitter. She has been known to send (coveted) craft beer all around the country to her followers. She is extremely active in the twitter community and also very entertaining. If you are adventurous, make sure to follow the Twitter account of her trouble-causing rubber ducks — @TheRubberDucks — who are infamous for stealing and drinking cult craft beer.
19. @denverwagon: With a focus on the Denver booze scene, Denver Off The Wagon is a collaborative beer blog run by some of the funnest, cutest, and bestest beer/ spirits bloggers in the country. The tweets are extremely informative as well as entertaining and the group does a great job of promoting and engaging others on Twitter. Also follow @jesshunter @hookedonwinter @MlleBess @DenverBartender
20. @beermentv: Because I have to give a little love to the Southern Hemisphere. Beer Men TV definitely has the lock down on the craft beer scene down under (haha I can haz joke?) . I can always rely them to be available to chat on Twitter when all sane, non-insomniac Americans are asleep. The boys are very funny and encourage fun conversations on Twitter.
Well, there you have it….
But please note, this list does not even begin to give justice to the amazing beer community on Twitter. There are hundreds of beer loving people that I absolutely adore following on Twitter. The ones listed above just happen to be a few of the ones that I pay particularly close attention to… Happy #FollowFriday!
Cheers!