True story: I've never made beer can chicken. Sounds crazy, right? I am a huge advocate for cooking with beer, but have never made a classic beer can chicken. Well, lucky for me, my friend Kevin has… and he is willing to share his recipe with me and all of you!
Now, what makes Kevin's recipe extra special is not only the use of canned CRAFT beer, but also the addition of bacon. Yes kids, bacon does in fact make everything better. And Kevin's recipe is living proof!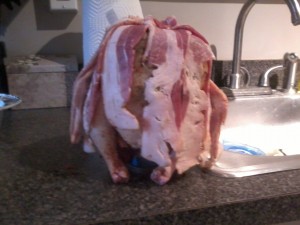 Kevin's Beer Can Chicken Recipe
By: Kevin Mocci
Twitter handle: @tapintoct
Blog: tapintoct.blogspot.com
Ingredients
1 Small Whole Chicken (4-5 lbs)
1 Can of beer (I use Dale's Pale Ale)
1/2 Cup of your favorite spice rub
1/2 Tablespoon of Garlic
1/2 lb of bacon thin or thick slice
Instructions
1. After rinsing the chicken and drying it, remove the insides.
2. Take 1/2 of your spice rub mixture and gently place it between the skin and meat of the chicken (try to do so without tearing the skin, you will be able to see the dark rub through the skin, so you can easily see what area you have covered). Take the other half of your spice rub mixture and rub it on the inside of the bird.
3. Open the beer can and drink half (the best part haha) so that you have 6 ounces left. Put the garlic into the whole in the beer can. Place the beer can, right side up into the chicken. The bird should sit perched up on the can and there should be just an inch or two of the can showing out of the bottom of the chicken.
4. Next, take thee bacon slices and drape them all over the bird, securing them by placing part of each slice into the whole at the top of the chicken. Secure the bacon even further by pushing a few slices of crumpled up bacon into the top of the whole as well.
5. Place the oven rack as low as you need to, to provide enough room for the chicken to cook up right.  You can then place the chicken (which is already on the beer can) into a deep aluminum pan. Be gentle as you put the chicken/pan into the oven, so the bird doesn't topple over.
6. Total Cook Time 2 hours at 350 degrees. Wait 20 after finishing for the chicken to cool. Enjoy the chicken and the perfectly cooked bacon. Be careful pulling the beer can out of the chicken as it will be hot.