Curious about the brilliant minds behind some of the world's best craft beers? So is The Wench, which is why I've started the "Inside the Mash Tun" brewer spotlight series featuring some of the most talented men and women in the craft beer industry.
Today I would like to introduce to you one of my favorite men in the world, the ever talented and absolutely adorable Jason "Saison Man" Yester of Trinity Brewing. Artist, brewer, and loving pet owner — Jason is an extraordinary person, and a great friend. Cheers!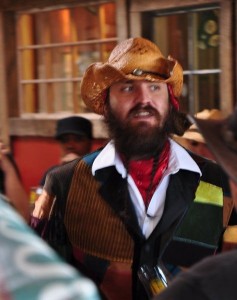 Inside the Mash Tun: Jason Yester
"King", Trinity Brewing
Colorado Springs, Co
Twitter: @SaisonMan
How did you get into the craft beer industry?
I was damn poor when I was in College, but I scrounged up enough money to buy a home brew kit for my roommate. He never used it, so I just kinda took it over! I was also a Biology major, and quickly I was able to see how valuable a background in Biology is in brewing. I developed an independent thesis titled "A Microbial Analysis of Bottled Ale," and crafted the first Colorado Barley Wine in a bottle circa 1997… the rest is history :p
How long have you been brewing at Trinity?
Wow… I think the real question is 'How long have I not?"

… When I was 18 I proclaimed that I would start/own a brewery by the time I was 30. I only missed that date by about 6 months! Trinity opened in August of 2008.
Out of all the beers you have brewed, what is your all-time favorite?
I really enjoy experimentation, and consider a lot of the brewing I do to be 'Cuisine Inspired.' As Saison is my favorite style of beer, nailing a single favorite is very difficult. Although I may answer differently on any given night, I am going with 'Double Rainbow,' a Saison I crafted with an old co-worker John Schneider (Owner of Black Fox Brewing). Wanting a challenge we crafted this collaboration Belgian with 2 ingredients for each color of the rainbow and fermented it with Sake procedures. We used copious amounts of locally grown Syrah grapes to create a very vinous beer. The task of trying to create balance and never overwhelm any of the ingredients was quite difficult, and we nailed that balance on this beer. Only about 600 champagne bottles were released, and the batch is completely sold out… I can't wait until I run into this bottle again after a few years of cellaring

What is you favorite beer and food pairing?
Old growth, barrel aged Flemish Sour Brown, with Maytag blue cheese and a cube of ripe watermelon atop a leaf of endive.
What is the best part about working for Trinity?
The sincerity of the people I get to see everyday! From co-workers to our customers, there is one thing they all have in common…. a love for beer! I am surrounded by a vibrant community that continues to grow organically. When I come to the brewery, I always feel inspired by this environment and I enjoy how I am pushed to excel. I couldn't ask for a better situation as a brewer and an artist.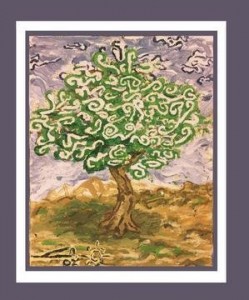 If you were a style of beer, what would you be and why?
Ha, ha… Saison of course, in fact I think I am part Saison already
… Saison is the French word for 'season,' always changing, always interesting, and always unpredictable (plus it's always presented in a cool glass)…. if I were any other style I would eventually get bored.
Outside of craft beer, what are some of your other hobbies and interests?
I am extremely passionate about gardening and growing my own food! I love to cook! Freelance writing, doing paintings with my bare hands, hiking, camping, FOOSBALL!! and hanging out with my pups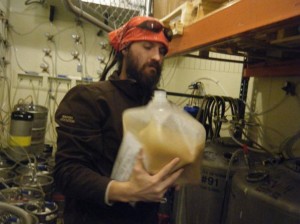 And lastly, what does craft beer mean to you?
I hope I can explain this while avoiding criticism !
I look at the term 'Craft Beer' as a social and conscious movement…. and more than anything, an awakening. So many intelligent people from so many different back grounds have built this business upon art, authenticity, inspiration, expression, and an extremely high level of generosity. Craft Beer is a very healthy, growing, and evolving culture… it's exciting to be a part of… THE END :3
————————————————————-
Want to see one of your favorite brewers featured? Just leave a note in the comment section below or shoot me an email!