Curious about the brilliant minds behind some of the world's best craft beers? So is The Wench, which is why I've started the "Inside the Mash Tun" brewer spotlight series featuring some of the most talented men and women in the craft beer industry.
Today I would like to introduce you to Jeff Rosenmeier, the adorable American behind the beers at England-based Lovibonds Brewery. For those that might not know about the significance of the name, Degrees Lovibond (or °L) is a measurement for the color of beer. #Beer101
Inside the Mash Tun: Jeff Rosenmeier
Chairman of the Beer (aka Founder/Owner/Brewer), Lovibonds Brewery
Henley-on-Thames, England
Twitter handle: @Lovibonds
How did you get into the craft beer industry?
My first job out of University in the early '90s was in Milwaukee Wisconsin and my friends and I started to get into the up and coming craft beer movement that was happening there. One night a friends brother handed me a beer that was as black as night and I asked where I could buy it. He said that he made it…my reply was something like 'Bullshit, you can't make beer'…I didn't know…he showed me all of his gear and the next day I spent 100 dollars on equipment and Charlie Papazian's book and I was hooked.
My IT career took me to England where my homebrewing hobby just kept getting more and more out of control. I was getting sick of working for the man, so I chucked it all in, forming Lovibonds Brewery in 2005.
How long have you been brewing at Lovibonds?
2005
Out of all the beers you have brewed, what is your all-time favorite?
I think we are the first brewery in England to have a sour beer programme, with a small number of barrels in our cellar currently working their magic. Our best selling brand is a wheat beer and the sour programme started when I had a batch of our wheat go Berliner. It tasted great and we put it on the bar as Sour Grapes and people really dug it. So we had the sourness, but no funk. I purchased a bunch of ex French wine barrels and inoculated them with bugs…that beer has now been on the wood for 24 months and we are working on the final blend for packaging in the near future. It has been a real fun watching this beer evolve and real fun getting people into sour beer (something unheard of here).
What is you favorite beer and food pairing?
Henley Dark (our Smoked Porter) + Crunchie + Pork Scratchings

Trust me!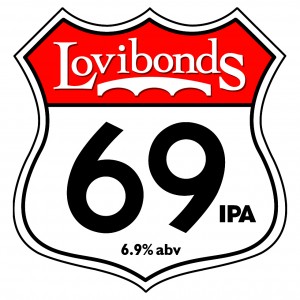 What is the best part about working for Lovibonds?
As you know the beer industry is something real special…I've really enjoyed getting to know other brewers and the great suppliers in this industry. When I was in IT, I really got off on the problem solving element of my job and running your own business and especially a brewery, there is no shortage of problem solving to be done.
If you were a style of beer, what would you be and why?
IPA, for a couple reasons I guess. The beer business is great, but it can be real tough here in the UK due to the tied house system. This has caused me to be quite bitter at times…I think someone's already done it, but I'd love to create a beer called 'Bitter American'.
Outside of craft beer, what are some of your other hobbies and interests?
Being a small brewer there really isn't a need for a gym membership, but I do try to get some exercise by mountain biking. We live in what they call the Chilterns and it is one of the most beautiful places on earth with tons of great trails for mountain biking. I also like skiing and am lucky enough to do at least one trip a year to the Alps with my wife and two beautiful girls.
And lastly, what does craft beer mean to you?
You are lucky in the states because craft beer is firmly in beer drinkers vocabulary. This is not the case in England and there is a ton of debate as to what craft beer is and whether it should be used at all to describe what I do. I am a craft brewer, no doubt about it. I think a brewery does craft beer if you can access the people that are responsible for making the beer.
————————————————————-
Want to see one of your favorite brewers featured? Just leave a note in the comment section below or shoot me an email!