As of November 2011, there are 855 breweries in planning — a number which has only gone up since. One such brewery on the list is Moustache Brewing, Long Island's newest "brewery in planning". As you can imagine, starting a brewery is not easy or cheap. Basic fees include licensing, rent, purchasing and installing equipment etc. And then you get to the actual building of the brewery, the research and development of beers, the purchasing of ingredients, hiring of staff and so on and so forth.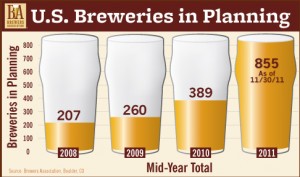 Starting from the ground up takes a lot of courage and optimism, and Matt and Lauri Spitz of Moustache Brewing have both in spades. Today, I'm extremely excited to introduce you to the dynamic beer loving duo and give you a a behind the scenes look at Moustache Brewing. Matt and Lauri recently launched a kickstarter campaign to raise capital for the brewery, so hopefully many of you will find it in your hearts and wallets to help make their dream a reality.
After all, wouldn't it be cool to brag about how you helped an amazing beer project launch? My sentiments exactly!

Introducing: Matthew and Lauri Spitz
Tell us a little about yourselves and your backgrounds!

Matt: I grew up here on the island. I went to school for music performance and audio recording at 5 Towns College. I currently play bass in a reggae band called Royal City Riot. I've done some touring with them, but it has slowed down a bit recently. I think we're all busy with other things in life.
Lauri: I'm from Long Island, NY and I've lived here my whole life. After high school, I college hopped for a bit studying various visual arts. Then after Matt and I got married in 2007 I went back to college at Stony Brook University and graduated with my BA in Asian & Asian American studies. We had spent a month living in Tokyo before our wedding and I wanted to move to Japan and teach English. It just ended up not being the right thing for me at that time so we stayed here.
How did each of you get into craft beer?
Matt: I was never happy to go along with whatever anyone else was doing. I also was never happy to just get something stock, and not customize it myself. That actually led me to a brief stint as a guitar and bass maker. Before I was legal drinking age, I was playing in bars. My older band mates would ask me what I wanted to drink, they all had Buds, and I'd ask for a Guinness.
Lauri: I was completely unamused by the standard beer offerings when I turned 21. Luckily for me Matt had a year on me and was able to guide me to the good stuff at the time (Guinness, Sam Adams, Sierra Nevada) Later on we met our friend Anthony, who was a brewer at Blue Point Brewing Company here on Long Island at the time, and starting drinking lots of Blue Point beers. Anthony is also how we got into brewing. We were the cool kids drinking our fancy beers.
What did you do professionally before you decided to start a brewery?
Matt: I've been working in retail since I could work. Although, I usually work in the back of house doing operations/ logistics and inventory type things. I'm much more of a behind the scenes guy.
Lauri: I work in health care. I'm a health information manager for a small family practice. My day consists of converting paper records to our electronic health system and helping the Dr.s ensure they are meeting the new meaningful use requirements that are being implemented by the government at the end of this year. It can be really interesting, but sometimes it's so mind numbing.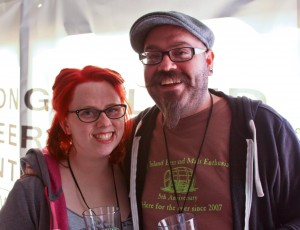 How long have you been planning to open a brewery?
Matt: We started home brewing in 2005. After our first batch, we started day dreaming about having our own brewery. We doodled names and logos, thought of seasonal releases, and just talked about how cool it would be to have a brewery. Back then, we didn't realize what actually went into creating a brewery. About a year and a half ago, we really started to do a lot of research, and talk to breweries on the Island to pick their brains.
Lauri: It's been a while for us. For a while it was totally an "It would be awesome to do but we really can't pull that off" kind of thing. Then, I started working in health care and became unhappy with the way my life was going. I started seeing a life coach to try to find a new direction and a way to be happy. I told her my dream was to open a brewery but I knew it would never happen. She immediately made me realize that I first needed to change my attitude to make things happen. Once I was able to change my attitude and had my "ah ha!" moment we got really serious about things. We started doing tons of research and BOOM! Here we are today.
What is the hardest part about starting a brewery?
Matt: Trying to figure out the "best" way to do this. Our plans have changed a whole bunch of times. From what size brew house to start with, to what kind of location, what the overall feel for the company will be. It's all evolved a lot.
Lauri: The whole process is crazy. We need to have Federal AND State licensing before we can brew or sell beer. In order for us to even apply for both of the licenses we need to have our building and our lease secured. Then we need to have our equipment and everything set up and ready to go. After that, we send in our applications and just wait. While we are waiting we are paying rent and utilities on a brewery that we can basically just stare at. We can't make or sell beer before receive both federal and state approval. This takes at least 6 month, usually more time though. We know breweries that have been waiting over a year. It's so daunting just to think about it.
When is Moustache Brewing scheduled to open?
That's tough to say at this moment. We're planning to secure a location by June. Once we have a location, we can start the licensing process. If everything goes swimmingly in the very beginning of 2013.
Where will Moustache Brewing be located, and why did you choose that location?
We're not sure on what town it will be, but it will be on Long Island. We would like a more central location, western Suffolk county. Not too far from the City, not too far from the east end either.
What is the significance behind the name, Moustache Brewing?
Matt: I've been wearing a handle bar moustache for about a year and a half now. I think of it as a symbol of class and sophistication. I'm also a big anglophile, I love British pop culture and television (Monty Python, Doctor Who, Douglas Adams). One idea we had for the brewery early on was to give it a Victorian era British feel, and only make beer styles from the UK. We ditched the UK only idea as to not limit ourselves, but are keeping elements of 19th century British feel. I think the Gentleman's moustache plays into that theme nicely.
Lauri: Have you seen Matt's moustache?
What kind of brewery will Moustache Brewing be? A brewpub? A production only facility?
We will be a production only brewery. Starting a brew pub is a whole other head ache. Also, with a brew pub in New York, we could not distribute to other bars and stores, and certainly not out of state. We will have a tasting room and do growler fills for off premises consumption.
What kind of system do you brew on, how big is it, and where did it come from?
Once we are up and running at full steam ahead, we will have a 15BBL brew house. We were looking at used systems, but they are harder to come by now a days. As soon as they are posted in the classifieds, they are sold. Once we have our capital raised, we'll look for a used system, but we're not counting on it. Plus, with a new system, you know everything works and it's guaranteed .
What kind of styles of beer will Moustache Brewing focus on producing?
We have an idea for our year round beers, an American Pale Ale, American IPA, a London ESB and a session-able Porter. It will depend on what our drinkers want, though. We're also going to have a seasonal or special beer every other month, that's where we get to have fun and brew new stuff all the time. We're planning on doing cool, yearly releases of cellar-able and collectable beers in bottles as well.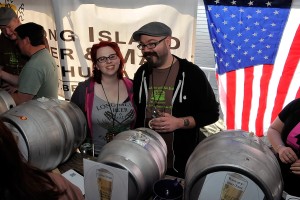 For fun….
What is your favorite style of beer to brew?
Matt: I like brewing Pale Ale and IPAs. We make ours very hop forward. I enjoy blending different hops and playing with addition times to coax different flavors and aromas out of them. I'm going through a hop head phase right now.
Lauri: I love brewing porters and stouts. It's the coffee and dark chocolate lover in me for sure. With the porters I enjoy playing with the different roasted grains and find a nice dry balance that's not too bitter but has a nice roastyness to it. On the opposite end of that I love doing sweet stouts as well.
What is your favorite style of beer to drink?
Matt: I'm loving big hop forward beers right now. Hops that hit you in the nose and dance on the tongue, but are very smooth in the back. No harsh bitterness. I also love big Imperial Stouts. I could just smell Bourbon County for hours before I take a sip! I can't get enough.
Lauri: So hard to say I'm really into dubbels and quads right now. I love that thick bodied maltyness they all have to offer. Now that the seasons are changing and it's getting warmer out here, I've been craving ESB. ESB on nitro….
What is your favorite beer and food pairing?
Matt: You can never go wrong with a big stout and a rich chocolate cake. There's a cheese maker named Beehive Cheese Co. that make a cheese rubbed in tea, and one rubbed in espresso. The tea one goes really well with a floral, citrusy IPA. The espresso goes well with a drier porter. So good.
Lauri: IPAs and Indian curry. I LOVE Indian food so much but my tongue is such a wimp. It has no heat tolerance what so ever. So I find the IPAs are a nice balance to the heat in the food. I also love a nice charcuterie plate with a nice dry porter. The roasty malts are such a nice balance to all the salty goodness.
Most beer people experience at least one life changing experience. I call these moments craft beer epiphanies. Please describe your most memorable craft beer epiphany:
Matt: My craft beer epiphany hit me when I realized as a home brewer, I could make anything I wanted. If I wanted a Mojito Pale Ale, or a Belgian Pumpkin Porter, I could just figure it out and make them. You have no limitations.
Lauri: Our month in Tokyo was a real life changer for me. I find that this trip set the wheels in motion for where I am today. I can look back and connect the dots from today to that moment I stepped off the plane. Everything in between happened for a reason which got us here today. Spending that month in a country where I did not speak the language and only knew Matt really opened my eyes how I could do anything I needed to.
If you were a style of beer, what would you be and why?
And lastly, what does craft beer mean to you?
—————————-
Special thanks to Lauri and Matt for sharing their story with me! Looking forward to seeing Moustache Brewing open in 2013 and wish them both the best of luck!! Cheers!