These are exciting times in craft beer. The number of craft breweries in the U.S. has nearly doubled in the past decade, and with over 900 breweries in planning, the industry is on track to double again in just a few years.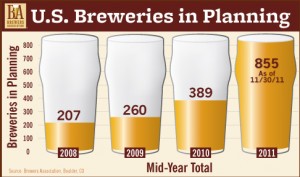 One brewery on the list of "Breweries in Planning" is Mischief Brewing out of Peoria, Arizona. As you can imagine, starting a brewery is not easy or cheap. Basic fees include licensing, rent, purchasing and installing equipment etc. Then there is the actual building of the brewery, the research and development of beers, the purchasing of ingredients, hiring of staff and so on and so forth.
Sadly, investors are far and few between and most aspiring brewers are not independently wealthy — which makes it hard for a lot of breweries to break ground. But thanks to Kickstarter, the online funding platform for creative projects, a lot of brewing dreams are coming true. Along with many other beer dreamers, Brandon & April Richter chose to utilize the power of Kickstarter to raise funds for their own brewery in planning. I am very excited to introduce you to this beer loving husband and wife team and give you a a behind the scenes look at Mischief Brewing. Hopefully many of you will find it in your hearts and wallets to help make their dream a realty.
Interview with Mischief Brewing's
Brandon & April Richter
Location: Peoria, Arizona
Website: www.mischiefbrewery.com
Brewery Twitter Handle: @MischiefBrewery
Brandon Twitter Handle: @BrewingMischief
April Twitter Handle: @MsBrewMischief
Kickstarter: Life is Boring without a Little Mischief
Tell me a little about yourselves? Where are you from? College background etc?
We just celebrated our 18 year anniversary. So we know a little something about sticking with it. We have three amazing kids and two obnoxious mini schnauzers. April has lived in Arizona most of her life, although she is originally from Utah. Brandon was born and raised in Peoria, Arizona and has a degree in administration of Justice from ASU (Go SUN DEVILS!). We met when we were 15. We're soul mates.
How did each of you get into craft beer?
April: I'll be totally honest with you and tell you I was still drinking pretty pink drinks until a few years ago. We have done a little travelling, and it was fun to try beer in different countries because it tasted so different than the American beer we were used to. We didn't really know anything about craft beer then. So it was after a few of these travels that Brandon really got into craft beer and eventually I caught on. Surprisingly our tastes our very different.
Brandon: We went to London in 2006, and that's where it started for me. Before we left, I put myself in "training", trying as many European beers as I could find. When we came home, I wanted to find beer that was similar to what I had in England, something that wasn't a typical American lager.
What did you do professionally before you decided to start a brewery?
April: I've always dealt with the public in some capacity. I've been a corporate trainer, and more recently I've worked in banking and finance. I love talking to new people and getting to know them, and working with them to help achieve their goals. It's fun, but I'm ready to work for us. I'm ready to push us to meet our own goals.
Brandon: I've been in the graphics and printing business my whole life. My family used to own a printing business and I started going to work with my dad when I was about seven years old. All of that creative experience has helped me design our logos and the look and feel we want for Mischief.
How long have you been planning to open a brewery?
We started talking about it four or five years ago. It was just one of those ideas that we had, like people who retire and buy an RV and tour the country. We were like "Oh, we'll start a brewery." And then one day about two years ago we just said, "Why are we putting this off until we are too old to enjoy it? Let's just grab life by the balls and do it now."
What is the hardest part about starting a brewery?
Brandon: Money. Saving the money. Raising the money. Talking to people about the money. Oh, did I say money?
April: It's funny how you can have this great concept, you have a community who believes in you and your idea, there is a definite need for it in your area, you've studied and worked hard and fine tuned your craft and recipes . . . . and something as little as money can stop you from achieving your dream. It's a heartbreaking thought when we've come this far.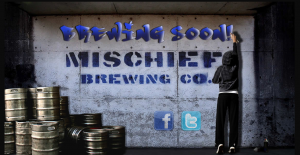 When is Mischief Brewing Company scheduled to open?
The goal is November 2012.
Where will Mischief Brewing Company be located, and why did you choose that location?
It's very important for us to be in Peoria Arizona. Brandon was born and raised here, he really wants to bring his passion for craft beer to the community we are so proud to be a part of. Right now there isn't an independent brewpub in this area, so we know it will be welcomed. We are really looking forward to giving back to this city.
What is the significance behind the name, Mischief Brewing Company ?
Brandon: We're not main stream type people. I've never been one to play by the rules. I like to stir stuff up. And that's what we want for our brewery. We want to push the envelope and challenge what people know about beer. We want to do things a little differently and cause a little mischief in this industry.
What kind of brewery will Mischief Brewing Company be?
April: We're a brewpub. We loved the look and feel of the pubs we have visited in our travels. We want to recreate that type of environment, but relevant to this community. We want it to be a place people can come and have conversations with their neighbors and friends. We really want it to be a gathering place.
What kind of system do you brew on, how big is it, and where did it come from?
Brandon: We started homebrewing with extract kits many years ago. April got sick of me messing up her kitchen and kicked me out pretty quickly, so we went all grain with a typical 5 gallon Igloo system out in the garage. We just found a kick ass deal on a used Brew Magic system. After a few minor modifications, we'll use that in the brewery for pilot and test batches. The brewpub will have a 7 barrel system pieced together a la Tom Hennessey's FrankenBrew idea.
What kind of styles of beer will Mischief Brewing Company focus on producing?
We've been brewing what we like for a long time. When we decided to go pro, we knew we had to offer something different. Something that stands out from the crowd. Something that you can't get in the grocery stores. So we've got some solid recipes we are excited about that inlcude a double IPA, a Belgian, an ESB, a Scottish ale and a pale ale. We'll have several seasonals and special releases throughout the year as well, and we are really excited about barrel aging.
For fun….
What is your favorite style of beer to brew?
Brandon: I really like brewing malty beers. I love the smell of the grain when it's cooking. I don't know why they don't make that as an air freshener.
April: I like it when we try something new. The experimentation is always exciting. Let's through in a little of this and a little of that and see what happens. I mean, yeah, maybe we've had to dump a few of those, but some have really surprised us. We just did a nut brown a few weeks ago that's in secondary fermentation, and I'm DYING to try it. Our main 5 are pretty consistent, so I love it when we brew something brand new.
What is your favorite style of beer to drink?
Brandon: I always get stumped on this question. It really depends on the day and the environment I'm in. Lately I've been really into barrel aged beers. I love Lost Abbey's Angel's Share. I think anything Tomme Arthur does is amazing. I can only hope to be almost as good as he is some day.
April: I love a good robust porter. One of our local breweries, Sun Up, does a delicious vanilla porter. It makes my toes curl, it's so good.
What is your favorite beer and food pairing?
Brandon: I just love beer with food. I do love a good Marzen with a pretzel.
 April: I like Dogfish Head Chicory Stout with good BBQ, like ribs or pulled pork. YUM.
Most beer people experience at least one life changing experience. I call these moments craft beer epiphanies. Please describe your most memorable craft beer epiphany:
Brandon: I wouldn't necessarily call it a craft beer epiphany, but travelling in London is what changed my life when it comes to beer. It just totally opened my eyes to the fact that there was more out there than the swill I had been forcing myself to drink.
April: Mine was in Belgium. We spent an afternoon in the basement pub of the brewers guild in Brussels. We tried a kriek beer there that brought tears to my eyes. It's amazing that some water, grain, yeast, hops and cherries can make magic like that.
If you were a style of beer, what would you be and why?
April: I think I'd be some kind of fruity wheat beer. You think you know what it's going to taste like just by looking at it, but you're always pleasantly surprised by the sweet bubblyness. And it will still knock you on your ass. But in a good way.
Brandon: I'd definitely be something dark. Like a black IPA. You either love it or you hate it. If you love it, it's because you appreciate its darkness. If you hate it, it's because you're not ready for something so awesome.
And lastly, what does craft beer mean to you?
Brandon: It's become our lifestyle. It's everything we do, it's everything I think about. It's like another child.
April: It just means doing something more. Something better. Not settling. Expecting more for yourself. It's a revolution.
————————————-
Best of luck to April & Brandon. If you find it in your hearts and wallets, please help them out on their kickstarter campaign to open a brewpub. Every cent counts, and will be well worth the investment!
Cheers!