I've said this once, and I'll say it again. If there is any craft brewery responsible for my career path and my passion, love and obsession with craft beer — it is Dogfish Head. Midas Touch was the beer that officially converted me from a wine professional and beer hobbyist to a full-blown craft beer evangelist with a wine habit.
The reason I first connected with Dogfish Head (and continue to do so) is because I completely identify with the brand. Like its owners, its employees and its beer, I am off-centered. More often than not, people use adjectives like weird, eccentric, quirky and crazy to describe me. But, like Dogfish Head, I've never been one to assimilate to the cultural norm. Dogfish Head's uncanny ability to understand and embrace the weird and the unusual has made it stand out from any other craft beer brand in the world.
Case and point: Positive Contact — Dogfish Head's latest super collaboration project.
What is Positive Contact? According to the official press release, "It's a house party in a box. Start with a carefully crafted hybrid of beer and cider, add a helping of hip-hop dub remixes and serve with an inspired multi-course meal."
Foodies and beer geeks beware, for this party in a box is not for the faint of heart. Even Esquire has already named it one of the best beers of 2012. And here is why:
The beer
The beer was born one festive night at Eataly New York's rooftop brewpub Birreria. Hip-hop producer Dan the Automator – the mind behind supergroup Deltron 3030 – and Dogfish Head founder Sam Calagione sat at a table full of fresh ingredients and picked out their favorites.
They settled on wood-pressed Fuji apples, roasted farro from Anson Mills in South Carolina, cayenne peppers and fresh cilantro. The result is a sweet-and-sour Belgian-ish brew with cider-like notes, 9% ABV and a warming finish.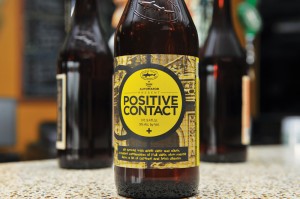 The music
While Dogfish did its thing at the brewery, Dan did his in the studio. Taking tracks from the long-awaited followup to Deltron 3030's cult classic debut, Dan fashioned four dub remixes and pressed them onto 10-inch white vinyl.
The food
What's a party without food? Dogfish recruited acclaimed chef and TV personality Mario Batali, loud and fast Joe Beef chefs Frederic Morin and David McMillan, Momofuku's influential David Chang, super-creative Homebrew Chef Sean Paxton and West Coast luminary James Syhabout. Each contributed a Deltron 3030-inspired recipe that's printed on the record sleeve.
Positive Contact will be released in a dynamic box set of six 750-ml champagne bottles, with the 10-inch vinyl EP and the recipes. The box set will be sold for $60-$70 throughout Dogfish Head's distribution network, in accordance with local and state laws.
For more information, check out the following video with Sam Calagione of Dogfish Head: