Skip the Guinness this St. Patrick's Day. Celebrate with an Irish-inspired craft stout instead!
According to Brewer's Association, the traditional Irish stout falls into two categories, depending on alcohol strength. These two style categories include the Classic Irish-Style Dry Stout (think Guinness Draught) and Foreign Export-Style Stout (think Guiness Foreign Extra Stout). Both styles are black in color with prominent coffee-like roasted malt aromas. Each boasts an initial malt sweetness with hints of caramel flavor and distinctively bitter, dry-roasted finish. Classic Irish-Style Dry Stouts have an alcohol range of 3.8-5% abv., while Foreign Export-Style Stouts are between 4.5-7.5% abv.
Here is a list of 10 Wench-approved craft beer substitutions for Guinness, in no particular order. Can't find any of the beers listed below? Check out RateBeer.com for a great list of Irish-inspired dry stouts. Cheers!
10 Craft Beer Alternatives for Guinness on St. Patrick's Day

1. Brooklyn Irish Dry Stout
Commercial Description: Brooklyn Irish Stout is brewed the old-fashioned way, without the nitrogen addition. A large portion of the grain is roasted like coffee beans, developing the typical color and flavor of this beer. Aside from British pale malts, the beer includes caramel malts, black patent malt, unmalted black barley and a proportion of flaked raw barley, which helps the beer develop a beautiful, thick natural head. 4.7% abv
2. Moylans Dragoons Dry Irish Stout
Commercial Description: Dry, roasty and incredibly rich in flavor, Dragoons Dry Irish Stout is made with a unique blend of imported hops and malted barley from the United Kingdom. This award winning stout is brewed in the Irish tradition to commemorate General Stephen Moylan, Irish-born commander of the 4th Continental Dragoons during the American Revolutionary War. 8% abv.
3. Boulevard Dry Stout
Commercial Description: Velvety black and perfectly opaque, this surprisingly smooth, drinkable beer is a delightful harmony of smoky roasted flavors and tangy, coffee-like notes. Available only on tap at fine establishments throughout our distribution region. 4.9% abv.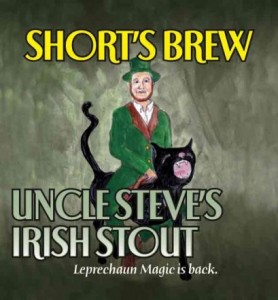 4. Short's Uncle Stevie Irish Stout
Commercial Description: Short's version of the classic Irish Stout, complete with a dark color, soft head, and smooth full flavor typical of this lighter bodied style. A simple grist formula provides a base of roasted malt flavors while the infusion of nitrogen adds the creamy drinkability everyone loves. 5.5% abv.
5. Starr Hill Dark Starr Stout
Commercial Description: Starr Hill's Dark Starr Stout has won more national and international awards than any other Dry Irish Stout in the country. Brewed with roasted barley, and with hints of coffee and dark chocolate, it packs a robust taste into a surprisingly light body. This signature brew pours like velvet and drinks like a slice of grandma's pumpernickel bread. 5.2% abv.
6. North Coast Old No. #38
Commercial Description: Named for a retired California Western Railroad steam engine on the Fort Bragg to Willits run through the Redwoods, Old No. 38 Stout is a smooth, firm-bodied stout with the toasted character and coffee notes of dark malts and roasted barley. 5.4% abv.
7. Sprecher Irish-style Stout
Commercial Description: This tribute to St. Patrick's Day is smooth and creamy, with distinctive flavors and aromas reminiscent of bitter-sweet chocolate and dark coffee. Just one precious batch of this robust, ebony colored stout is brewed each year. 5.73% abv
8. Avery Out of Bounds Stout
Commercial Description: This big, roasty stout takes flavor to the extreme. We aren't afraid to use plenty of rich roasted barley and a mountain of hops to give this full-bodied stout that little extra something you've been looking for in a beer. 6.3% abv.
9. Bison Chocolate Stout
Commercial Description: Like Barry White's voice in a bottle, Bison's Chocolate Stout is a dark, slow-pouring aphrodisiac of the smoothest proportions. Rich and roasty with charismatic flavors of dark chocolate and espresso, and creamy, dry finish. 5% abv. (Disclaimer: I work for Bison)
10. Saranac Irish Stout
Commercial Description: Deep within the heart of the Irish lies an uncanny passion for what they call "Leann Dubh", or black ale.  Saranac Irish Stout is a lavish beer blended with dark malts to create a coffee like taste.  Look for a roasted character that is surprisingly smooth and refreshing, pint after pint. 5.5% abv.
___________________________
Slainte!