Inspired by the #FollowFriday phenomenon on Twitter, I have decided to feature a different craft brewery that I love on my blog each Friday.
The first brewery I want to feature is the one brewery I can't seem to get off my mind (for reasons that will soon be revealed). Founded in 2004, Foothills Brewing is located in the friendly town of Winston-Salem. (Okay, that might be a lie. I assume the town is friendly, but I've never been. It just sounded like a friendly place. But, I digress…)
Although they make several amazing beers, Foothills is probably best known amongst the craft beer geekiverse for its Sexual Chocolate—an extremely seductive Imperial Stout infused with cocoa. And I know what you're thinking, with a name like Sexual Chocolate, how could this beer not be awesome? Well, it's better than awesome—it's fucking absolutely orgasmic. The last time I drank it, I literally licked the glass clean (this is a true story).
The ever-talented brewmaster of Foothills Brewing is Jamie Bartholomaus. I had the pleasure of meeting Jamie at one of his events during the 2013 Craft Brewers Conference (although, I cannot attest to my lucidness due to mass consumption of Sexual Chocolate). I do know, however, that Jamie is a really really cool dude….and a really really talented brewer. If you wanna learn more about him, check out his interview with All About Beer Magazine.
Another Foothills beer worth seeking out is the ever-popular Olde Rabbit's Foot (collaboration brew with two other equally awesome breweries—Duck-Rabbit and Olde Hickory). Old Rabbit's Foot is an intensely boozy, yet oh-so-smooth Imperial Stout brewed with honey, cocoa nibs and aged in Bourbon barrels. I have vague memories of seeing rainbows and talking to unicorns after drinking it. But then, it may have been the beer's robust 10% abv that triggered the hallucinations.
Outside of liquid sex in a bottle, Foothills Brewing also brews an amazing line-up of "regular ole" craft brews. All of their hop-forward beers are top notch and I'm a huge fan of the People's Porter (as you can see below).
Moral of the story is, that I think Foothills Brewing is the cat's meow and I think you should follow them all over the interwebz….(and then go seek out their beer). To save you the trouble of having to search on your own, here is how you can get social with Foothills on the net:
Love. MT @thebeerwench #FF @foothillsbeer b/c #SexualChocolate is 1 of the best beers on this planet. Oh & they make other amazing beers too

— Foothills Brewing (@FoothillsBeer) April 19, 2013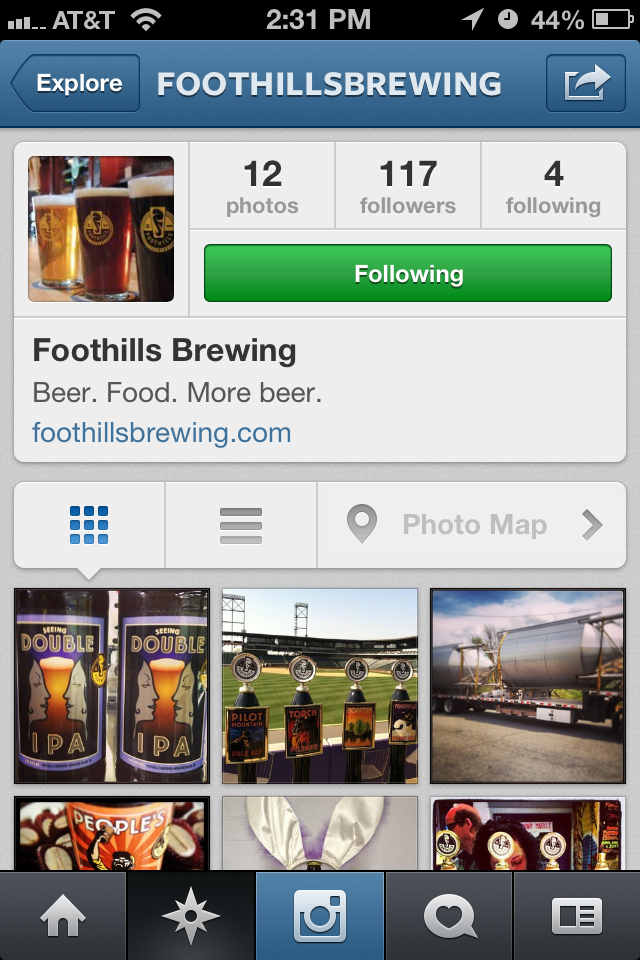 And remember, the more love you give, the more love you get. So give your favorite craft brewery a virtual hug or high-five today!