Friends, prepare yourselves for the most epic party of the year.
On Sunday May 23rd, Mutineer Magazine is hosting its 2nd Annual Red Carpet Tasting Event at Falcon Hollywood in Los Angeles. The guest lists consists of a star-studded roundup of over 350 fine beverage VIPs: including industry celebrities, winemakers, brewers, beverage bloggers, and more.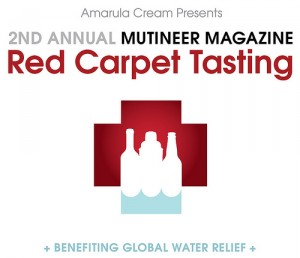 And have no fear, kids. If you cannot make the actual event, you can follow the debauchery LIVE on the New Brew Thursday UStream. And if that wasn't cool enough, guess who is co-hosting the Live Show? Yep, that's right. The Beer Wench. Game on. RSVP for the Ustream HERE.
The Official Twitter hashtage for the Event and the Live Stream is #MutineerLive. Follow all of the updates and buzz surrounding the event on the hagtag stream = #MutineerLive.
The All-Star Mutineer Team on Twitter = @mutineermag + @alankropf + @jdorenbush @beermutineer + @odiedog52 @thebeerwench
Beverage Bloggers who will also be in attendance = @newbrewthursday + @johnholzer + @darthweef + @masterpairings + @thebeerchicks + @beerchicks+ @alexpdavis + @beachbumchris + @estarLA + @HipsterEnology
ABOUT THE EVENT
Mutineer Magazine's 2nd Annual Red Carpet Tasting Presented by Amarula Cream brings together people, culture, and fine beverage at the renowned Falcon Hollywood for a memorable night of beverage tasting. The event follows up on the success of Mutineer's first major affair celebrating its national launch last May 2009. A selective sampling of 40+ fine beverage companies from around the world will be sharing the fruits of their labor for attendees to explore. The red carpet event will also raise money and awareness for A Child's Right, a charitable organization that implements water relief programs for impoverished children in undeveloped countries around the world.
A wide variety of wines, craft beer, spirits, liqueurs, and non-alcoholic libations will be poured as beverage connoisseurs, F&B insiders, journalists, and celebrities experience some of the most sought after beverages that are waiting to be discovered. In addition, the magazine will premiere the "Art of the Mutineer, Volume No. 1" photography exhibition highlighting Mutineer Director of Photography Ian Andreae's inspiring and stunning photographs that have graced the covers and pages of the publication since its inception.
When:
Sunday, May 23, 2010
7 – 11 PM
Where:
Falcon Hollywood (Map)
7213 Sunset Boulevard
Hollywood, California 90046
Who:
Hosted by Mutineer Editor-in-Chief Alan Kropf and Actor/Comedian Ben Morrison.
The tasting event offers an impressive sampling selection of fine beverages including:
Spirits: Amarula Cream Liqueur, Bluecoat Gin, Combier Rouge Cherry Liqueur, BenRiach Scotch, Briottet Liqueurs, Chinaco Tequila, Don Roberto Tequila served with new cocktail mix "120 Mix", English Harbour Rum, Kalani Coconut Liqueur, Luxardo Liqueur, Obsello Absinthe, Xtabentun Honey Liqueur
Wine: Brazin Wines, Chatom Vineyards, Continuum Estate, Jordan Winery, King Estate Winery, La Jota Vineyards, Murphy-Goode Winery, Newsome-Harlow Winery, Tanner Vineyards, Twisted Oak Winery, Two Oceans Wines, Wente Vineyards, Zucca Mountain Vineyards
Beer: Artisanal Imports, Ballast Point Brewery, Chimay, Coronado Brewing Co., Deschutes, Fireman's Brew,Firestone Walker, Karl Strauss Brewing Co., Lost Coast Brewery, San Diego Brewing Co., Sierra Nevada Brewing Co., Stone Brewing Co.
Non-Alcoholic Beverages: Dragon Pearl Tea, Hot Lips Soda, SanTasti, Waiwera Artesian Water
Cheese provided by Barrie Lynn – The Cheese Impresario.
Ustream Broadcast by New Brew Thursday.
Music by Seattle Musician Hunter Lea.