Unless you have been hiding under a rock (or in a cave) all summer, you probably have gotten wind about the Mutineer Magazine + New Holland Brewing Company collaboration beer. After several months of buzzing about the beer on various social media platforms, the time for its official unveiling is upon us.
Mutinous Battle Chai will make its debut this Friday, September 17th at Falling Rock Taphouse in Denver, CO. There is no cover charge for the event and the cost is per beer. The beer will be on available until all the kegs are tapped. You can RSVP for the event on both RateBeer and Beer Advocate.
The entire proceeds from the sale of Mutinous Battle Chai will be donated to A Child's Right, an organization dedicated to global water relief and bringing clean water to children in underdeveloped regions of the world.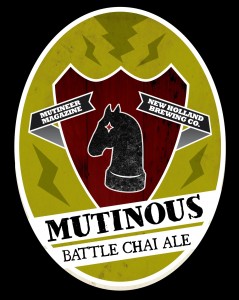 Technically speaking, Mutinous Battle Chai does not fit the guidelines of any individual style category. The base beer was brewed with both pale and rye malts, spiced with an original interpretation of the traditional chai tea spice blend, and fermented with a Belgian wit yeast strand. This base beer was then primed with brown ale wort and underwent a secondary fermentation with merlot yeast on oak. The end result is a dry, amber-colored, medium-bodied Belgian-style spiced and oaked ale unlike any craft beer brewed before.
Other beers from New Holland Brewing Company, including Golden Cap Saison, Imperial Hattter IPA, as well as Hatter Royale Hopquila, a distilled spirit that has been steeped in hops, will also be available during the release party. This is the first time that New Holland beer will make an appearance in Colorado outside of the Great American Beer Festival.
For more information on the recipe and brewing process of Mutinous Battle Chai, check out Issue 13 of Mutineer Magazine, now on newsstands.